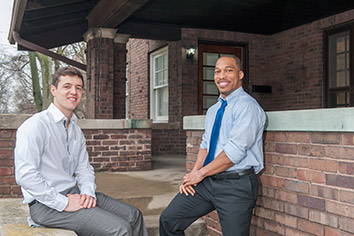 Jacob Blackett and Sterling White sit at the intersection of crowdfunding and residential real estate with their 6-month-old firm, Holdfolio. The 24-year-olds buy rental houses. In the coming months, they plan to bundle them and sell investors equity stakes in the portfolio through a Web-based platform. Investor returns will come in the form of rental income and gains from property sales. The company so far has few—if any—direct competitors.
Traditionally, investors in this space have needed loans or a lot of cash, as well as a property-management strategy. Holdfolio's founders said their soon-to-launch platform will allow accredited investors to invest in real estate with as little as $5,000 while the company handles leasing and maintenance.
"We're trying to create passive income through holdings," said Blackett, who said he's sold more than 500 rental properties since age 18. 
"I just realized that the best way for someone to invest in real estate is not by going out and owning a piece of property themselves. The best way is to partner with successful, full-time real estate investors."
Crowdfunding has been around for years, and returns on investment have largely come in the form of one-time rewards like T-shirts or a newly launched product.
Debt and equity crowdfunding have taken off since the 2012 JOBS Act loosened federal securities laws, and real estate firms are among the companies increasingly tapping online investor pools for financing. 
Jordan Fishfeld, CEO of Chicago-based commercial real estate crowdfunding platform PeerRealty, said crowdfunding is changing how people invest in real estate and Holdfolio appears to have a good shot at success in the nascent space.
"This could be really great for them if they can leverage their network and start growing," he said.
Complementary duo
Blackett is a 2012 University of Nevada-Reno alumnus who said he bought and sold his first houses as a sophomore. White, who stopped shy of graduating from the University of Indianapolis, is an entrepreneurial journeyman who settled on real estate two years ago. The two met at an industry networking event last summer.
Blackett said he's netted about $500,000 from real estate investing since moving to Indianapolis three years ago, mostly by flipping houses. One of his biggest gains came last year when he and an investing partner bought a house for $30,000, renovated it for $90,000, and sold it for $220,000.
A licensed Indiana real estate broker, Blackett said he began researching crowdfunding last spring and crafting a real-estate-applicable business model. He asked White to join him and the duo launched Holdfolio in October.
"He's the numbers person," White said of Blackett. 
"He complements my weaknesses," Blackett said of White. "He's outgoing, social and not afraid to do what others are cautious to."
The two-person company operates out of a spacious house-turned-office on Pennsylvania Street near 38th Street. They work with pre-eminent crowdfunding attorney Mark Roderick of New Jersey-based Flaster/Greenberg PC. They hope to eventually fill the 5,000-square-feet office with employees, but for now the lean startup is outsourcing website development, accounting and other processes.
How it works
The company has raised about $500,000 from friends and family, Blackett said, including his own $80,000 investment. Holdfolio expects to use $324,000 to buy and rehab 10 homes, including some near downtown, such as at 1906 Charles St.
Holdfolio buys the properties at deep discounts, sometimes before sellers list them. They avoid tax sales and target areas that include those being revitalized.

"We call for-rent signs hoping to find motivated sellers tired of 'landlording'," White said. "We also send letters to homeowners in desired neighborhoods to generate off-market leads."
In the coming months, Holdfolio will situate those 10 properties under a limited liability company and offer equity stakes to investors. Blackett said he's seeking $350,000 in an offering planned for June, which will repay initial investors and cover fundraising costs.
Blackett said it's better to bring on new investors after the properties are revamped and producing income rather than before.
"We don't expect them to take on that amount of risk," he said.
When the offering closes, Holdfolio will retain a 20-percent equity stake in the LLC. That leaves investors with 80 percent of annual profit from rent—after property taxes and other expenses—and 80 percent of gains from sales.
Holdfolio projects investors will see at least 10 percent in annual rental returns across the portfolio and a total annual return of 18 percent to 23 percent when the properties are sold in five years.
The Charles Street property, for instance, which accounts for $36,000 of the portfolio, is projected to return $4,023 to investors over 12 months—an 11.2-percent return—after Holdfolio gets its share.
Although it will hold an equity stake, Holdfolio will have no cash in the portfolios. So it will not lose money in the event of negative performance. Still, Blackett said the company sees the most profits when the portfolios do well, "and we are very interested in how they do over five years."
Investment risks
Real property has the benefit of being a tangible asset and tends to be easier to assign a value than something like a startup company. Still, real estate holdings are subject to economic cycles and, as highlighted by the financial crisis, can lose value quickly. Neighborhood trends and vacancy rates can make rental income unpredictable.
Overall, crowdfunding is still largely uncharted territory. While states like Indiana have enacted their own crowdfunding rules, comprehensive federal rules have yet to be finalized, leaving some crowdfunding platforms constrained to state borders. 
Liquidity will be an issue for at least the near term, Blackett and PeerRealty's Fishfeld said, as several platforms don't have mature enough secondary markets where investors can easily cash out.
Douglass Ellenoff, an attorney with Ellenoff Grossman & Schole LLP, said he didn't know enough about Holdfolio to discuss specifics, but investors need to know how the company makes money, what agencies it's registered with, how it performs due diligence on the investors it solicits, and more.
"So there are a whole series of investor protections that one needs to investigate before putting money into a site like this," he said.
Blackett said he is not required to be a registered broker dealer because he does not make commissions from securities trading. He might opt to do so down the road. Also, he said he plans to register the Holdfolio platform with the Securities Division of the Indiana Secretary of State this month.
Holdfolio is uniquely positioned to fare well no matter how the economy is doing, Blackett said. A poor economy often comes with increased rental demand, he said, and a healthy economy could bode well for gains from sales.
The horizon
The first offering will be available only to accredited investors, which are organizations or institutions with at least $5 million in assets or individuals with at least $1 million in liquid net worth.
While Indiana permits crowdfunding platforms to target non-accredited investors, Holdfolio doesn't plan to open its doors to "Main Street" investors until later. Blackett said fees associated with a non-accredited offering are about six times higher than for an offering to wealthy investors.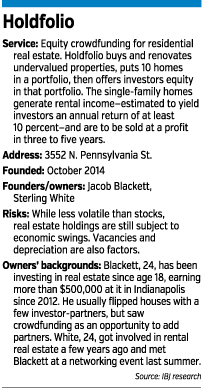 "We hope as time progresses that things will be streamlined and opportunities will arise that allow anyone to invest in these offerings," Blackett said.
For now, Holdfolio is seeking to get all 10 properties leased by the June offering. It currently has five occupied.
It also hopes to post three offerings by the end of the year.
The residential real estate space already contains crowdfunding platforms, including California-based Patch of Land. But many serve as the middle man between investors and real estate firms, while Holdfolio manages the properties and the crowdfunding platform.
Blackett said there's tremendous growth potential in real estate crowdfunding, and he and White intend to take advantage of it. He said they look up to the Simon brothers of real estate behemoth Simon Property Group Inc.
"Knowing that they started out as leasing agents, Sterling and I realize there are no limits on what we're building," he said. "We hope to be shaking hands with Mr. Herb Simon someday soon. And when I say hope, I mean we plan on it."•
Please enable JavaScript to view this content.