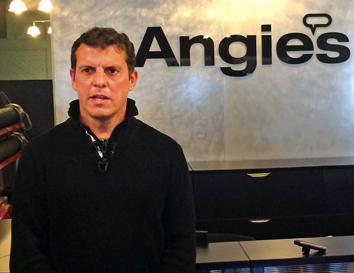 Bill Oesterle is stepping down as CEO of Angie's List Inc. after more than 16 years in the position, the Indianapolis-based company announced Wednesday morning.
The consumer services ratings company said Oesterle will stay in the role until a successor is appointed.  He also plans to leave the company's board of directors, but will remain at least through his current term, which ends this year.
Oesterle plans to pursue other interests, including "becoming more civically involved in the state of Indiana," Angie's List said in a press release.
The executive recently drew headlines by canceling company plans for a $40 million downtown expansion as a protest over Indiana's passage of the Religious Freedom Restoration Act, of which he was an outspoken critic.
Angie's List said it has hired Chicago-based executive search firm Spencer Stuart to find a replacement for Oesterle.
"This transition period provides an opportunity to acknowledge and applaud Bill's contributions to the company, while also ensuring a smooth transition to our next chief executive officer," Angie's List Chairman John Chuang said in a written statement.
"We are focused on identifying a strong leader who has a record of driving positive financial results and who shares our vision of leveraging the unique attributes of the Angie's List brand. The right candidate will build on Bill's success, and will help us continue executing our strategy of establishing Angie's List as the preferred platform in the $800 billion local services marketplace," Chuang said.
Oesterle, 49, co-founded the company with Angie Hicks in 1995 and led it through an initial public offering in 2011.
Angie's List shares were up 10.7 percent in early trading Wednesday after the company also said it planned to raise its earnings outlook for the rest of the year.
The company has about 1,850 full-time employees, with most of those in Indianapolis.
Angie's List has never has turned an annual profit in its 20 years. It lost $12.1 million in 2014, a big improvement from its $33 million loss in 2013. Revenue for 2014 was $315 million, up 28 percent from the prior year. The firm reported a rare quarterly profit in February.
Financial results for the firm's first quarter of 2015 will be released on April 22.
The home-services marketplace has become much more crowded within just the last month. Online behemoths Amazon and Google both have anounced moves into the business of connecting consumers with service professionals. Amazon Marketplace already has 2.4 million serve offers covering more than 700 types of services, accoring to an April 12 story in The New York Times.
Please enable JavaScript to view this content.