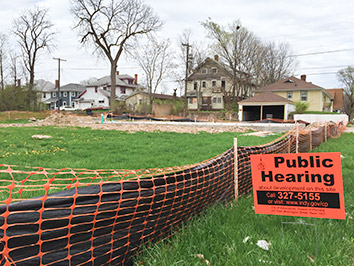 The race is on to build more gas stations in areas of Indianapolis where the threat of a moratorium on their construction looms large.
Since early March, when city officials announced plans to establish the moratorium in commercial areas adjacent to neighborhoods, the Indianapolis Department of Code Enforcement has received 18 applications to build at locations that would be subject to the ban.
That compares to just one permit application filed during the first two months of the year.
"We knew the moratorium was coming, so we did in fact move up or accelerate the pace to try to get permit approval," said John Elliott, spokesman for Kroger Co.'s central division.
The Cincinnati-based grocery chain is one of about a dozen gas station operators that have filed applications the past few months to build in areas zoned C-3, which typically contain restaurants, shopping centers and office buildings.
City officials argue those areas already are oversaturated with service stations and convenience stores. By taking action now, officials say, they're merely moving up the timetable on the ban included in Indy Rezone, a major overhaul of the Indianapolis zoning code expected to take effect in the next year or so.
"The rationale to do this, of course, is that [the moratorium is] going to be a part of Indy Rezone, anyway, so they figured they may as well put it into effect now," said John Bartholomew, spokesman for the city's Department of Metropolitan Development.
The City-County Council's Metropolitan and Economic Development Committee is set to consider the moratorium April 27. If approved, the measure would go to the full council May 11.
That's music to the ears of Leigh Riley Evans, CEO of the Mapleton-Fall Creek Development Corp. on the near-north side.
She's been ensnarled in a year-long battle to stop a gas station and convenience store from being built at the northeast corner of 32nd Street and Central Avenue. A newly poured cement slab on which the station would stand is all that sits on the lot in the heart of a residential neighborhood.
Workers halted the job after Evans received a stop-work order and then persuaded a city zoning board to revoke the owner's construction permit due to a lack of parking.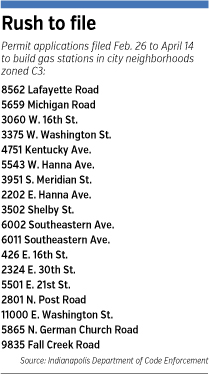 Evans appealed code enforcement's decision to grant Jasvir Singh a permit, and on April 7, the city zoning board ruled in her favor. Evans, however, expects Singh to appeal the zoning board's decision, which could extend the process six to 12 months.
The stop-work order remains in effect until the dispute is resolved, providing Evans some comfort.
"[Singh] started construction and was moving ahead very quickly," she said. "We were concerned he would have the whole thing built before we would even get to a hearing."
Evans noted that gas stations are not part of Mapleton-Fall Creek's Vision 20/21 plan, which is meant to spur economic development in the area.
"My biggest complaint is that they're not community-focused," she said. "In our neighborhood, it's easier to get a bag of Flamin' Hot Cheetos than it is to get a bag of apples."
Gas station operators with expansion ambitions aren't backing down.
 

Elliott
Kroger wants to add fuel centers at three stores within C-3 areas—at 5543 W. Hanna Ave. on the southwest side, and at 5865 N. German Church Road and 9835 Fall Creek Road, both on the northeast side.
Kroger already planned to add the fuel centers but quickened the pace to start construction in light of the looming moratorium.
Without the ability to add fuel centers, Kroger might drop plans to remodel or expand older stores, and maybe even close locations, Elliott said.
"From Kroger's perspective, it would be economically stifling," he said. "It would eliminate job-creation opportunities and, frankly, could tip some stores that might be struggling a bit into unprofitability and eventually maybe into closing."
Halting gas-station construction near neighborhoods is one of many objectives of Indy Rezone, the first comprehensive revision of the city's zoning code since 1969—long before operators expanded stations into convenience stores offering far more than fuel.
Operators that have filed to receive approval to build before the moratorium takes effect would have up to the usual three years to start construction before the permits expire.
 

Evans
With the moratorium looming, city staff might scrutinize the applications a little more closely than normal, said Timothy E. Ochs, a real estate lawyer at Ice Miller LLP who has gas station clients.
"It's probably safe to say, with this pending moratorium … it's more likely these requests will get denied," Ochs said. "But that's a general, broad statement."
One of the more controversial permit applications on file is from Pittsburgh-based Giant Eagle, which wants to demolish the historic St. John United Church of Christ at 11000 E. Washington St. and replace it with a gas station and convenience store.
Town officials and historic preservationists so far have failed to come up with a plan that would save the church from the wrecking ball. The Metropolitan Development Commission had been set April 15 to consider a zoning variance to allow for the gas station but continued a vote until May 6.•
 
Please enable JavaScript to view this content.