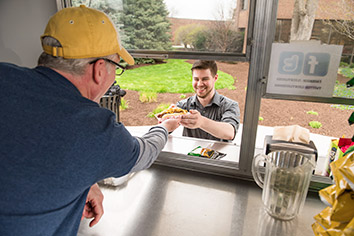 Since Noblesville slapped a $1,000 licensing fee on food trucks, the mobile eateries haven't exactly raced to do business there.
Zero permits have been filed with the city since the Noblesville Common Council imposed the fee a year and a half ago.
"It hasn't been very popular," Noblesville Planning Director Christy Langley said.
Food trucks also haven't flocked to neighboring suburban communities since various restrictions started rolling in about two years ago. Fishers has issued just a handful of permits, and food trucks have mostly avoided Westfield.
For the most part, mobile food vendors stick to downtown Indianapolis, with more than 100 licensed to do business in Marion County, with occasional visits to regulation-free Carmel.
It's not that food trucks frequented the northern suburbs before the restrictions, but they've certainly kept the trucks away as owners viewed the communities as unwelcoming.
"They put up a roadblock," said Matt Kornmeyer, founder of Indy Food Truck Alliance and owner of Scratchtruck. "And we're going the path of least resistance."
Rolling in regulations
About two years ago, Fishers became the first northern-suburb community to create regulations for food trucks, initiating a $200 permit fee.
Following suit, the Noblesville Common Council narrowly approved an ordinance in August 2013 that imposed a $1,000 permit fee.
"That's way out of line—that price," Kornmeyer said. "You'd pretty much have to operate in Noblesville every day to justify that cost."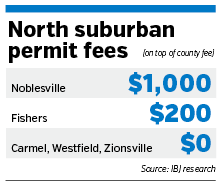 Officials in both cities have cited concerns about food trucks camping out in downtown areas and competing with brick-and-mortar restaurants that pay property taxes. Food truck owners argue they're not trying to lure customers away from established businesses.
It's a debate happening across the country and in other Indiana cities, and it's not limited to Democratic or Republican municipalities.
The issue recently simmered in Democrat-controlled Bloomington after a handful of lengthy city council meetings discussing where and when food trucks should be allowed. The mobile vendors now must stay 50 feet away from the façade or outdoor seating of existing restaurants.
Seeking to protect concessions at Grand Park Sports Campus, Westfield City Council passed an ordinance in early 2014 prohibiting food trucks from surrounding that part of town, but allowing trucks at special events. No permit is required.
Rules for food trucks in Indianapolis have been in place for years. City code requires mobile vendors to be off the streets from 10 p.m. to 6 a.m. and follow regular parking restrictions. The permit fee is $121 per year.
In addition to the municipal regulations, food trucks also have to obtain permits from county health departments. In Hamilton County, the price is $100. In Marion County, it's $173.
The right price

Kornmeyer
Bryan Monroe, owner of Der Pretzel Wagen, called Noblesville's $1,000 fee "absurd."
"I don't think they understand how we do our business," he said.
Cutie Pie's Pizza, a food truck that had been based in Noblesville, shut its doors after 2-1/2 years in the northern suburbs. Owner Tirajeh Jones said business was fine. It was simply too much work to keep up with the revolving regulations and new fees.
"If you're asking me for $1,000 and my average ticket is $6 … how much money can I make?" Jones said. "It makes it difficult for a small business to be successful."
Jones purchased the $50 permit in Lawrence because she thought that was reasonable. She provided food for a few events in Fishers and Noblesville, acting as a caterer so she didn't need to buy the permits.
Food truck owners see Fishers' $200 fee as more reasonable, but some are still hesitant. There are five trucks with permits there now, and the city issued six in 2013 after the council approved the ordinance.
Kornmeyer said White Lodging, which manages a SpringHill Suites and Residence Inn in Fishers, wants to partner with food trucks to provide the option for hotel guests occasionally, but the arrangement has been put on hold because of the $200 permit fee.
"We can if we paid for the permit, but right now no one is really jumping to pay for the permit," said Kornmeyer, who is considering the move.
For Christopher Collins, owner of Lucky Louie's, the $100 fee for Hamilton County is worth paying, but he hasn't bothered with Fishers or Noblesville. He mostly operates in Marion County.
"I certainly wouldn't go up there and troll around for business," Collins said.
Westfield has no fee, but the location restrictions and distance from downtown Indianapolis have been enough to keep food trucks away.
Kornmeyer said it seemed like Westfield officials feared food trucks would show up unannounced when there's a tournament at Grand Park, hoping to take business from the concessions.

Collins
"Their perception is that's how we operate," Kornmeyer said. "And now they've kind of rubbed us the wrong way."
Monroe said he did business in Westfield once for the Fourth of July festival before restrictions were implemented, but hasn't returned since.
"I just believe it was unwarranted," Monroe said. "We don't go up there."
Free zone
If a food truck is doing business in Hamilton County, it's likely in Carmel.
The city has no ordinances regulating the industry, which makes it easier for mobile food vendors to roll into town.
Kornmeyer said there are trucks in Carmel two to three times a week at business parks for lunch hours or invited for specific occasions.
The one restriction Kornmeyer acknowledged in Carmel, even though it's not an official rule, is to avoid the Arts and Design District. He said he was run off from that part of town once after being invited to park outside a business there.
"Could we pick a fight there? Yes," Kornmeyer said. "But at the end of the day, is it worth it? No."
Kornmeyer said if Carmel decides to implement regulations, food truck business will likely be eliminated in Hamilton County.
Langley
"That's always a threat to our business," he said.
Food trucks don't always stay mobile.
When Kornmeyer started Scratchtruck, he believed it would lead to a brick-and-mortar store. The truck would help establish the business and bring in revenue to offset storefront expenses. It's still a possibility for Kornmeyer, but the high costs of opening a restaurant have put plans on hold.
Transitioning between the two business models isn't uncommon. The Flying Cupcake, for example, has several locations throughout the Indianapolis area and also has a truck out on the streets.
Kornmeyer said he's also noticed existing brick-and-mortar restaurants expanding into the food truck industry.
"I guess if you can't beat them, join them," he said.•
Please enable JavaScript to view this content.