Yes, the pizza market is an absurdly crowded one. Yes, there are probably at least a dozen within easy delivery distance of your house. Yes, you can also find pizza in bars, convenience stores and even Subway sandwich shops.

But there always will be a place in my culinary heart for an independent pizza joint that tries and succeeds at doing the dough-sauce-cheese staple in a way that is different enough to stand out but grounded enough in the basics that it does not alienate.

Which brings me to Passione Pane Wood Oven Pizza and Bread (11640 Brooks School Road, Fishers, 712-6369), where wood oven meets a dedicated pie maker, without table service. Order at the counter, grab a can of soda from the cooler, and take a seat if you can get one of the few tables.

The pizzas here come in only one size—an individual 12-inch. A dining partner and I thoroughly enjoyed the crisp-bordering-on-charred crust and flavors that you don't get by simply piling on the toppings. But we still found ourselves with leftovers.

Now to specifics.

Every pizza joint seems to have a "veggie bomb" or some such on its menu—a stockpile of onions, mushrooms, peppers, broccoli and whatever else is in the fridge that's not meat. Passione Pane's Vegeteriana ($10.59) is a slice above. It's lightly sauced, not too cheesy, and topped with eggplant, peppers, artichoke and spinach—with each of those elements getting its own separate space. That means a quartet of tastes rather than the usual mélange. None of the ingredients overwhelmed, nothing was lost in the shuffle, and the pizza looked like a work of art. Plus, you can experiment with spicy oils made with the owner's home-grown chili peppers (something we didn't learn about until after our meal).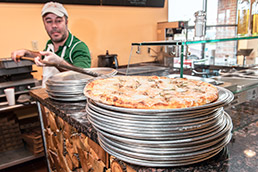 The menu is minimal, but the pies above par at Passione Pane, an independent Fishers pizzeria. (IBJ Photo/ Eric Learned)
Some might call the use of crumbled sausage on the Pizza Contadina ($10.59) stingy. Others may question the use of sliced potato (the chef/owner told us customers have, at first, been put off by the prospect). But by combining the two with a taste of rosemary, they work together impeccably.

Don't come in expecting much beyond pizza, but the exceptions we tried were notable.

Fresh tomato, basil and garlic take the stage in the deliberately served cold Bruschetta ($2.99), Passione Pane's substitution for the standard bread sticks others serve. Better, though, is the made-from-scratch Lentil Soup with Mint ($4.99) which, we were told, was originally planned as part of a rotating soup choice but has proven to have staying power. Smart move.

Without table service (we weren't even given plates) and with just a few tables, I hesitate to recommend Passione Pane as a destination restaurant. It is, however, a small treasure, one whose delicate charms leave me with mixed feelings about whether I would want to see it expand to other locations and risk losing its uniqueness. Where else can you have a delicious pizza and grab a loaf of fresh bread to take home?•