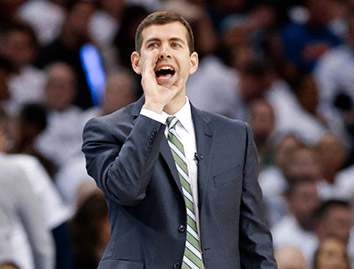 CLEVELAND—One night in the still-blossoming coaching career of Brad Stevens.
Two hours before Game 2 of this NBA playoff series, the Boston Celtics are on the court shooting, preparing to look down the business end of LeBron James. Watching from a courtside seat is Ronald Nored Jr., Boston's skill-development assistant. Time for one old Butler Bulldog to talk about another.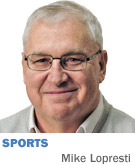 "It's crazy, but he's the same exact guy he's always been," Nored says of Stevens, the man who coached him to two Final Fours. "He prepares the same, he communicates the same, he jokes the same.
"Someone asked me when he got the Celtics job, how was he? Honestly, I thought he grew more humble. To coach the most storied franchise in basketball history and become more humble? It's unhuman.
"There are a lot of things that people want to do for him. Carry his bags, bring his car to the plane. He'd probably kill me if he knew I was saying this, but he doesn't want any of those things. He wants to carry his own bags and walk to his car just like everyone else does. He hasn't changed one bit."
One hundred minutes before Game 2, the president of basketball operations for the Celtics walks down the hall toward the locker room. Earlier in the day, it was announced that Stevens finished fourth in the voting for NBA coach of the year, in his second pro season.
"I'm not sure why anybody should be surprised he's a good coach," Danny Ainge says. "I've always known it. Maybe everybody else is starting to recognize what we've already known."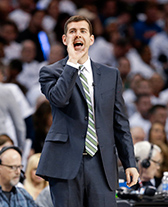 Brad Stevens (AP Photo)
By now, wasn't the honeymoon supposed to be over after a slew of losses, with Stevens realizing the error of his ways in leaving Butler University?
He'd already be thinking of turning away from the NBA pile of cash and returning to college.
Instead, he has won renown for taking a team that was 16-30 on Super Bowl Sunday, and transforming it into a playoff entry. A team that endured so much turbulence, 24 different players appeared in a game. The current Boston starting lineup includes only one man who came into this season with an NBA career scoring average in double figures: Evan Turner. Maybe you remember Turner's quiet time with the Pacers last season. The most important Celtic lately has been Isaiah Thomas off the bench. All 5-9 of him.
In other words, it's not Bill Russell or Larry Bird out there right now for Boston. But Stevens is defying the odds, just like he did against Florida and Michigan State.
"The thing I've always liked about him is who he is," Ainge says. "Coaching is one thing, and I think there are a lot of people that could learn how to coach. It's not brain surgery. But I like who he is, more than what he knows, and he knows a lot. His integrity and how hard he works. What you see is what you get."
Ninety minutes before Game 2, Stevens stands in the middle of a gaggle of reporters. At 38, he still seems like the young former Eli Lilly and Co. marketing associate and Hinkle Fieldhouse employee. He is six months younger than Tim Duncan. Mike Krzyzewski had not been to one Final Four yet at this age.
His comments are direct, logical, sometimes tinged with Indiana humor.
Trying to defend James?
"He's a tough matchup for all of us. And when I say all of us, I mean everybody else in the world."
The problem of his team passing up 3's to shoot long 2's?
"I'm not going to lose sleep over it. I've heard people say the long 2 is the worst shot in basketball. If it goes in, it's better than any miss. How's that for analytics?"
Do the constant references to his being new at this playoff business bother him?
"Not really. It's part of it. I think everybody's going to go through it. It's something to talk about, and I understand that. As much as this was built up to be something that wasn't basketball, it was basketball in Game 1."
His celebrated passion for preparation?
"You just enjoy the process of getting ready for a game as a coach. It's part of the sick-mindedness of this profession. You enjoy watching that film over and over and over."
How has he won the Celtics' trust?
"Some people can walk in the building and have it automatically, from what they've achieved. The only way I know to go about it is to just be yourself and work. That's what I've tried to do.
"I don't want this not to work out because I haven't been me; does that make sense?"
And finally, about that fourth-place finish for coach of the year?
"I don't want to diminish how honored you are to be in that discussion, but other than that—I'm not big on the postseason stuff. I've learned from all 29 other coaches in this league, and there is no way you can appropriately rank them."
But what does it mean to be higher in the balloting than Gregg Popovich?
"Bad voting."
At the end of Game 2, Cleveland wins 99-91 to take a 2-0 lead in the series. The Cavs are a tall task. The last team Stevens coached against in the postseason was Marquette University in the 2013 NCAA Tournament.
The Celtics have given a game effort, as Stevens watched in the familiar arms-folded calm pose. He might just as well have been in Hinkle Fieldhouse, trying to beat Xavier.
"That's a very well-coached team," James says after the game.
Here's something Nored mentioned about Stevens, and the reconstructed and rambunctious Celtics:
"With this team we have, it's made it fun to come to work. You just come in the gym with a different kind of spirit because your team brings that. I think Brad has felt that, too. The guys have seen a pretty relaxed Brad, because they do what they need to do for us to have a chance to win, so Brad doesn't have to coach that. He's just coaching basketball.
"I think he's having a lot of fun doing that. This is what he wants, right here."
Eleven minutes after Game 2, Stevens meets the media and says the Celtics will get past the defeat and go on to the next challenge. His teams always have, be it in Boston or on 49th Street.
"We've been of a collective mind-set that the only day that matters is today, and move onto what's next. I know that gets really old to hear, but I think that's the only way to live, and it's certainly the only way to live in this business.''
This series will likely not end well for Boston, but the Celtics are a young team with a young coach and big plans. Don't hold your breath waiting for Brad Stevens to return to college basketball.•
__________
Lopresti is a lifelong resident of Richmond and a graduate of Ball State University. He was a columnist for USA Today and Gannett newspapers for 31 years; he covered 34 Final Fours, 30 Super Bowls, 32 World Series and 16 Olympics. His column appears weekly. He can be reached at mlopresti@ibj.com.
Please enable JavaScript to view this content.