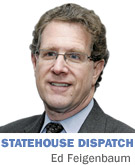 As lawmakers look to return home by April 29, truly partisan measures are not in evidence among the more intriguing unresolved issues, having been worked through, avoided or simply ignored during the first three months of the session.
Even some of the issues that were arguably partisan in nature—such as the Religious Freedom Restoration Act, repeal of the common construction wage law, education governance issues, and reduced funding for urban and rural schools with declining enrollments—saw a modicum of Republicans cross party lines to vote with the majority of Democrats.
So, absent the usual D-versus-R cues and clues, what should you look for in the final few days?
The key item, of course, is the biennial budget. The April 16 economic outlook presented to lawmakers was disappointing, and the attendant revenue collection forecast forced some tweaking of the budget framework.
As expected, budget drafters had to lower the budget starting point due to an anticipated shortfall in the biennium ending June 30. The $200 million difference amounts to only about 1 percent of the overall budget, but means a reset of the base.
One number that won't be trimmed: the $466 million biennial increase proposed for K-12 education. When anticipated fiscal year 2016-2017 collections are factored in, the one-third or so of the budget that is not education-related will see slightly deeper cuts.
Lawmakers continue to dicker with the governor about funding for charter schools and choice scholarships, while legislators representing growing suburban school districts spar over the complexity index with those defending shrinking rural and urban districts.
School funding will see true compromise, but districts with declining enrollment will not walk away even partially satisfied with their new share.
The House and Senate will struggle with the casino bill. House members fight for live dealers at the racinos, but senators are more reticent about the concept, seeking to protect smaller casinos and cognizant of gubernatorial concerns about "expansion."
While French Lick emerged a big winner headed into conference, the Springs Valley might see some of those hard-earned concessions disappear in negotiations.
The Indianapolis soccer stadium will also be a point of contention.
An $83 million scratch-built soccer stadium that morphed into a $15 million IUPUI stadium upgrade changed again as conference talks began, as a new venue on the current stadium site became a viable matter for discussion. But funding questions abound, and this is about the time that out-state lawmakers and mayors typically inveigh against all the money falling into the Indianapolis doughnut hole while they end up with nothing.
There are some northwestern Indiana rail, highway and development issues that could find themselves as bargaining chips for votes on this.
This year's last-minute monkey wrench might come in the form of the needle exchange bill aimed at alleviating the opiate-related HIV outbreak spreading in and from Scott County.
Some lawmakers, such as the conference committee chairwoman, Sen. Patricia Miller, a retired nurse, have changed their long-held antipathy toward needle-exchange programs, while other Republican senators prefer more assistance and treatment programs be made available first—or simply oppose exchanges because they see them as fostering drug abuse.
You should be reminded that the top House fiscal Republican is a physician, the brother of the top Senate fiscal leader is also a physician, and this will likely be decided on the basis of public health policy rather than social policy as public health professionals step up to the plate in the debate, publicly and behind the scenes.
But you can also expect solons to raise the question of costs of the HIV and Hepatitis C treatment regimens, both immediate and long term, that will likely land in the state's lap.•
__________
Feigenbaum publishes Indiana Legislative Insight. He can be reached at edf@ingrouponline.com.
Please enable JavaScript to view this content.