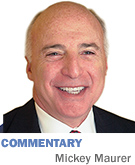 This August will mark the 15th year of Mickey's Camp. Celebrate that anniversary with me.
Mickey's Camp is held for men and women who wish to learn or polish adult skills. In the past 14 years, lots of business deals have been sealed at Mickey's Camp. Lots of friends have been made and lots and lots of money has been raised for central Indiana charities.
There will be an abundance of new activities this year, including a session with Aliy Zirkle, who has completed 14 Iditarod dog sled races in Alaska. Her stories of adventure at 40 degrees below are spellbinding.
I am looking forward to a presentation by Carl Erskine, who pitched for the Brooklyn Dodgers and enjoyed a strong friendship with teammate Jackie Robinson. Erskine set the record for the most strikeouts in a single World Series game against the New York Yankees in 1953, a record that stood for more than a decade. He was a fierce competitor who pitched two major league no-hitters.
I also am not going to miss a discussion with Donald Kuratko of the Kelley School of Business. He leads the No. 1-rated entrepreneurial program in the nation.
If baseball and business aren't your bag, you can talk football with Gary Brackett or opera with Indianapolis Opera General Director Kevin Patterson, have a golf lesson, try any number of cooking classes, participate in a "foodie feud" game show, learn the history of film from Tim Irwin, artistic director of Heartland Film, or the history of rock 'n' roll from professor Glenn Gass, the provost professor of music at Indiana University Jacobs School of Music.
There is horseback riding and there is horseshoe pitching. Enjoy SLR and iPhone photography, magic, zip lining, bourbon tasting and a day at the beach.
Krav Maga, a deadly self-defense discipline, will be offered as well as a paintball battle. If you prefer not to fight, you can relax with acupuncture, a massage, a facial or listen to lectures on the Middle East from Pierre M. Atlas, an associate professor of political science at Marian University or nanotechnology from Gerhard Klimeck, Reilly director of the Center for Predictive Materials and Devices at Purdue University.
Returning this year is Marc Adams, director of the Marc Adams School of Woodworking, one of the most highly regarded woodworking schools in the nation.
At Mickey's Camp this year, you can learn how to "wrastle." You will hear stories from the pro wrestling ring, but more importantly you will train with former and current pro wrestlers to learn the art of wrastling.
Many of the activities are offered at both the men's and women's camps. Additional activities offered only at the women's camp include cake decorating, experimental pop art, floral arranging, pottery, extreme eyelash extensions and makeup application with an airbrush.
Evening activities promise to be equally enjoyable. You'll have an opportunity to engage in a dialogue with our keynote speaker, former FBI agent Jerry Bepko, about the James Meredith 200-mile March Against Fear during the civil rights era in Mississippi. Bepko was there.
The keynote speaker at the women's camp is Idalene Kesner, dean of Indiana University's Kelley School of Business, who will discuss "Successful Strategies in Turbulent Times."
We also will hold poker and euchre tournaments and offer poker lessons from hall-of-famer Jan Fisher and Linda Johnson, who was the third woman in history to win a gold bracelet at the World Series of Poker.
The best restaurants in the city will lend their talents and skills for our meals. They include Amore's Pizza, Scholar's Inn, Georgia Reese's, Sullivan's Steakhouse, Fleming's Prime Steakhouse, Shapiro's, Café Patachou, Ivy Tech, Palomino and the JW Marriott.
Camp brochures are at Mickeyscamp.com. For a hard copy, please email me at the address below. I look forward to seeing you at scenic Bradford Woods, south of Interstate 465 on State Road 67 near Mooresville. Women's camp takes place Aug. 17-19 and men's camp will celebrate its 15th anniversary Aug. 19-21, 2015. Please come.•
__________
Maurer is a shareholder in IBJ Corp., which owns Indianapolis Business Journal.  His column appears every other week. To comment on this column, send e-mail to mmaurer@ibj.com.
Please enable JavaScript to view this content.