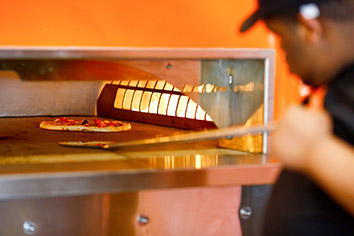 A pizza war is heating up in Indianapolis.
Additional players in the new and trendy fast-fire sector are charging into the Indianapolis area, giving pie lovers more choices at much shorter wait times.
"The concept is very interesting, because it works well in our fast-paced environment," said Gary Perel, a retail broker at Newmark Knight Frank Halakar. "But there's going to be so many. Only the strong will survive."
What distinguishes fast-fire concepts from traditional pizzerias is that their pizzas are fired in a high-temperature, stone-hearth oven and served within five minutes.
The Indianapolis area seems ripe for expansion, with just three fast-fire outposts so far. California-based Blaze Pizza opened near IUPUI in January 2014 and at 12697 N. Pennsylvania St. in Carmel in August. Meanwhile, locally owned Coalition opened in May at 116th and Illinois streets in Carmel.
They soon will be joined by Carlsbad, California-based Project Pie, which plans five area locations, and Dallas-based Pie Five, which plans 15. Other chains are likely to follow.

Perel
Project Pie expects to open its first restaurant on May 18 at 8235 E. 96th St. in an outlot in front of a Meijer store. Pie Five expects to follow July 24, opening in a former Dunkin Donuts building at 48 E. Washington St. downtown.
"People do not want to wait an hour to have lunch," Pie Five franchisee Carl Dissette said. "You don't have the time."
Patrons choose from several toppings, similar to the format at high-flying fast-casual Mexican eatery Chipotle, to build their personal-size, thin-crust pies.
The fast-fire operators pride themselves on using higher-quality ingredients than pizza-delivery chains. But that alone won't be enough to sustain success, Perel predicted.
"It's really going to come down to the operations and who's going to perform the best," he said. "Someone's going to emerge dominant and someone's not."
Room for growth
The fast-fire sector is still in its infancy but primed to take a bite out of the overall pizza business. The $40 billion pizza industry ranks second only to hamburgers in terms of total restaurant sales.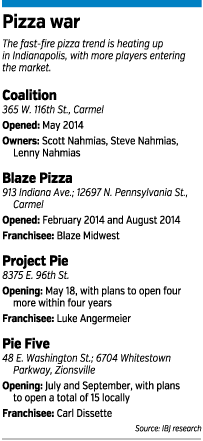 The top 15 fast-fire chains grew 193 percent, to $337 million, in 2014, according to consumer research firm Technomic.
Brothers Scott, Steve and Lenny Nahmias, who operate Coalition, decided to jump on the trend after stumbling upon the regional restaurant Sauce in Scottsdale, Arizona. The three, who also own the office furniture and supply company Office 360, are new to the restaurant business.
After nearly a year in business, the brothers are pleased with the performance of their restaurant, though ongoing construction of U.S. 31 has presented challenges, Scott Nahmias said.
Even so, they're eyeing eight to 10 additional locations in such communities as Fishers, Avon, Greenwood, Bloomington and Lafayette, Nahmias said.
Coalition's pizza takes five to 10 minutes to bake—a bit longer than its competitors'. The restaurant, however, offers salads, sandwiches and pastas on real tableware and serves local beers, possibly giving it a leg up, Nahmias, 50, said.
"We hope to be just different enough to not get caught up in [the competition]," he said, "but we're not naïve enough to think that couldn't happen."
Indy a 'hip town'
The quick-fire trend grew out of southern California. Project Pie founder James Marcum—who launched Mod Pizza in 2007 in Seattle and Pieology in 2010 in Fullerton, California, before moving on to Project Pie in 2012—casts himself as the trailblazer who started it all.
He opened his first Project Pie in the MGM Grand Hotel & Casino in Las Vegas and has expanded to 20 locations, in San Diego and Dallas, in addition to the Philippines and Scotland.
Indianapolis will be just the chain's third domestic city.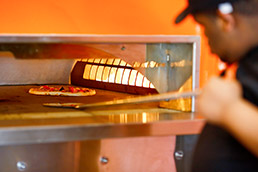 What distinguishes quick-fire concepts from traditional pizzerias is that the pies are baked in a high-temperature, open-hearth oven and served within five minutes. (IBJ file photo)
"It's got a great food scene," Marcum, 45, said. "Indianapolis is a very hip town. It's sort of middle America, but I've spent a lot of time there."
Project Pie is charting especially aggressive growth, with 150 locations in the pipeline, a combination of company-owned and franchised stores.
The five slated for Indianapolis will be operated by local entrepreneur Luke Angermeier and two business partners.
Competitor Pie Five will be led locally by veteran Jimmy John's franchisee Carl Dissette. The 51-year-old Illinois native operates 10 of the sandwich shops in the Chicago area and had planned to open the pizzerias there as well. But upon learning Pie Five's Chicago restaurants would be company-owned, he agreed to open 15 in the Indianapolis area instead.
Dissette is so confident Pie Five will thrive in Indianapolis that he bought the building where the first location will open—on East Washington Street downtown. The second, in a small strip center on Whitestown Parkway in Zionsville, could open in September.
Pie Five launched in 2011 and is a unit of publicly traded Rave Restaurant Group. It has 43 locations in 13 states and has deals for 400 more in 13 other states, Dissette said.
He's confident quick-fire pizza will reshape consumer dining habits.
"I believe you're seeing something here, just as Chipotle developed a great fast-casual Mexican concept," Dissette said. "It's not going anywhere but up."
"People want quality and they want it now," he said. "If there's any question about it, look at Starbucks."•
Please enable JavaScript to view this content.