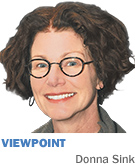 Does Indianapolis want the ban on digital billboards to be lifted? It's hard to tell, since the public has been kept in the dark as billboard companies have been working behind the scenes to win support from city-county councilors for years.
What we know is that more than 50 neighborhood groups and organizations, including the Indianapolis Chapter of the American Institute of Architects, are opposed to Proposition 250, which would lift a 10-year ban on digital billboards in Marion County. It would allow advertisers to take down static billboards and replace them with illuminated signs that rotate through multiple messages.
My organization is opposed because we believe in community input, especially when it comes to changing zoning issues that have such a major impact on the city. In this case, the public wasn't given that chance, because outdoor advertisers circumvented the process. Not even the city's paid urban planning professionals were allowed to be part of this proposed change.
The advertising industry was allowed to craft its own ordinance to be voted on by the City-County Council. By state law, only the Metropolitan Development Commission (not the council) has the authority to even initiate changes to zoning ordinances.
Recently, the city created Indy Rezone to update zoning ordinances and related development regulations. Zoning has potential for huge impact; one change can drastically transform any neighborhood. Because of this, rezonings are usually part of a public hearing process. Not in Prop 250's case.
Prop 250 could flood the city with digital images—even boards that have sound. While Prop 250 requires advertisers to remove two static billboards for every new digital billboard, other cities have required much larger exchange ratios. St. Paul, Minnesota, requires six billboards to be removed, and Santa Clarita, California, requires 21.
Indianapolis needs to require a much greater ratio if we allow the electronic billboards at all. Several cities, including Portland, Oregon; Austin, Texas; and Denver don't allow illuminated signs.
We also need to consider how far apart the boards are. Prop 250 requires 500 feet; other cities require them to be at least a mile apart. And, most cities protect all residential areas, not only historic neighborhoods.
Prop 250 would require digital boards be 500 feet from a historic neighborhood; however, if you live in a downtown apartment, say the new Artistry on East Street or near Broad Ripple, a digital board could be right across the street.
On May 18, a City-County Council committee will consider Proposition 250. I urge anyone concerned about the future of Indianapolis to attend that meeting and let the council know whether you want a digital billboard in your back yard.
We ask the council to take the request to lift the digital billboard ban back to Indy Rezone where all zoning requests need to be initiated and where we know our own residents are thinking about what's best for our city. Then let the public provide input and find out what residents want.•
__________
Sink is campus architect at Indianapolis Museum of Art and vice president of the Indianapolis Chapter of the American Institute of Architects. Send comments on this column to ibjedit@ibj.com.
Please enable JavaScript to view this content.