Lobbies of sleek downtown office towers are often little more than elevator passageways; office broker Rich Forslund of Summit Realty Group goes so far as to call them "a place to wipe your feet."

But tower owners are starting to transform the lobbies to cater to younger workers who increasingly shun buttoned-down environs for trendy spots with historical character and open space without offices.

Market Tower, BMO Plaza and Regions Tower are in varying stages of modernization projects to combat high vacancies caused partly by tech-oriented companies'—many run by young, hip leaders—turning to digs with more personality.

At the top of the tower owners' to-do lists is transforming ground floors into walkable hubs of activity by adding restaurants and other amenities, or at the very least making them feel more welcoming.

The towers are competing for infant companies with potential to absorb multiple floors or even entire buildings. For example, email marketer ExactTarget, acquired in 2013 by San Francisco-based Salesforce, bypassed towers for older locations and now occupies the Guaranty Building on Monument Circle, the Century Building at Pennsylvania and Maryland streets, and the Gibson Building at Michigan Street and Capitol Avenue.
Tower owners are spending millions, starting with what's most visible to visitors—their front doors.

"It's a matter of trying to create a pulse within your lobby," Forslund said. "That's what this is about—creating that chance encounter in a lobby like you would on a downtown street."

Restaurants are playing a key role in the makeovers; Market Tower and Regions Tower owners hope to land eateries. Even skyscrapers with high occupancy and existing restaurants, such as Chase Tower, want to provide more eating choices, said Brian Epstein, a downtown retail broker.

"All of the towers want food users," Epstein said.

But can the towers really appeal to the younger crowd? Peter SerVaas, a 27-year-old founder of transportation software developer Double Map, said they can—if tower owners tolerate the occasional rowdy ping-pong game.

Double Map is in historic, granite-covered 429 N. Pennsylvania St., and like a lot of younger companies, it's a bit unconventional. Double Map has no land lines and many of its employees don't work normal business hours.

Towers can play up a big advantage, SerVaas said: "It's definitely attractive [to be in the towers] considering the locations and being downtown."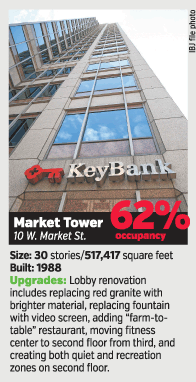 Time is of the essence

The new owner of Market Tower—whose 62-percent occupancy rate is well south of the downtown average of 80 percent—is rolling out the most aggressive lobby changes.

Chicago-based Zeller Realty Group in October bought the 30-story skyscraper at Illinois and Market streets out of foreclosure. It was owned by embattled Indianapolis developer HDG Mansur.

Built in 1988, the tower shows its age with expensive, yet dated, red granite adorning its three-story lobby. Zeller plans to replace the granite with a brighter-colored material to give the space a more open and lighter ambiance.

Time is of the essence for Zeller, which hopes to finish the lobby renovations early next year as part of an overall investment in the building that could reach $4 million, said Tristan Glover, a Zeller vice president.

"Getting this to market quickly is important for us," he said. "There are other people who are jumping on this, but we think we can do it better."

Zeller has hired Wright Heerema Architects of Chicago to design the space. The lobby renovation rests largely on the 2,500 square feet east of the main entrance, last occupied by a financial services firm. Zeller is talking with a "farm-to-table" eatery about serving breakfast and lunch to add much-needed retail presence.

Zeller also plans to replace the fountain with a multilevel video screen to further open the space.

Vacant space on the second and third floors that became wastelands after failing to attract retailers will be incorporated into the lobby, Glover said.

An improved, staffed fitness center providing personal-training services will be moved from the third floor to the second. Also, a quiet zone will be created where workers can plug in laptops and escape the office for a while. The west side of the second level will feature a social area complete with shuffleboard and pool tables, in addition to a conference room and kitchen area.

Third-floor space will be reserved for a co-working facility where startups can pay for a dedicated work space for up to perhaps four employees.

"People are tired of working out of Starbucks," Glover said.


Restaurant space available

Like Zeller, the new owner of Regions Tower hopes to lure a restaurant or two—the tower has 6,000- and 9,000-square-foot blocks available on the ground floor, said Brian Epstein, a broker listing the space.

Epstein expects deals to be signed this summer.

New York City-based The Nightingale Group bought the 36-story skyscraper at Ohio and Pennsylvania streets in September from a local group consisting of Todd Maurer, a principal at Newmark Knight Frank Halakar, and Pittsburgh-based McKnight Group.

Nightingale declined to discuss with IBJ its plans for improving the building and its 70-percent occupancy. But a state construction permit for lobby renovations suggests the firm soon will embark on remodeling more than 5,000 square feet.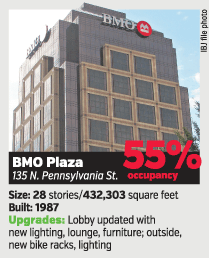 Balancing cultures

Across the street south of Regions, a renovation of the lobby at BMO Plaza is complete.

"The lobby, lighting and lounge—we decided to start with those things, to enhance that front-door presence," said leasing agent Bill Ehret, who left Summit Realty Group last month to launch the local office of Toronto-based Avison Young Inc.

Furniture was replaced and, to open the space, a decorative granite point that jutted from the second level was removed.

On the second floor, The Labor District Cafe took space formerly occupied by Sahm's, and an adjacent conference center was moved to the seventh floor to make way for an employee lounge and co-working space Free Wi-Fi and forthcoming coffee service are a few of the perks offered in the lounge.

Outside, True North Management Group—the White Plains, New York-based owner—added bike racks and bench seating to the plaza and lights on the building's exterior to illuminate the exterior skin.

True North has been careful to strike a balance between appealing to younger companies and to more conservative accounting and law firms by keeping the renovations tactful, Ehret said.

"We're walking that line of professionalism while being attractive to the new, creative workforce that everyone's talking about," he said.

"There's been a lot of talk about that sector, but it still may not be the biggest piece of the pie," he continued. "Still, you can't ignore where things are going."

Counting improvements to the building's parking garage and heating, ventilation and air-conditioning system, True North has sunk more than $4 million into the building, Ehret said.

Both Ehret and True North officials hope the investment boosts occupancy of the 28-story building above its current 55 percent.

Three small tenants have been signed and two leases are pending, Ehret said. Other prospects are eyeing an additional 50,000 square feet.•