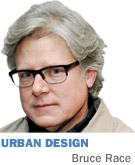 Virginia Avenue was one of the original diagonals in the 1821 plan for Indianapolis by Alexander Ralston. By definition, avenues are broad streets lined with trees. Avenue is derived from the French avenir meaning "to come to, or to arrive." Ralston conceived of our diagonal avenues as our connection to other places. They were how people arrived in Indianapolis.
Virginia Avenue connects downtown to the Fountain Square neighborhood. Unfortunately, as with our other diagonal avenues, it has been clipped from downtown by short-sighted development. An entire block of Virginia was covered over in the late 1990s by the Bankers Life Fieldhouse garage, an ill-considered and ugly project that will last 100 years.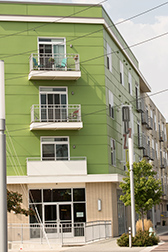 Virginia Avenue's Mozzo. (IBJ file photo)
Most urban design decisions are more incremental than dropping a big garage over a view corridor. They tend to come one building at a time, each a product of its time and reflecting its economic purpose, construction technology and stylistic tastes. Today, a new generation of urban architecture is making an impact on Virginia Avenue.
Virginia evolves
Highways, railroads, buildings and road-widening projects have chopped Virginia Avenue into segments. Between downtown and Fountain Square, there are four Virginia Avenues: the downtown segment, the corporate campus between the railroad tracks and South Street, the Fletcher Place neighborhood from South Street to Interstate 65, and, beyond the interstate, the stretch of Virginia Avenue flanked by the North Square neighborhood and Fountain Square. Each of these areas has its own character and identity.
In downtown, Virginia Avenue starts at Washington Street, just a block from Monument Circle and just as Ralston intended. All the other avenues (Massachusetts, Indiana and Kentucky) lost their first block to commercial developments. The resulting office towers and hotel delivered dead walls and poorly defined walking edges. Virginia Avenue's remaining storefront buildings are the exception.
After emerging from underneath the parking garage and railroad underpass, Virginia becomes a corporate campus for Anthem. It features mid-rise office buildings and triangular open spaces at South Street. (According to Ralston's 1821 plan, all the diagonal avenues had triangular parks where they intersected with the ordinal North, South, East and West streets.) The existing triangular open spaces on Virginia Avenue were developed as commercial and residential blocks in the 1880s and are now owned by Lilly and Anthem and zoned for commercial use. Any plans for these blocks provide an opportunity to create a central place for the growing campus community.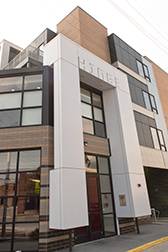 Virginia Avenue's Mozzo (top) and Hinge (above) demonstrate the potential for new designs to lean heavily on modernism while incorporating lessons from traditional urban buildings. (IBJ file photo)
Virginia Avenue's Fletcher Place and Fountain Square segments are traditional and historic neighborhoods. These have wood-frame houses and brick storefronts that reflect the lot and ownership pattern of the 1880s. They possess a pedestrian scale, rhythm and pace.
The Cultural Trail threads the length of Virginia Avenue. As in other parts of the city, the trail adds design continuity and streetscape enhancements. One could argue this improves the Indianapolis brand or that it ignores the traditional character of districts and neighborhoods, making them less distinct. However, the Cultural Trail and new infill buildings are changing the character of Virginia Avenue.
Contemporary urbanism
With various levels of success and failure, three recent buildings and one proposed building demonstrate how architects and developers are adding a layer of contemporary urbanism to Virginia Avenue's character.
The nine-story 435 Virginia Avenue residential project on the corner of South and East streets completely misses the mark. Called Villaggio at Page Pointe, this building does a lot of things poorly, including lining half a block of Virginia Avenue with a parking structure and placing a parking lot at the important 45-degree intersection. The architecture is too unremarkable to discuss.
South of Villaggio on Virginia Avenue are the Mozzo apartments. Developed by Milhaus and designed by Blackline Studio, the colorful block-long, four-story building is a bit relentless but has been designed to reflect the rhythm of commercial blocks that used to line Virginia Avenue. The ground floor is social, with commercial storefronts and residential stoops.
At the corner of McCarty Street and Virginia is The Hinge, a mixed-use project developed by Deylen and designed by Blackline Studio. The design includes a four-story L-shaped apartment building fronted by a two-story commercial building along Virginia. Light, bright, and transparent, the project comes off as a contemporary urban building that acts as a northern gateway to Fletcher Place.
A project under construction at 501 Virginia Ave. is called the Slate. Also developed by Deylen and designed by Blackline Studio, the five-story building is to have 68 apartments over commercial. It will be next to the Villaggio's parking structure.
The Slate, as the name suggest, is gray. It is a large box hovering over a glass commercial ground floor. The surrounding blocks have two-story traditional brick storefronts. Where the other contemporary design efforts by Blackstone Studio seem to work on Virginia Avenue, the Slate is an "it's all about me" building that could go anywhere. It detracts from the neighborhood's pedestrian scale and lot patterns, which are better expressed in the Hinge and Mozzo projects.
Lessons learned
Generally, the Fletcher Place neighborhood's Virginia Avenue has been improving as a fresh, contemporary form of urbanism. It is the bright spot along a street that is important to the "avenir" experience. It's not perfect, but some of these new buildings demonstrate the potential for new designs to lean heavily on modernism while incorporating lessons from traditional urban buildings. I look forward to seeing more.•
__________
Bruce Race, FAIA, FAICP, PhD, is an award-winning architect and urban planner, owner of RaceStudio, and recipient of the Indiana Sagamore Planning Award. He lives in a historic Indianapolis neighborhood and teaches urban design at Ball State University's Downtown Indianapolis Center. His column appears monthly. He can be reached at br@racestudio.com.
Please enable JavaScript to view this content.