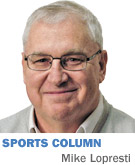 The Speedway is opening. The NFL draft just concluded. Las Vegas has been busy hosting the fight of the century, with the ticket prices to prove it. OK, so maybe this isn't prime time to be talking about college basketball.
But wasn't it just a lovely April for Tom Crean?
All his fledglings returned to the Bloomington nest, each one not quite yet ready to fly off to the NBA. Yogi Ferrell. James Blackmon Jr. and Troy Williams, too. Plus, a new tall phenom is coming to town. Also, there is word the shot clock will probably be shortened to 30 seconds next season, and that should fit Indiana's rambunctious offensive style well. The news just keeps getting better and better. But soon comes the hard part.
Move over, Kentucky and Duke? Well, we'll see. Suddenly, expectations among the Hoosier masses for next season are higher than the Chase Tower. Not always a pleasant thing, by the way. Sometimes it can be a distraction, a trap, a mirage, a burden to lug from week to week and gym to gym. Depends on how a team handles it.
Still, better a high ceiling than a low one. Indiana will not be considered the preseason No. 1 timber of a couple of years back, but the Hoosiers will be moving up. Look at whom Wisconsin lost, or Michigan State, or Duke, or the Calipari Finishing School of Lexington. Consider some of these recent Indiana quotes, to be stored away for next winter.
This from Blackmon. "We have a huge chance to do something great. … I wanted to be a part of that."
And from Ferrell. "I truly want to leave a legacy of accomplishments at IU."
And from Crean, after landing 6-foot-10 freshman Thomas Bryant. "Thomas is a transformational sign for us."
All that is like whispering sweet nothings into Hoosier fans' ears, after a turbulent and disappointing season that saw 10 losses in the last 15 games. So here are some suggested guidelines for the coming summer, to maximize this blossoming optimism.
1. No off-court knuckleheaded-ness. Not like last year. It would just kill the mood. 
2. When driving, buckle up, no texting–and try not to run over any teammates. Devin Davis is still working his way back.
3. The preseason magazines will be here before you know it, and Indiana will be mentioned with some prominence. Better get used to dealing with the outside noise that comes with it.
Crean delivered a short sermon on that subject the other day.
"If you are driven by external expectations, you're not going to go very far. It really comes down to what the internal expectations are. Are we working on the things that we can actually get better at, attacking the weaknesses with open minds, and controlling what we can control? To me, that's what it's got to be. That's what it's always been.
"If there's motivation based on what people don't think you can do well, that'll take you to a certain point. Just like motivation of what people do think you can do well, to a certain point. But it won't take you past that."
4. Any idle moment in the next few months should be spent on working at being able to better guard … everybody. The opponent is not supposed to be like the temperature in Indiana in June: breaking 75 many days. The Hoosiers finished 296th in the nation in points allowed.
"There's not one coach or player that doesn't understand we need to be better defensively," Crean said. But hey, they might only have to guard someone for 30 seconds next season.
5. The season is way down the road, so it's a little early to be talking about specific games. But probably not a good idea to get swept again by Purdue. And don't even think about losing to another Eastern Washington at home. 
6. Understand the bar is raised, and that's good. But it comes with promises to keep. Sweet 16, or bust? Big Ten title contention, or bust? Some of that might not seem fair, but that's the way it's always been and that's the way it always will be. Best be ready for it.
Another Crean soliloquy:
"Anybody that thinks I don't lay awake at night, or am happy with outcomes, I'm not. I know where we stand over the last four years, and we've averaged 23 wins and we've done all these different things, but that's never going to satisfy you as a competitor, and what you think you're capable of, and that has nothing to do with anybody [on] the outside.
"It has everything to do with what you think you are capable of as a program, and I like the fact that these guys are working at that level, and they'll continue to. If they don't, they will not play, because someone will beat them out."
The spring has been splendid for Indiana basketball, but it's more than six months before they turn on the scoreboard. People will be expecting a lot, and they should.•
__________
Lopresti is a lifelong resident of Richmond and a graduate of Ball State University. He was a columnist for USA Today and Gannett newspapers for 31 years; he covered 34 Final Fours, 30 Super Bowls, 32 World Series and 16 Olympics. His column appears weekly. He can be reached at mlopresti@ibj.com.
Please enable JavaScript to view this content.