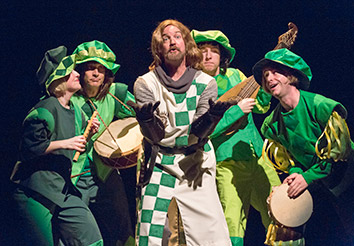 When "Monty Python's Spamalot" (running through May 9 at the Booth Tarkington Civic Theatre) won the Tony Award for Best New Musical in 2005, it was the fifth comedy in a row to score that honor. It seemed that, post 9/11, audiences, critics and Tony voters were hungry for laughs, and "Spamalot"—which followed "The Producers," "Thoroughly Modern Millie," "Hairspray" and "Avenue Q"—was willing and able to provide.
A decade later, it's good to see that all these shows are still being staged, each making a bid to enter the canon of long-shelf-life musicals. We've seen multiple productions of each here in town and, I'm sure, will see many more.
That's fine with me, since each has its pleasures. "Spamalot," though, would seem to be the trickiest of these properties. Many of its pleasures come from familiarity with killer rabbits, shrubbery quests and the airspeed velocity of swallows—in other words, stuff memorized from college binge-watching of its source material, the film "Monty Python and the Holy Grail."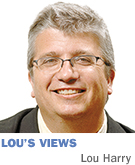 You could feel that split within the Sunday matinee crowd during opening weekend of Civic's production. There were those who knew, for instance, what would be catapulted over the French castle wall and laughed in anticipation. And there were those who seemed baffled, at least at first, by what all the silliness was about.
The latter—those accustomed to more conventional musical comedies—have a right to require some adjustment time when the having-nothing-to-do-with-the-rest-of-the-show opening number, set in Finland, involves fish-slapping. Yes, dancers slapping one another with fish. But the baffled did adjust, and by the time the plot (such as it is) kicked in, the audience seemed more unified, going along with the goofiness. Helping matters considerably is a catchy collection of songs by John Du Prez and Eric Idle (including "Always Look on the Bright Side of Life," lifted from another Python film, "The Life of Brian").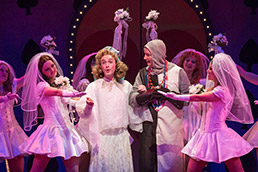 Stuart Mill, top, and Jeremy Shivers-Brimm, above, satisfy theatergoers' quest for silliness in "Monty Python's Spamalot." (Photos courtesy of Booth Tarkington Civic Theatre/Zach Rosing)
The story? King Arthur's quest to round up knights for his round table (here, his "very, very, very, very, very round table") is supplanted by another, divinely ordained quest—to find the Holy Grail. His efforts to achieve that lead to a series of trials—including a run-in with a very determined Black Knight and the complete destruction of the theatrical fourth wall between players and audience.
The production itself exhibited Civic's usual top-notch tech, with set changes rarely slowing down the brisk pace. And you won't hear stronger, clearer sound from any orchestra pit in town. The cast sounds terrific together, but when it comes to solos and dance numbers, the strong performers stand out from the competent-for-community-theater, creating a bit of a split-level company.
I'll look on the bright side and not mention the weaknesses elsewhere in the unpaid cast and, instead, focus on the strengths, including Jeremy Shivers-Brimm as a fully committed Prince Herbert (along with a slew of other characters), Bill Book in strong voice as King Arthur, and Stuart Mill as a suitably shaky Sir Robin.•
__________
This column appears weekly. Send information on upcoming arts and entertainment events to lharry@ibj.com.
Please enable JavaScript to view this content.