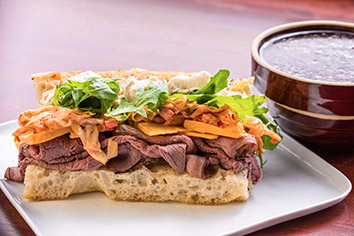 Decisions. Decisions. Decisions.
How many do we have to make in a single day? Far too many, I'm sure, which is one of the reasons it's refreshing to walk into Wildwood Market (1015 Virginia Ave., 737-2653) and order lunch. Let other eateries offer epic menus with page after page of something-to-please-everyone options. Let other places walk you through a line of ingredients to pick.
At Wildwood Market, the choices are, well, there's really very little choice. There's a sandwich ($8). One. And there are two soups ($5). Come in hungry, but don't come in hungry for a particular something. You can, of course, supplement these with items from the gourmet grocery shop that makes up the rest of the converted Fountain Square gas station—jars of salad, for instance, with $1 off your next sandwich when you return the jar.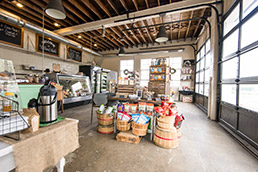 Wildwood Market is housed in a former Fountain Square gas station.(IBJ photo/Eric Learned)
Taking the leap of culinary faith with the Wildwood Market folks proved well worth the time on my three visits. On the first, a crunchy baguette held provolone; cream cheese with bacon, sage and sundried tomato; pickled apple; and shallot. A mouthful, to be sure, it initially resisted a bite, then delivered a combo of flavors that clearly were carefully combined. A white bean, bacon and tomato soup was even better, with the first two elements not overwhelming the subtle tomato base.
On a second stop, the baguette was home to Smoking Goose pastrami, mixed greens and a mustard ramp slaw. Grabbing the sandwich for takeout—and letting it be known I didn't need a bag—meant my environmental friendliness was rewarded with a square of Endangered Species chocolate. A nice touch.
Visit number three surprised me with a soft, chewy pretzel bun with gruyere, ramp Dijon aioli, delicious tomato slices, and an overwhelming mound of Fisher Farms Canadian bacon. Removing half made the sandwich more satisfying (and left me with enough to craft my own sandwich the next day).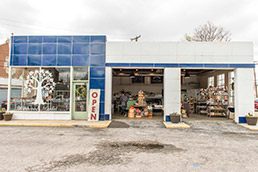 On warmer days, the overhead doors open at Wildwood Market. (IBJ photo/Eric Learned)
Another option is to go DIY and select locally sourced meats to take home. Because, rather than a sandwich spot, this is truly a neighborhood market—one whose shelves are stocked with items whose labels might not be familiar to those who do most of their shopping at big-box stores. It's not expansive, but the choices appear carefully selected.
Additional tips: If you have dietary restrictions, either health- or self-imposed, keep an eye on Wildwood Market's social media pages to find out the daily offerings. And for those on the run, know that a parking lot makes grab-and-go easy—although I wouldn't recommend eating one of these hearty sandwiches while driving. Also, Wildwood Market makes a limited number of sandwiches a day. Call ahead to reserve one if you are planning a late lunch.•
Please enable JavaScript to view this content.