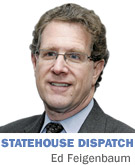 Somehow, often defying expectations, it all comes together.
Even with the surreal week following gubernatorial signing of the Religious Freedom Restoration Act and enactment of its antidote, legislators managed to plow through their agenda—while even managing to quietly consider new language arising from the ether in the final days.
New concepts were bandied about for Senate Bill 1, the education governance bill, and there was discussion of language making legislative emails confidential, in response to a pair of recent Public Access Counselor advisory opinions to the contrary.
That's typical for conference deliberations in any session. Despite rules and respect for the process, tradition holds that there is no greater need for vigilance in the legislative process than in its final days.
And in the end, there was finality, even if the results weren't those sought by everyone.
As of IBJ deadline, a budget was forged with the same percentage of K-12 funding increases sought by lawmakers at the beginning of the session. Compromises were reached on how money would be distributed to schools and funding for charter school grants, teacher performance bonuses and tax credits, and the school scholarship tax credit.
The bottom line for the governor is that he gets less for non-public schools than he sought, but will still be able to claim an overall victory on school funding gains.
Higher education didn't fare quite so well as K-12 schools and charter and choice schools, gaining only $45 million.
Surprises included a 50-percent sequester of an anticipated $400 million for road funding—a strong legislative priority—and the decision to fund the governor's heavily lobbied and little-understood Regional Cities initiative via a tax amnesty program—not a stirring endorsement, but a win for him, nevertheless. Some $80 million will be directed toward community corrections programs instead of gubernatorially preferred new prisons.
And the budget bill became the refuge for some controversial language looking for a home, such as a ban on constructing an archives building on the Central Canal as part of the state government complex, and abolition of the Education Roundtable.
The surplus bottom line: almost $1.9 billion, or 12 percent of spending, likely preserving the state's AAA bond rating.
The final sticking point of significance on the gambling bill was a House-versus-Senate tussle on live dealers for table games and whether a limited number of live dealers would be permitted now … or wait until 2021.
Advocates of both alternatives negotiated with a nod to gubernatorial preferences for no "expansion" of gambling, but when a compromise on live dealers in 2018 failed, the 2021 date remained; state approval, however, won't be automatic. Lawmakers also inserted themselves into the Native American gambling compact process, a potentially dangerous move from a federal legal perspective.
The heavily lobbied $83 million Indiana Eleven soccer stadium bill morphed into a $15-million-to-$20-million renovation of Carroll Stadium at IUPUI, then died late in the session, being the victim of too many moving parts and financial details. But a framework of sort exists from which to begin negotiations next session—or even before if non-state funding sources can be leveraged.
One of the late-breaking session concerns centered on needle-exchange efforts advocated by public health professionals to counter HIV/AIDS and Hepatitis C outbreaks, but philosophically opposed by some and opposed by county prosecutors for the message it would send. Again, the governor was wary of expansion and state-down control, and a limited package was carefully cobbled together to help assuage concerns.
While some time was devoted to debating registration and regulation of strippers on the penultimate night of the session, items that had to wait until April 29 for final resolution included annexation, a farmland taxation measure that would shift property tax burdens, and assorted tax provisions.•
__________
Feigenbaum publishes Indiana Legislative Insight. He can be reached at edf@ingrouponline.com.
Please enable JavaScript to view this content.