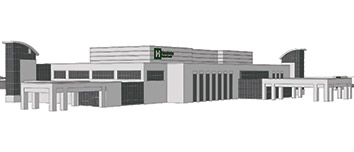 Hendricks Regional Health will construct a 100,000-square-foot emergency room and outpatient center on the north side of Brownsburg by early 2017, hoping to capitalize on an underserved part of the state's second-fastest-growing county.
The Danville-based hospital system expects to spend $40 million on the facility, hoping it gives the small player a leg up against the larger hospital systems—Indiana University Health, St. Vincent Health and Franciscan St. Francis Health—that also operate nearby.
"To our surprise, a lot of our competitors to date have not paid much attention to Brownsburg," said Gary Everling, Hendricks Regional's chief strategy officer. "We think it's a fabulous market; it's a great market."
Hendricks Regional expects to start construction this fall. The hospital declined to disclose the exact address of the facility because it had yet to close on all the needed land purchases before IBJ's deadline.
Hendricks Regional is following Eskenazi Health and Major Health Partners as county-owned hospitals in central Indiana recently building new facilities. Those hospitals have stronger balance sheets than ever due to recent partnerships with nursing homes that bring in extra federal money.
In 2014, Hendricks Regional had partnerships with 26 nursing homes, which generated extra federal revenue of $48.5 million. The hospital splits that money roughly 50-50 with the nursing home operators.
Speer
Hendricks Regional CEO Kevin Speer said the nursing home revenue was not a factor in the hospital system's decision to build in Brownsburg.
But even hospitals without that extra cash are renewing their appetites to build facilities—a sign they are more confident about the future after years of uncertainty created by the Great Recession and Obamacare.
Just last month, Indiana University Health announced it would build a hospital to replace its aging facility in Bloomington, as well as expand its Methodist Hospital campus in Indianapolis so that it can wind down acute-care services at its University Hospital. In addition, St. Vincent Health opened an expansion of its Carmel hospital earlier this year and Community Health Network is building smaller facilities on the east side of Indianapolis.
"When we were coming out of the financial crisis, there was a significant period of uncertainty in the health care space, because no one was sure of the impact of the Affordable Care Act," said Keith Konkoli, executive vice president of health care at Duke Realty Corp. Now, he added, "People have digested the Affordable Care Act and are beginning to understand ways to deliver care within the confines of the Affordable Care Act."
Before the 2008 financial crisis, Indianapolis-area hospitals were eyeing Brownsburg. The community of more than 23,000 has grown 56 percent since 2000, mostly with families with employer-sponsored insurance—the most lucrative type of payment for hospitals and doctors.
St. Vincent Health, IU Health and Hendricks Regional all have medical offices there. The physician practice OrthoIndy operates a surgery center there. But no health care system has yet built as big a facility as Hendricks Regional is planning.
The new facility will include women's health services, a retail pharmacy, imaging and lab services, as well as a cafe and other complementary retail.
Hendricks Regional's goal is to create a facility that's easy to get in and out of. It also wants to use common receptionists, scheduling and medical-record software, so patients can receive many medical services in one visit.
Eskenazi Health has done something similar at the primary care center it opened in 2013 on West 38th Street.
"We are firm believers that health care is moving to a retail type of model," said Speer, the Hendricks Regional CEO. "Retail doesn't mean you have a restaurant and gift store. To me, it's the ease of access, the speed at which someone can get an appointment and get in and out."
When completed, the new facility will employ 110 people. Hendricks Regional currently employs 1,680.
Hendricks Regional's operations generated nearly $417 million in 2013, the most recent year for which financial data are available. Its profit then was $38.4 million.
Hendricks Regional's facility also will introduce a new concept to the Indianapolis market: an ER and an immediate care center located side by side. Hendricks Regional intends to give each patient an initial assessment and then recommend either the high-cost ER services, if truly needed, or the low-cost immediate care services, if they will suffice.
"Employees and individuals that are on high-deductible health plans, they walk in the building and can make a rationale decision," said Everling, the Hendricks Regional chief strategy officer. "At any ER in the country, 90 percent of the visits can be done in an immediate care setting."
Everling and Speer acknowledged they will not get as much revenue by steering patients to an immediate care setting when appropriate. But they said that's what patients are now demanding.
"It does impact the revenue significantly," Speer said. "But we've got to figure out how to save individuals, employees and employers money."•
Please enable JavaScript to view this content.