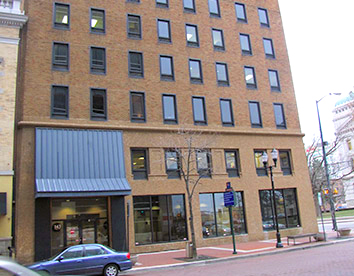 A state-owned office building with a view of the Indiana Statehouse is about to go on sale.
The Harrison building at 143 W. Market St. will hit the market Monday, said Mike Corr, senior vice president in the Indianapolis office of Jones Lang LaSalle, which is listing the building.
The Harrison, which has 40,000 square feet of space over eight floors, was built in the late 1920s as the Harrison Hotel. It was remodeled for office space in 1971, and was remodeled again in 2004.
While there's no official list price, the building's owner, the Indiana Public Retirement System, estimated in December that the building could sell for $1.8 million to $2.5 million.
Buyers are already expressing an interest at a price that exceeds the agency's minimum, INPRS Executive Director Steve Russo told the board of trustees at its April 24 meeting. INPRS is in the process of reconfiguring space in its headquarters building, One North Capitol, to accommodate the 60 employees who still work in the Harrison.
Designed by noted local architect William Earl Russ, the Harrison is one of two surviving historic hotel buildings in the city's Monument Circle historic district. Russ also was involved in the design of the Fairgrounds Coliseum, Piccadilly Place and Lockefield Garden.
The building is likely to require some remodeling and lacks dedicated parking.
Russo said the Harrison will likely be occupied by an organization or company that wants to raise its profile at the Statehouse.
"If the governor looks out his window, he sees they're there," Russo said.
Please enable JavaScript to view this content.