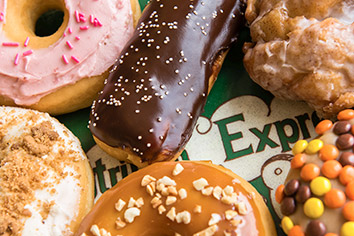 The 54th Street corridor might not have the critical mass of Mass Ave or the broad offerings of Broad Ripple Avenue, but with new businesses opening between the Monon Trail and Keystone Avenue, the SoBro strip is worth a visit. Take two recent additions.
First, there's The Dancing Donut (1134 E. 54th St., 737-1751), a coffee shop/treatery with charming signage with a rounded, jovial character who seems to have strutted out of a vintage movie snack-bar ad.
Unlike those places that seem to want to turn gourmet doughnuts into the next cupcake craze, The Dancing Donut stays relatively focused. Sure, the Kevin Bacon (yes, with bacon) and the rethink-that-name éclair Huxtable suggest gimmicks over goodness, but most of the lineup quietly upgrades the basics.
Among the wheels of goodness, there's Plain Jane Powdered ($1.50), a fried vanilla cake doughnut rolled in powdered sugar; Brown Butter Crumble ($2.50) with a rich glaze and fall-onto-your-shirt brown sugar bunches; and the John Dough ($2) and Jane Dough ($2.50) duo, the former an outstanding chocolate yeast doughnut and the latter accentuated with dark chocolate ganache and sprinkles.
Even on our early-afternoon visit, everything tasted fresh. Hit a standard doughnut shop late in the day and you can expect the consistency of cardboard. Not here.
As for atmosphere, there's certainly plenty to look at if you choose to nosh on your doughnut seated at one of the eatery's small selection of tables and couches. The walls are covered with paint-by-number paintings, all of which incorporate a doughnut visual (colorful sprinkles on the roof of a cabin. An elk with doughnuts on its horns). The staff will tell you that some of the doughnuts—which are made fresh every day—start selling out around 11 a.m. And you can expect a Mad-Max-style horde on weekends, with customers lining up out front before the doors open.
Just down 54th Street, you might miss the unassuming Indy Tacos (2196 E. 54th St., 929-1424). Here, a stack of business cards (in Spanish) from an immigration lawyer by the register, a minimal menu, and a one-man order taker/cook/server send a clear entrepreneurial message.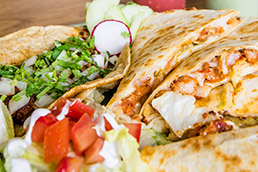 The quesadilla is substantial and the tacos tasty at the new, unassuming Indy Tacos. (IBJ Photo/ Eric Learned)
We ordered a side of rice, but that somehow never made it to our table. We didn't say anything because we already had our hands full with the Taco ($2), Torta ($6.99) and Quesadilla ($6.99). The Quesadilla was particularly ample and liberally populated with small chunks of chorizo (you pick the meat). The tortilla used to make it must have been bigger than a hubcap before it was stuffed with sausage and folded over on itself.
The steak Torta was good despite a bun that tasted like it came from the grocery deli. I'd swear the insides of both bun halves were dipped in beef juice, which is fine by me. The Taco was the wrapped-in-double-corn-tortillas kind that Indy is getting used to experiencing. Entrees were presented with a slight but refreshing "salad" consisting of cucumber pieces, lime bits and other vaguely south-of-the-border-themed ingredients. I wouldn't bother again with the Queso Dip ($3.50).•
—Lou Harry
Please enable JavaScript to view this content.