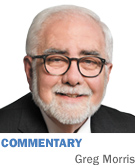 Through professional commitments, and social and civic involvement, lawyers serve a diverse clientele. Recently, the Indiana Lawyer honored 31 members of the legal community who have shown a commitment to their profession and the clients they serve.
The Leadership in Law award winners, who were honored in either the Distinguished Barrister or Up and Coming Lawyer categories, were recognized May 5 at the D'Amore event venue at the top of the Chase Tower downtown.
This is a special year for the Indiana Lawyer, a sister publication to IBJ. The Lawyer was founded in 1990 and is celebrating 25 years in the news business. And its Leadership in Law program is 10 years old. That's something to celebrate, and of course so are this year's winners.
Nominations for the Leadership in Law awards were solicited based on the following guidelines:
• Attorneys eligible for nomination as a Distinguished Barrister need to have practiced a minimum of 20 years.
• Attorneys eligible for nomination as an Up and Coming Lawyer need to have practiced 10 years or less.
Honorees were selected based on the following criteria:
• Achievement in the legal profession and involvement in professional legal organizations;
• Community contributions made through support of social and civic community-based organizations and programs;
• Facilitation of mentoring relationships with young lawyers (Distinguished Barristers);
• Traits and accomplishments that make the young lawyer stand out among his/her peer group (Up and Coming).
The 2015 Distinguished Barrister award winners:
Judge Sheila Corcoran, Vanderburgh Superior Court
Frank Deveau, Taft Stettinius & Hollister
S. Curtis DeVoe, Plews Shadley Racher & Braun
Betsy Greene, Greene & Schultz Trial Lawyers
Jarrell Hammond, Lewis Wagner
Michael Hebenstreit, Whitham Hebenstreit & Zubek
Christine Hayes Hickey, Rubin & Levin
Richard Hill, Faegre Baker Daniels
Gregory Laker, Cohen & Malad
Samuel Laurin, Bose McKinney & Evans
Elliott Levin, Rubin & Levin
Judge Melissa May, Indiana Court of Appeals
Stephen Terrell, Terrell Law Office
Zeff Weiss (in memoriam), Ice Miller
Brian Williams, Kahn Dees Donovan & Kahn
Kenneth Yerkes, Barnes & Thornburg
The 2015 Up and Coming Lawyer award winners:
Roxana Bell, Bingham Greenebaum Doll
Katherine Erdel, Bingham Greenebaum Doll
Angela Freeman, Barnes & Thornburg
Brian Heaton, Krieg DeVault
Jonathan Hughes, Bose McKinney & Evans
Daniel Lechleiter, Faegre Baker Daniels
Edward Mulligan, Cohen & Malad
Emily Munson, Indiana Protection & Advocacy Services
Matthew Neumann, Plews Shadley Racher & Braun
Tiffany Presley, Taft Stettinius & Hollister
David Pryzbylski, Barnes & Thornburg
Gavin Rose, ACLU of Indiana
Ryan Schulz, Kahn Dees Donovan & Kahn
Edward Thomas, Lewis Wagner
Ahmed Young, Bose McKinney & Evans
You'll find a lot more information about award winners by going to www.theindianalawyer.com and clicking on the Leadership in Law banner. The link will take you to profiles of all past and present winners.
This year, each of the honorees was asked to answer a series of questions, including the most memorable job they've had or cases they've handled, and what civic causes spark their passion. Also available online is an interactive edition of the Leadership in Law supplement that ran in the May 6-19 issue of Indiana Lawyer.
For 25 years, Indiana Lawyer reporters have gone behind the scenes to cover news from the state's courts and legal community, providing readers with information and analysis about what's happening and why.
Congratulations to Editor and Publisher Kelly Lucas, Managing Editor Jennifer Nelson and the Indiana Lawyer staff for carrying on the tradition of this fine newspaper. And thanks to the Indianapolis Bar Association for its ongoing partnership with Indiana Lawyer. Working with lawyers throughout the state, this newspaper remains the definitive voice of legal news in Indiana.
Here's to the next 25 years!•
__________
Morris is publisher of IBJ. His column appears every other week. To comment on this column, send email to gmorris@ibj.com.
Please enable JavaScript to view this content.