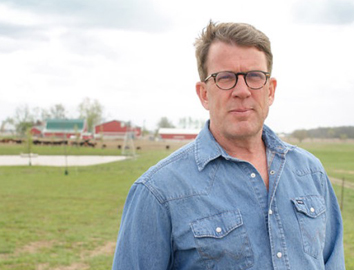 Chris Baggott, one of ExactTarget's three co-founders, has launched a food-tech startup that he predicts will be a $1 billion company.
It's called ClusterTruck LLC, and its main ingredients are food trucks, delivery-only kitchens and Uber drivers. The company started taking shape about two months ago, Baggott said. The business takes an Internet-only approach to prepared foods, forgoing any physical retail presence.

Chris Baggott
It's the latest food-related venture for the 54-year-old, who spent at least 15 years with software firms before turning his attention to livestock, corn and restaurant operations in 2011.
"I've got all this experience on the technology and software side with ExactTarget and Compendium being sold to Salesforce and Oracle," Baggott said in a recent phone interview, backing up his billion-dollar claims.
"But I've spent the last five years in food, so I've really been exploring every corner of the food business trying to figure out where the opportunities are."
ClusterTruck is an industry term used to describe the gathering of food trucks, and Baggott said his company plans to partner with several of them. It will essentially license their recipes, prepare them in non-restaurant kitchens and transport them to online order-placers.
His move comes as Chicago-based GrubHub, a $3.3 billion company that charges restaurants to deliver food for them, is reportedly looking for growth from entrepreneurial kitchens that have no sit-down dining options. ClusterTruck's strategy differs slightly, though, because it would cook the meals itself and pay its food truck partners.
Baggott said he's looking to raise $1.2 million initially and debut the company this fall with about five food truck partners and two kitchens. So far, he said, the ClusterTruck team includes technologists, food truck operators, food industry veterans and transportation specialists.
"It's like Amazon," Baggott said. "It's a software company and it's a logistics company—and it's a food company because at the end of the day you've got to make good food."
It works like this: The food trucks share their proprietary recipes with ClusterTruck chefs and cooks. The food truck partners then get 5 cents of every dollar their menu items generate, Baggott said.
Scratch Truck is one prospective partner. It already has online ordering, but patrons have to pick orders up at the truck. Under this model, its bacon-marmalade and arugula "Scratch Burger" could reach those who can't make it in person.
Online orders get routed to the closest ClusterTruck kitchen, and drivers accept orders. The goal is to get customers their food within a few minutes of being cooked, Baggott said. So if a meal takes eight minutes to prepare, the cooks won't start until the driver is eight minutes away.
Baggott said his company is building its software on Uber's application program interface to help manage transportation logistics.
"We're building a lot of software to manage the interactions between the food and the kitchen and the driver so that we can make sure we get the food delivered to the person within five minutes of when it comes off the stove," he said.
Baggott said his company is a business-to-consumer company, and will be marketed as such. Its costs include leasing space for kitchens, but they won't require the space, price and hefty expenses of sit-down restaurants.
"These are kitchens that are going to be designed for the Internet, not for customers," he said.
ClusterTruck will also pay for Uber drivers. Baggott said there are no special partnerships or discounts there, but "it's nice because there are more drivers than jobs," and "food delivery is on off hours from passenger times."
Baggott said ClusterTruck will have its own menu items as well, things that local food trucks don't offer.
He also said scaling the company to other markets will be fairly simple and unique.
"What's cool about the business is when we go to Dallas, we'll use Dallas food trucks," he said. "So the infrastructure and software will be the same as we move from city to city, but the food will change based on who the food trucks are in those communities."
ClusterTruck will likely start with two kitchens, Baggott said, with one downtown around 10th Street and Capitol Avenue. The other will either be in Broad Ripple or Fishers. "We think a city like Indianapolis will ultimately support six, seven, or 10 of these."
At its peak, he expects to partner with about 10 food-truck companies in town.
ClusterTruck is the latest food-related venture for Baggott, one of the chief architects of ExactTarget, which was sold in 2013 to Salesforce for $2.5 billion, and Compendium, which was sold to Oracle that same year for an undisclosed price.
Baggott left ExactTarget in 2006 to start Compendium, which he left in December 2013. Since 2011, he's launched a livestock operation called Tyner Pond Farm, a distribution operation called Husk LLC and a farm-to-table restaurant called The Mug. 
Please enable JavaScript to view this content.