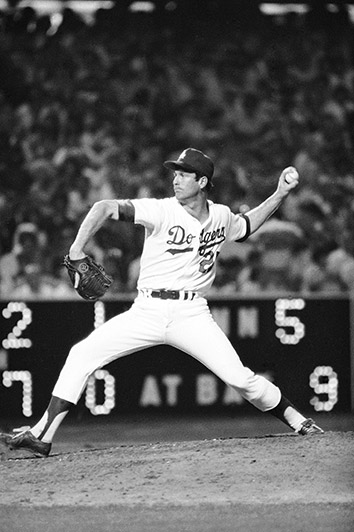 OK, this is the sports column. This is not where you come to find such groundbreaking inventions as the lightbulb, or combustion engine, or Sleep Number mattress.
But the universe changes at the ballpark, too, and Indiana has midwifed its share of innovations. The advances in cars in general and for the Indianapolis Motor Speedway in particular are dealt with elsewhere in this issue.
Consider, also, the three-point shot. Or the surgery that has saved the careers of legions of pitchers. Or the beloved orange basketball. All have Hoosier handprints.
Take Herman Sayger. Once upon a time, in 1913, he scored 113 points for Culver High School in a basketball game against Winamac. The state record still stands. Clearly, Herman liked points, as he proved nearly 20 years later in Tiffin, Ohio.
With giants threatening to take over the game, Sayger came up with an idea to put the little man back in basketball. He staged a high school exhibition game where any shot inside of 15 feet counted only one point and anything outside 25 feet counted three.
The one-pointer faded from sight, but the three-point shot rattled around in the closet of history until fate and the rules-makers decided it was time. The ABA, native land of the Indiana Pacers, sought to build a league upon it. And 47 years after Sayger's exhibition, the NBA started lofting up three-pointers. The colleges quickly followed and, suddenly, 10-point leads were made of whipped cream.
It is impossible to envision modern basketball without that arc, which has lured thousands of jump shooters. And it all started with a kid from Culver, who never lost his love for his home. By his request, his ashes were scattered over nearby Lake Maxinkuckee.
Or consider the most famous patient of Dr. Frank Jobe. Jobe landed in Normandy on D-Day, and was briefly captured by the Germans during the Battle of the Bulge, so attempting a daring new surgical procedure wasn't going to intimidate him. When a major-league pitcher came to him in 1974 with a torn elbow ligament—considered then a career-ending injury—Jobe was eager to try his new idea of taking a tendon from somewhere else in the player's body and using it to repair the arm.
It is called ulnar collateral ligament reconstruction. You probably know it better as Tommy John surgery. Terre Haute's John owned that soon-to-be legendary elbow and agreed to be a baseball cross between guinea pig and test mouse.
It had to be daunting. Jobe candidly told him the chance of total success was one in 100, but John came out of the procedure fine and ended up pitching 14 more seasons. Some men have diseases named for them. John will forever be attached to a surgery. Without it, dozens of pitchers in today's major leagues would be selling insurance or real estate.
And then, there is the answer to that question that has absorbed scientists for decades. Why is a basketball orange?
There has always been an accidental tinge to the development of the game. All Dr. James Naismith wanted was an activity to keep the guys occupied in winter; he never had the Final Four in mind. And what might basketball look like today had not Pop Stebbins, the janitor of the Springfield, Massachusetts YMCA Training School back in 1891, found two old peach baskets in a store room, when Naismith asked for square boxes to be used as receptacles for his ball?
But one alteration in the game was deliberate and thought-out. In the 1950s, a coach came up with the idea to change from the drab brown ball to orange. Easier for the players and fans to see.
It was a small thing, maybe, but he was just in time for the television age and, besides, can you imagine a basketball any other color? And so, all hail to one of the caretakers of the game, who now has a building named after him that might ring a bell:
Tony Hinkle.
__________
Lopresti is a lifelong resident of Richmond and a graduate of Ball State University. He was a columnist for USA Today and Gannett newspapers for 31 years; he covered 34 Final Fours, 30 Super Bowls, 32 World Series and 16 Olympics. His column appears weekly. He can be reached at mlopresti@ibj.com.
Check out the rest of IBJ's 2015 Innovation Issue.
Please enable JavaScript to view this content.