Gatling gun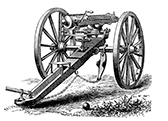 (Drawing courtesy of shutterstock.com)
American inventor Richard Jordan Gatling said he hated war.
Gatling, who was living in Indianapolis at the time of the Civil War, invented the Gatling gun—based off the design of his seed planter—with the idea of limiting war deaths.
Gatling thought his invention—the forerunner of the modern machine gun—would allow armies to fight wars with fewer people. In 1862, with his 1-year-old invention in hand, the North Carolina native founded the Gatling Gun Co. in his adopted hometown of Indianapolis.
In 1877, Gatling wrote: "It occurred to me that if I could invent a machine—a gun—which could by its rapidity of fire, enable one man to do as much battle duty as a hundred, that it would to a large extent supersede the necessity of large armies, and consequently, exposure to battle and disease [would] be greatly diminished."
Gatling's gun required one person to crank the barrels in a circle, which allowed the gun to fire and reload simultaneously, and another to point the weapon. By 1890, Gatling's gun was largely supplanted by more fully automatic guns.
In 1893, Gatling himself patented a gun that replaced the hand-cranked mechanism with an electric motor, achieving a rate of fire of 3,000 rounds per minute. Connecticut-based Colt's Manufacturing Co. bought the Gatling Gun Co. in 1897.
—Anthony Schoettle

Madame Walker's hair products
(Photo courtesy of the Madam C.J. Walker Collection, Indiana Historical Society)
The hair tonic Madame C.J. Walker manufactured from her Indianapolis headquarters is almost a footnote in her fascinating life story.
Walker was born as Sarah Breedlove on a Louisiana plantation in 1867 to former slaves. She was orphaned at age 7 and married at 14. Widowed with one daughter, she moved to St. Louis, where her older brothers were barbers. She worked as a laundress and also as a commissioned agent for another famous entrepreneur in African-American hair care, Annie Turnbo Malone.
She moved to Denver, where she married a newspaper advertising salesman, Charles Joseph Walker, and became a hairdresser and purveyor of her own hair-growing product. Walker's genius may have been in sales and marketing. She started out selling door-to-door but soon built a national network of agents, who were rewarded for charitable contributions as well as sales.
—Kathleen McLaughlin

Von Duprin exit bar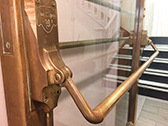 (IBJ photo/Mason King)
Carl Prinzler, a salesman for Vonnegut Hardware Co. in Indianapolis, planned to attend a show at the Iroquois Theatre in Chicago on Dec. 30, 1903.
But last-minute business dealings kept him away. On that night, 602 people died at the theater in a fire because the doors were bolted shut to prevent people from coming in for free.
Prinzler was deeply affected by the enormous loss of life. He sought a way to make doors that could be locked from the outside, but allow exit from the inside with minimal effort during an emergency.
He tapped into the architectural engineering abilities of Indianapolis architect Henry H. DuPont to help develop a device to do just that. In 1908, the first model of a "panic bar" exit device was released, and Vonnegut Hardware Co. marketed it.
The panic bar was sold under the name Von Duprin, a combination of the names Vonnegut, DuPont and Prinzler.
The popular 88 Series crossbar exit devices still manufactured today by Von Duprin look similar to the original design, but have undergone significant engineering improvements.
Von Duprin continues to manufacture security-related products and is a brand of Allegion Plc.
—Anthony Schoettle

Automobile innovations: rearview mirror, diesel engine turbocharger, seat belt, car heater
Ray Harroun, 1911 (Photo courtesy of the Indianapolis Motor Speedway)
Since the first Indianapolis 500 at the Brickyard in 1911, there's been a never-ending chase to increase the speed and efficiency of the cars circling the 2-1/2-mile oval.
The need for speed has led to innovations like the seat belt, rearview mirror and diesel engine turbocharger that all made their way to automobile showrooms worldwide.
• Ray Harroun stirred controversy in the inaugural Indy 500 by entering a single-seat car, the Marmon Wasp. His competitors, each of whom had a mechanic/spotter riding shotgun, knew that, by motoring solo, Harroun would have an edge in weight and aerodynamics.
They complained that he would be blind to racers closing in from behind and thus be a hazard to all.
Harroun proposed a rectangular mirror mounted on his car with four steel dowels. He won the race and, by 1915, the device—marketed as a "mirrorscope" or "cop-spotter"—was a popular aftermarket accessory.
First turbocharged engine, 1923 (Photo courtesy of the Indianapolis Motor Speedway)
• Turbochargers evolved from blowers used to stoke blast furnaces, but didn't catch on in the auto industry until Mercedes sent a team of turbocharged cars to Indianapolis in 1923.
The German cars were also-rans, but the underlying idea—that pumping air into an engine's intake manifold boosts power—inspired Fred Duesenberg. His operation moved from Auburn to Indianapolis in 1919 to develop a centrifugal turbocharger for the 1924 race. Duesenberg's car won, and the technology quickly moved into the mainstream.
Meanwhile, Columbus-based Cummins Engine Co. Inc. helped develop a variation on the technology that was found in ships, airplanes and locomotives. That technology debuted at Indy in the Cummins Diesel Special of 1952, a car that ran at record speeds.
• Many fatalities during the Speedway's early years came when drivers were ejected from vehicles. In 1922, Barney Oldfield ordered a harness for his car from a parachute manufacturer—and became the first driver to install a seat belt. It took a while for Oldfield's idea to catch on. Wisconsin-based Nash Motor Co., which had a plant in Indianapolis, offered factory-installed seat belts in 1949, and the Big Four made front-seat belts standard in 1964.
• In 1938, Nash introduced a conditioned air-heating/ventilating system. This was the first hot-water car heater to draw fresh air from outside, and is the basis of all modern car heaters. The invention was an outgrowth of a Nash division that made high-end refrigerators and kitchen appliances.
—Anthony Schoettle

Chuck Taylors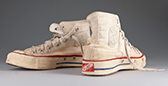 1945 sneakers (Photo courtesy of Converse Inc.)
In 1917, 16-year-old Charles Hollis "Chuck" Taylor was just a Columbus High School student looking for a better pair of basketball shoes. Who knew he'd become part of a footwear revolution?
Taylor that year fell in love with the brand-new Converse All-Star, one of the first high-top basketball shoes. So much so that he went to work in Converse's Chicago sales office in 1921.
Charles Hollis "Chuck" Taylor (Photo courtesy of Converse Inc.)
Within a year, Taylor's suggestions of changing the shoe's design to provide enhanced flexibility and support and adding a reinforced patch to protect the ankle were adopted. Taylor also suggested a star for the patch to give it more pizzazz.
By 1934, the shoes became the Chuck Taylor All-Stars. Taylor's name was soon added to the heel tag, then in 1945, to the patch as well.
Nike bought the rights to the still-popular Chuck Taylors in 2003.
—Anthony Schoettle

Mass production of insulin
(Photo courtesy of Eli Lilly and Co.)
No one can claim to have invented insulin, but in 1923, Eli Lilly and Co. was first to mass produce it to treat diabetes.
Two generations of business success and innovation were behind that milestone, which launched Eli Lilly and Co. onto the world stage. Founder Col. Eli Lilly built the company by marketing pure, high-quality elixirs. His son and successor, Josiah K. Lilly, made the company one of the first to insert medicine into empty gelatin capsules, creating more exact dosages. He introduced straight-line production, and he hired the first research director, George Clowes.
Clowes and the founder's grandson, Eli Lilly, inked the insulin commercialization contract with the University of Toronto's pioneering researchers. Frederick Banting and his team were the first to treat humans with an extract of bovine insulin, a protein produced by most animals. Banting and researcher John Macleod later received the Nobel Prize for their work.
—Kathleen McLaughlin

The Breathalyzer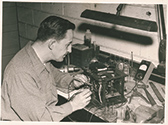 Robert Borkenstein tinkering with an early Breathalyzer model (Photo courtesy of Indiana University Archives)
The Breathalyzer gave police the first convenient way to measure alcohol in the blood, leading to innumerable arrests and decades of contradictory research on the scientific principle behind the device.
The Breathalyzer, invented in 1953 by Indiana University forensic scientist Robert Borkenstein, and its predecessor, the Drunkometer, rely on the idea that the ratio of breath alcohol to blood alcohol is fixed. Research later revealed that results can vary, depending on the size of the subject and the way the person breathes. (Hyperventilating drives breath-alcohol content down; deep breathing and holding one's breath drives it up.)
None of that has changed the fact that, 77 years after IU School of Medicine researcher Rolla Harger unveiled the Drunkometer, no driver wants to "blow" more than 0.08.
Harger's device required subjects to blow into a balloon. The air inside was released into a chemical solution, prompting a color change that indicated the presence of alcohol vapors. Borkenstein, who spent most of his career with the state police, created the smaller, portable Breathalyzer. The trademarked name became synonymous with breath testing.
—Kathleen McLaughlin

Fluoride toothpaste
First packaging, 1955 (Photo courtesy of Procter & Gamble)
Scientists in the 1940s knew fluoride was the antidote to rampant tooth decay, but making it work with toothpaste was a problem that kept chemists busy for more than a decade.
Let's just say the process was a tad more complex than mixing sugar and water. The breakthrough came at Indiana University. Two different research teams in the 1950s were tackling the problem of fluoridating toothpaste. Chemist William Nebergall tried treating calcium phosphate, a common toothpaste ingredient, to make it more compatible with fluoride. Meanwhile, IU dental scientist Joseph Muhler tinkered with different types of fluoride, and he landed a research grant from Procter & Gamble.
The breakthrough came when one of Nebergall's graduate assistants left some calcium phosphate in a furnace overnight. The stuff that came out the next morning went into a formula that became the basis for Crest, which P&G began selling nationwide in 1956.
—Kathleen McLaughlin

Minimally invasive medicine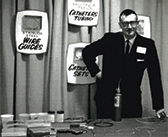 Bill Cook in 1963, at his first medical trade show (Photo courtesy of Cook Medical)
Bloomington-based Cook Medical was the first U.S. company to make and sell supplies doctors needed to perform minimally invasive surgery.
Pioneered by the Swedish doctor Sven Seldinger, the catheterization technique became widespread in Europe in the 1950s, and U.S. doctors followed suit. No U.S. company was making the supplies as a matched set, so doctors were making their own.
Bill and Gayle Cook saw a huge business opportunity and incorporated Cook Inc. in Bloomington in 1963. They made introducer needles, wire guides and catheters and sold them as a matched set. Today, Cook Medical is the largest privately held medical-device company in the world, with revenue over $2 billion and more than 13,000 employees worldwide.
—Kathleen McLaughlin

GrinOn beer tap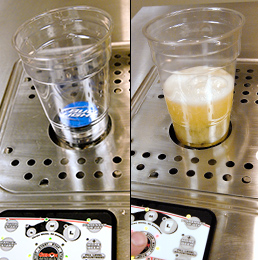 (IBJ file photos)
In March 2008, Josh Springer sat at a table in a Mexican restaurant in Aberdeen, Washington, during a birthday bash for his father. Springer's mind wandered to beer pitchers. Filling them had to be a drag for bartenders, he thought. Too slow, too much foam. Isn't there a better way?
Springer stood up and said: "Hey, you know what would be a good idea? A pitcher of beer that fills up through the bottom."
Four days later, he had a prototype of his Bottoms Up Draft Beer Dispensing System, which he says fills glasses faster and with less waste than a conventional tap. The bottom is sealed with a magnet that can carry advertising messages.
Three years later, he had a company, Indianapolis-based GrinOn Industries, with annual sales of $5 million. GrinOn now has customers—from bars to ballparks—nationwide.
—Anthony Schoettle
Check out the rest of IBJ's 2015 Innovation Issue.
Please enable JavaScript to view this content.