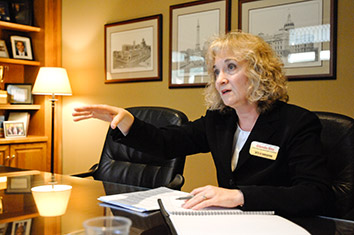 Indiana Superintendent of Public Instruction Glenda Ritz joined the Democratic race for governor Thursday, setting up what could be a divisive three-way primary for the chance to take on the Republican leader with whom she's clashed repeatedly, Gov. Mike Pence.
Her announcement at Ben Davis High School in Indianapolis made her the third Democrat in the 2016 race, which also includes former Indiana House Speaker John Gregg, who challenged Pence in 2012, and state Sen. Karen Tallian of Portage.
"Today in Indiana, out-of-touch Republican leadership at the Statehouse embrace policies that tear Hoosiers apart instead of bringing us together," Ritz said in announcing her candidacy before supporters wearing "Glenda is great" T-shirts.
Ritz was a little-known suburban Indianapolis librarian before upsetting Republican state superintendent Tony Bennett in 2012. Her grass-roots campaign was largely run on social media and driven by teachers' anger over education changes pushed by Bennett under former Gov. Mitch Daniels.
She is the only Democrat among Indiana's elected state officeholders and has had a contentious relationship with Pence and Republican lawmakers over control of education policy — including the state's A-F grading system for schools, the use of private school vouchers and the takeover of poorly performing schools.
Ritz, who received a higher percentage of the vote in her 2012 race than Pence did in the governor's race, is again likely to draw support from teachers, but whether she can expand her base of support and win the backing of labor and other groups remain to be seen. Ritz's stances on many issues that the state faces aren't known, although she said this week that education helps drive the state's economy.
Her decision to enter the governor's race doesn't preclude her from seeking a second term as schools chief because the superintendent candidate is chosen at the party's convention, not during the primary.
Pence is set to formally announce his bid for a second term on June 18. He will enter the campaign with huge advantages in fundraising and organization, but his approval ratings have tumbled since a national backlash over the religious objections law he signed this spring. Critics viewed the law as anti-gay, prompting conventions to cancel and companies to ban travel to the state and sparking opposition from many Indiana business leaders before lawmakers revised the language.
Pence doesn't yet face any competition for the Republican nomination, but two wealthy GOP businessmen have talked about launching or supporting challenges to him.
Gregg, who campaigned as a moderate before his narrow loss to Pence in 2012, already has collected endorsements from some labor unions and said in announcing his 2016 run in April that Pence's focus on social issues has given the state "a bad name."
Tallian entered the governor's race last month by saying she wanted to be "the voice for progressive Indiana," but she has little campaign organization and lacks name recognition outside her northwestern Indiana district.
Please enable JavaScript to view this content.