Things seemed to be going well for local tech startup Bookacoach in 2014. It landed some venture capital, acquired an Atlanta-based competitor, and even secured an $875,000 conditional state incentive package.

But beneath the surface, the company struggled with its flagship offering: a marketplace that connected athletes with vetted coaches for one-on-one training. Bookacoach made money from each training session booked through its platform, but the amount of time and money it spent attracting users hardly made it worthwhile.

"At the end of the day, we felt like it was a broken model," said co-founder and CEO Kevin MacCauley.
MacCauley
The year 2015 is shaping up differently for the young firm, which employs five in downtown Indianapolis. After seeing about 800 booking transactions last year, the company is on track to facilitate 16,000 appointments this year. In the first quarter of 2015 alone, it generated more revenue than it did in all of 2014, its founders said.

Company officers credit their newfound success to a bold decision last fall to ditch the consumer marketplace entirely and instead start selling software that helps sports academies run their businesses.

"The kiss of death for a startup is when a founder just digs his heels in on an idea and ... isn't willing to pivot," said Joanna Milliken, a former ExactTarget manager who joined Bookacoach's board in May.

"I think [Bookacoach's shift] shows their awareness of what's important and that they were really listening to the market."

Bookacoach was founded in 2012 by MacCauley, a Little League baseball coach, and Myles Grote, both Indiana University alumni who are now 31. They spent about two years gearing up the business before officially launching in January 2014 with a cadre of part-timers at The Speak Easy in south Broad Ripple.

Grote
The company set out to make it easier for athletes—or parents of athletes—and trainers to find one another and book appointments. Coaches who signed up on the website could create profiles and process credit card payments, and Bookacoach would get 10 percent of each transaction.

The approach had some traction. The platform drew about 3,000 coaches from across the country, fueled in part by the company's April 2014 acquisition of Atlanta-based TRAINlete. And last July, the company signed a deal with the Indiana Economic Development Corp. for $875,000 in tax credits under a commitment to hire 93 people by 2018.

Still, the marketplace had some underlying problems. For one, only about 10 percent of trainers on the platform were active users, Grote said. Most coaches signed on as a way to attract customers, but didn't schedule many appointments through the site.

"That was the problem," Grote, the firm's chief revenue officer, said. The business model didn't motivate coaches to use the aspects of the platform that made money for Bookacoach.

But the company did realize something along the way that set the stage for its new business model. A small segment of trainers, namely training academies, were using the site's support tools to manage and market their businesses, on top of processing credit card transactions and scheduling appointments.

So in late spring last year, Bookacoach started devoting some software resources to bolster those free user tools. But the firm's resources were finite, and it still had to maintain the marketplace. MacCauley said not long after last year's Innovation Showcase, an annual pitch fest in July, he spoke with his team about dropping its marketplace.

"About July or August, I said, 'Look, we can't spend the money we're spending to acquire coaches on a business-to-consumer model. They're not really converting,'" he said. "So I made the decision, we're moving 100-percent forward on [software-as-a-service]."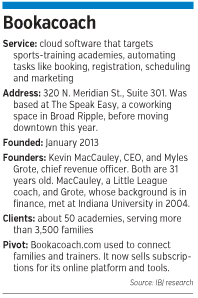 The company didn't just make a desperation switch away from the marketplace. It actually had internal data suggesting the potential for selling management software.

And despite the lukewarm results for its marketplace model, Grote said the firm still could have made it work.

"I think it's like a kite," he said. "You have to get some wind underneath the wings of that kite to keep it afloat, and with marketplace models, they just take a lot of wind."

The switch to the software-as-a-service, or SaaS, model came in October, when Bookacoach began exclusively selling subscriptions for management software. The company still charges transaction fees on bookings, but they range from 2.9 percent plus 30 cents to 6.5 percent and $1, depending on the subscription tier.

The transition was not without pain. The company went from a few thousand users to a few dozen. Some customers were unhappy with the move, and the company itself had to abandon what it had spent countless hours building.

"Sometimes it's difficult to make that decision," MacCauley said, "because, as a startup, you see all the needs of a particular industry that you're trying to help."

MacCauley said feedback from last year's Innovation Showcase played a role in the business-model switch. At the time, the founders touted Bookacoach's marketplace and management tools, but MacCauley said some told him that was a bit complicated.

"It was confusing to folks, at the end of the day," MacCauley said. "So that definitely played a role in us asking ourselves, 'What is the definition of what we're trying to do?'"

The switch is showing some early signs of success. Bookacoach has about 50 subscribers paying $45 to $160 a month.

Fee revenue is slated to balloon as well. Last year, its website transacted about $60,000; this year, it anticipates handling $1 million. In 2016, the company expects to see 180,000 transactions on the site, up from 800 last year.

The company doesn't disclose annual revenue, but expects to be in the seven-figure range in 2016.

The company has raised $750,000 since inception, Grote said, including $250,000 from Elevate Ventures. It plans to chase $1 million later this year. It also plans to hire 10 to 12 before the year ends.

The change appears to have put the firm on better footing to meet its IEDC goals of adding 93 workers by 2018.•