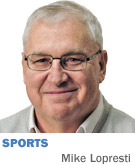 So it's nearly 13 years later, and Jeff Samardzija is on the phone from the Chicago White Sox clubhouse, saying he's still a little miffed about how the Indiana high school 2002 Mr. Football vote turned out.
He was a receiver for Valparaiso. Caught passes by the dozens. Ninety miles down the road at McCutcheon was a quarterback named Clayton Richard, who threw touchdowns by the score. When the final Mr. Football returns came in, Richard was No. 1, and Samardzija was close behind in second.
"The quarterbacks get all the love, don't they? There's no other way around it," Samardzija said. "I thought I had a heck of a senior year, but he did, too. I was playing 5A teams; they were playing 3A.
"Yeah, I'm not bitter about it at all."
OK, he's joking. Presumably. But we mention this story for two reasons.
One, to note the unusual connection between two prep football phenoms from this state who ended up making their living with a far smaller ball. Richard—who had a short and unproductive football career at the University of Michigan—is currently an Indianapolis Indian, trying to pitch his way back into the major-league sunshine after three shoulder surgeries. Samardzija—a star receiver at the University of Notre Dame— is now in the starting rotation for the White Sox.
"There's a bond there," Richard said. "We've crossed paths a few times."
The other reason is to recognize two faces from something of a golden age of Hoosier high school baseball, when it came to producing future major-league pitchers. Consider all the Indiana high schoolers from the last decade who are busy in the pennant races of 2015.
There's Brownsburg's Drew Storen, leading the National League in saves for the Washington Nationals. His old Bulldog teammate Lance Lynn, a starter for the St. Louis Cardinals. Evansville Central's Aaron Barrett is with Storen in the Nationals' bullpen, Kokomo's Joe Thatcher a reliever for the surprising Houston Astros, and Greenfield Central's Kyle Gibson in the rotation for the equally surprising Minnesota Twins. Indianapolis Cathedral's Tommy Hunter comes out of the Baltimore Orioles' bullpen.
Talented arm after talented arm—products of snow-bound, ice-covered Indiana. Maybe they started behind the kids from the Sun Belt, but that only left more room to improve in a hurry.
"There's a surprising number of guys out of Indiana from that time, so it's a lot of fun to see them in the game doing well," Richard said.
"Indiana is not the highest production state for prospects and talent, so you really get to know the guys who come from there," Samardzija said. "A lot of kids from Indiana don't get to play year round. They're playing other sports, so I don't think they're as highly touted coming out of high school as other kids are. But there's always a higher ceiling for those kids who didn't play 10 months of the year and were doing other things. There's just a bigger growth period for kids from the North in baseball."
Samardzija's major-league path started with the Cubs, wandered briefly to Oakland, and returned this season to the White Sox. Richard began with the White Sox, moved to the San Diego Padres, where he twice had 14-win seasons, and now is in the Pirates system, trying to recover from the shoulder ailments that threatened to shut down his career. He has not thrown a major-league pitch since 2013.
So there he was on June 3, starting his fifth game for the Indians in his comeback bid and pitching shutout baseball into the eighth inning. This, after a long year back home in Lafayette, rehabbing from his last operation.
"Sitting at home and watching baseball on TV and not even being able to lift your arm up is a difficult pill to swallow," he said. "It makes when you get back on the field all the better."
Now he pitches without pain. You'd have to go through what he has endured to understand what that means to Richard.
"When you're hurt, it's as difficult mentally as it is physically," he said. "You worry whether you'll ever be able to throw again. You worry whether your arm will ever feel the same and you'll be able to get back. You worry every day whether or not it's going to blow out. It wears on you mentally."
Up Interstate 65, Samardzija is pitching back home again in Indiana, or at least close to it. Most fitting, since he grew up a White Sox fan in Valparaiso.
"It kind of promotes me to get out there and push baseball a little more because I know the effect they had on me when I was growing up, watching Frank Thomas and Ozzie Guillen and Robin Ventura and those guys play," he said.
Samardzija was at Notre Dame when he watched his beloved Sox finish off the 2005 World Series sweep against Houston. "Probably with tin-foil bunny ears for an antenna," he said. "For some reason, for 42 grand a year, Notre Dame didn't give you cable in your dorm room."
The two are reminders of how good pitching has been in Indiana. For that matter, it still is.
At a sectional game at Roncalli the other night, a gaggle of major-league scouts was bunched behind home plate with radar guns, clocking Cathedral's Ashe Russell. He is expected to go in the middle of the first round of the June 8-10 draft.
"We had at least 12 scouts at every game. One game, we had 28 of them. I was wondering, where were the other two teams?" Cathedral Athletic Director Doug Seagrave said. When Russell pitched at home, Coach Rich Andriole would meet with the umpires at home plate before the game, nod toward the thick group of scouts standing two deep behind the screen, and joke, "Those are our season-ticket holders."
Russell briskly pitched Cathedral past Roncalli 10-1 on May 29 in what turned out to be his last high school game, since the No. 1 Irish were upset the next day by Lawrence North. He is the next shining candidate to continue Indiana's pitching surge. Andriole mentioned there are several prospects around the state, much like last decade when the Samardzijas and Richards and Storens and Lynns were coming out of high school.
"It's a really similar year, 10 years later," Andriole said. "I think kids are playing a lot of baseball at younger ages. Maybe they're specializing a little bit earlier. But there's no question baseball in Indiana, and I'll say central Indiana since that's where we are, has gone off the charts."
Meanwhile, two old Mr. Football rivals continue the journey that Russell hopes to one day start. Samardzija, the 6-foot-5 right-hander, is becoming a mainstay in the Sox rotation, and can probably afford his own cable. Richard, the 6-foot-5 lefty, now pitches in Victory Field, still pursuing chapter II of his career at the age of 31. Can the dream burn as brightly as before, after so many trips to the operating room?
"It might be brighter," Richard said. "Because I know what it's like to be able to play at the highest level, I really want to get back there. Now I have a family and two young boys and I want it to be something they can remember. Right now, they're too young to have those memories. I'm going to do my best to play the game long enough so they can remember coming to the ballpark and being part of that, enjoying baseball. Whether that happens or not, I don't know, but I'm going to do everything I can."
Whatever happens, he'll always be Mr. Football. Sorry, Jeff.•
__________
Lopresti is a lifelong resident of Richmond and a graduate of Ball State University. He was a columnist for USA Today and Gannett newspapers for 31 years; he covered 34 Final Fours, 30 Super Bowls, 32 World Series and 16 Olympics. His column appears weekly. He can be reached at mlopresti@ibj.com.
Please enable JavaScript to view this content.