Community Health Network will lease 10,700 square feet in a 160,000-square-foot Health Pavilion being built by the University of Indianapolis and will form a working partnership with the private college.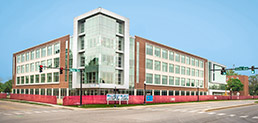 The hospital system will lease 10,700 square feet. (Photo courtesy of University of Indianapolis)
The $30 million pavilion on Hanna Avenue is set to open in August. Community will use the space to operate a physical therapy and rehab clinic, as well as a primary care clinic for UIndy employees and the public.

The clinic will provide a place for Community staff to interact with UIndy professors and students, giving students hands-on experiences and, potentially, helping Community develop better ways to care for patients.

Health care already is a huge part of UIndy's campus. The programs that will be housed in the new health sciences center—nursing, physical therapy, occupational therapy, psychology, kinesiology and athletic training—account for more than half of UIndy's enrollment of 5,400.

Under the five-year lease, Community will gradually increase the number of internships and clinical and field experiences provided at its various facilities for students in UIndy's health programs. The partnership could also lead to joint faculty appointments, interdisciplinary training opportunities, and the joint pursuit of research and grant opportunities.