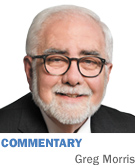 Another school year has ended and another group of graduating high school seniors is headed to what's next in their lives. Some graduates will attend a traditional four-year college while others will attend community college or seek vocational training. Some will serve our country via the military or jump directly into the work force. Still others might remain at home to try to figure out what to do for now. It's exciting, a little scary and unsettling all at the same time.
This time of year makes me a bit nostalgic as I reflect on the opportunities I was afforded by having a good education. And this year is special because I've been able to publicly recognize Scott Gregg, a former Carmel High School teacher of mine who had a profoundly positive influence on my life.
A new scholarship in his name caused me to be in attendance at the Carmel High School Scholarship Awards Night, held in late May for graduating seniors who will be continuing their education.
We all know post-secondary education is expensive, and any financial help offered to defray those daunting expenses is appreciated. Merit and need scholarships were awarded by organizations, colleges and institutions like the U.S. Military Academy at West Point. Those awards totaled hundreds of thousands of dollars. It was so inspiring to watch hundreds of talented young people with their whole lives in front of them being recognized that evening.
In addition, the Carmel Education Foundation awarded more than 60 scholarships ranging from $500 to over $6,000. Many of those scholarships went to multiple recipients. This is the part of the program where I was privileged to go to the podium and announce the inaugural Scott Gregg Scholarship. Giving an old radio guy an open microphone and an audience was a risky move for the CEF, but I didn't abuse the privilege.
The Scott Gregg Scholarship is the result of a few CHS alums who were involved with school radio station 91.3 WHJE getting together and talking about those folks who made a significant difference in their lives. Gregg was at the top of everyone's list.
CHS and WHJE alum Pat Pickett was the driving force behind this group, and she worked with the education foundation to establish the award. Pickett solicited former WHJE staff members to donate money to create an annual award through an endowed scholarship.
As someone who spent kindergarten through 12th grade in Carmel Clay Schools, including my time at WHJE, I was pleased to present this first-time Scott Gregg award to a deserving student: Megan Hayes. The scholarship was $1,000 this year and was available to a CHS senior who had been a member of the WHJE staff for at least two years and would be majoring in broadcasting or journalism. It was especially gratifying to have Mr. Gregg and his wife, Sandy, attend the ceremony to witness his recognition firsthand.
I'm blessed to count Gregg as one of the most significant influencers in my life. He was a true mentor who provided great inspiration and leadership that helped me build a foundation of excellence at an early age. I know all those hours spent at WHJE and in his classes contributed greatly to my achieving a successful career of more than 35 years in the radio/media business.
Gregg began his teaching career at Carmel High School in 1970 and continued in that position through 1978. He took a brief detour in commercial radio for a couple of years and then had a stop at Ben Davis High School before he returned to his roots at Carmel. From 1982 until his retirement in 2003, he was the department chairman and manager of WHJE and the school's cable television operation.
He has many other achievements to his credit, including coaching and board leadership for the Indiana Broadcasters Association, and he continues to serve as the public address announcer for many IHSAA events.
I believe he just finished his 35th girls high school basketball championship and 30th boys high school basketball championship for the IHSAA. His complete list of accomplishments is too lengthy to cover here.
Scott Gregg, thank you for all you've done for me and countless other students. You've touched more lives than you know. To the thousands of teachers across Indiana who have inspired students to excel in life, thank you for your contributions and efforts.
And to all of us in the community in a position to make a difference, let's continue to push for greater educational opportunities for all students. Being lucky enough to be born in the right ZIP code shouldn't determine whether you receive a good education.•
__________
Morris is publisher of IBJ. His column appears every other week. To comment on this column, send email to gmorris@ibj.com.
Please enable JavaScript to view this content.