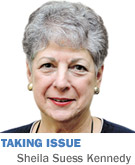 Arguments for and against the administration's proposal to build a justice center are beginning to seem tedious, and given the likelihood that nothing will be decided until after the November municipal elections, there's a natural inclination to turn our civic attention elsewhere. That would be unfortunate, however, because this hiatus in what seemed like a headlong rush to commit Indianapolis taxpayers to that very expensive project provides decision-makers and stakeholders alike an excellent opportunity to consider what we've learned from this debate.
At the very least, we have seen the importance of transparency in the planning of projects of this magnitude. We also have learned the critical importance of asking the right questions.
Those lessons are important, because there is virtual unanimity about the need for a new justice facility. I am not aware of any credible argument that our current jail and criminal court system is adequate or functioning at an optimal level. The debates concern the nature of the facility we require; how we can ensure that whatever we construct will meet our needs not just now but well into the future; how to avoid potential unintended consequences if we move court personnel, lawyers, court reporters and others out of the central business district; and, of course, what such a project should cost, and how it should be financed, maintained and paid for.
So how should the next city administration proceed to answer those questions?
At a minimum, the planning process needs to be as open as is practicable. One of the reasons Ballard's proposal ran into such strong headwinds was that decisions about the project—size, capacity, construction management and financing—were closely guarded until a "take it or leave it" proposal was unveiled to the City-County Council and public.
Even more important, those planning the project need to ask the right questions. They need to be aware of pending changes to the criminal justice system that will affect incarceration rates, and they especially need to understand the impact of new technologies on the justice system.
Courts around the country are beginning to use services like CourtCall, for example, which allows prisoners to "appear" in court via the Internet, eliminating the need to transport them physically from the jail. (Lawyers also can participate remotely in hearings, and interpreters can work from any location with Internet access, a real boon for cities like ours where it is difficult to locate interpreters for less common languages.) Any planning for a new justice center should include consideration of new and emerging technologies.
Finally, the next administration can learn a valuable lesson from the recent success of the referendum that approved construction of Eskenazi Health, the state-of-the-art facility that replaced a deteriorating and dysfunctional Wishard Hospital.
It is widely assumed by those familiar with development of such projects that the convoluted financing mechanism proposed for the justice center served only one purpose: eliminating the need for a similar referendum, which would open the details of the project to significant public scrutiny and risk its rejection.
But Indianapolis has a AAA bond rating and can finance public projects much more economically than the private sector, and as the campaign for Eskenazi demonstrated, our citizens are willing to support major projects when a compelling case is made.
A compelling case for a new justice center will require evidence that planners have asked the right questions, incorporated relevant technologies, recognized pending policy changes affecting incarceration rates—and produced a fiscal analysis that withstands scrutiny.•
__________
Kennedy is a professor of law and public policy at the School of Public and Environmental Affairs at IUPUI. She blogs regularly at www.sheilakennedy.net. She can be reached at skennedy@ibj.com. Send comments on this column to ibjedit@ibj.com.
Please enable JavaScript to view this content.