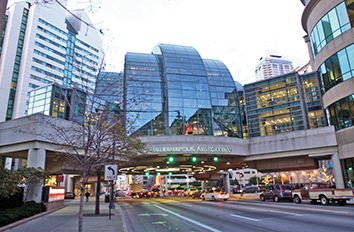 A chunk of plaster has fallen from an elevated walkway onto a downtown Indianapolis street after a water main broke.
The plaster from below the Indianapolis Artsgarden walkway fell onto the intersection of Washington and Illinois streets shortly before 4 p.m. Wednesday. No injuries were reported, though a section of the street was closed off while crews cleaned up.
Circle Centre mall officials said in a statement that there was a water main break at the Artsgarden under the floor, causing the plaster to fall. They said the leak would be repaired "promptly."
"We want to reassure our visitors that this leak does not pose a danger to those in or around the Artsgarden," the statement read.
Please enable JavaScript to view this content.