JASPER—If there is a high school baseball heaven, it must look like Jasper, Indiana.

This is where upwards of 4,000 fans have been known to show up for a tournament. And the radio station carries all the season games, home and away.

This is where there are full-size dugouts, great lights and a fine press box—for the field where the junior varsity plays.

This is where the Wildcats just won their 36th sectional, and 24th regional, and 13th semistate—the most for any school in Indiana.

This is where the head coach can look around the ballpark and see the mementos of his 28 seasons—five state championships, 12 trips to the state finals, a 708-205 record. He can see the baseball fieldhouse with its indoor hitting cages, built with the help of dozens of donors. And he can see the playground just beyond the right-field fence: Sarah's Place, named for the little girl he lost to leukemia in 1998.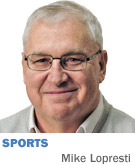 "Welcome to Alvin C. Ruxer Field, home of the Cats," the sign says out front. Terry Gobert has lived a Hall of Fame career here, and something even more.

"There's where my daughter's service was," he says, pointing over the left-field wall toward the 245-foot stone spire of St. Joseph Catholic Church.

"And she's across the street," he says, nodding beyond the third-base stands to the hill of Fairview Cemetery, which overlooks the park.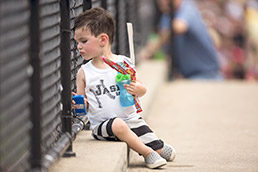 Luke Eckerle, 2, of Jasper watched in the dugout. (Photo courtesy of Alisha Jucevic/The Herald)
"The day of her funeral, this is where I watched the sun come up. Whenever I have a big decision, this is where I come."

His wife, Caroline, runs the concession stand and his three daughters help, while his son is off playing college baseball at Dayton.

A family's baseball life, a city's passion, a school's tradition. Welcome to Jasper.

One day—semistate Saturday—in a town whose heart would seem to come with baseball stitches:

9 a.m.: The former baseball coach pulls up to the ballpark in his Dodge Ram. Ray Howard will help broadcast the game. Notice the Indiana license plate: "Basball." So what does the sport mean to Jasper?

"Nearly everything," he answers. "There's families here that can go back [with baseball] almost to the turn of the 1900s."

Howard was pitcher for Ben Davis High School and later Indiana Central University, but moved to Jasper to coach in 1976. "When I came down here, I went around town and looked and every field in Jasper was lighted. The Little League diamonds, everything. Indianapolis had none, except for Bush Stadium. That kind of gives you an indication of how they felt about baseball here."

He won 79.5 percent of his games in 11 seasons, bringing a new work ethic to the program. Then he retired and the job went to his assistant, Terry Gobert. In other words, Jasper has had two baseball coaches in 39 seasons. "It's not rocket science. We believe hard work is going to pay off somewhere down the line," Howard says. "When you go around the state and you mention Jasper, they think of baseball."

He often throws batting practice to the team, sometimes 500 pitches at a time. He just turned 76. 9:30 a.m. Gobert has been here since 6:30 a.m. getting things just right. He was asked about the enormous expectations the community has for his program.

"We went 32-4 in 2013 and lost by one run in the state championship game," Gobert says. "The next day, I was getting gas and someone says, 'Well, this team just didn't have it, did they?' I just nodded and kept putting in the gas."

The bar is higher than the omnipresent St. Joseph tower, and that must be carefully handled.

"You have to control it yourself," Gobert says. "It'll take the fun out of it if you're not careful."

But all the glory—surely, it means something.

"It should, but when I die, I don't want that to be on my tombstone," he says. "I'd rather be a decent husband and father. But it does mean something because we do it right. We're not a parochial school. We don't bring kids in."

No, the program is a product of Jasper family bloodlines. Gobert's star pitcher is Cal Krueger, whose father, Blake, caught for Gobert's first team. The third baseman, left fielder and center fielder are first cousins. The catcher's father, grandfather and four uncles—all baseball people.
Groundskeeper Shane Werner hugs Jasper's Zach Keusch during the Class 3A semistate championship. (Photo courtesy of Alisha Jucevic/The Herald)
Gobert is known for his attention to every detail. Take his obsession for scouting. In 1991, he drove nearly 400 miles round-trip to the Richmond semistate one Monday night to get a look at future opponent Marion. That game had been postponed from Saturday by lightning in the seventh inning, and Gobert went that far to see the Giants take infield practice, check out their demeanor—and watch them get one final out.

Gobert says his players "have no clue" how good they have it. He mentions his high school playing days in Greencastle, when the only decent crowd was the time the opponent had a student teacher of some renown coaching first base. Larry Bird.

Of all the Jasper championships, 1998 has to be most special. Sarah was 2, fighting her cancer.

"I was going to take a leave of absence, but my wife said, 'This is our life. This is where [4-year-old son] Nick likes to go; this is where Sarah likes to go.'"

So he stayed on the job, and a group of seniors who had won the final two one-class state championships—no school had ever repeated—added a three-peat in 3A.

"For that group to win under those circumstances was amazing. There were nights I didn't sleep. When we won it—I still get choked up— I tried to talk to them, and couldn't get the words out.

"We went to Disney World the next day for Make-A-Wish. Sarah was pretty sick, but the four of us had a good time."

Four months later, she was gone.

10 a.m.: It's a two-minute drive from Ruxer Field to Jasper High School to check out that vaunted junior varsity ballpark. "Better than most varsity fields," Howard had said. He was right.

10:30 a.m.: The nearby Jasper Youth Complex sits next to a feed company and across the road from farmland on the southwest side of town: nearly a dozen baseball and softball diamonds, all groomed and lighted, this day teeming with jerseys of every color. One secret of Jasper baseball: lots of little kids who like to play.

"We still have nine Babe Ruth teams," Gobert says. "Some places can't even get one."

11 a.m.: A quick visit to the Vincennes University-Jasper campus. Adjacent to the student center is the Indiana Baseball Hall of Fame. Another landmark: Ed and Linda Rolen lived just down the road. Their son Scott—an All-Star who manned third base for Philadelphia, St. Louis and Cincinnati—is the face on Jasper's baseball Mount Rushmore.

Noon: Back to Ruxer Field, where, yep, there's tailgating. John Theil and his wife were here at 9 a.m. to set up on the grassy lot behind home plate. Now there's a crowd.

"Our son plays, and their son plays, and their son used to play," Theil says, going around the group. "It's a tight-knit community and we're kind of secluded here. For some reason, there's a love of the game."

1:15 p.m.: Stadium tour. The concession stand offers pulled pork, hamburgers, hot dogs, brats and chicken. On the fence nearby are baseballs with the names of Jasper greats. Also Shane Werner. He's the groundskeeper, and he gets his own baseball, same as Scott Rolen.

2:30 p.m.: South Spencer beats Knightstown in the Class 2A semistate, and the field is prepared for the 3A game. In most places, that would mean someone taking a hose to the infield. At Ruxer Field, the sprinkler system goes on.

2:45 p.m.: The 2,500 seats are full, with more people lining the fences down both foul lines. Young and old, forming an acre of black Jasper caps.

The Wildcats are 29-1 and have outscored their opponents 272-41. The one loss—1-0 in 12 innings against Mount Vernon—was avenged in the sectional. Another stat: Five of the seven seniors have grade point averages—weighted for taking advanced academic courses—higher than 4.0. Obviously, a lot of studying was done on road games. It helps to have a charter bus with lights.

4:30 p.m.: Jasper beats West Vigo 6-0, Krueger throwing a one-hitter. Afterward, the field floods with supporters—little kids lining up for autographs, the elderly hoping to get a picture taken with their grandsons. Off in the distance, fans are setting off fireworks.

Krueger stands near home plate, little kids hovering nearby, hoping to get a fist pump.

"Baseball is everything here," he says. "Every boy growing up here wants to wear this uniform. [BOOM, a firework goes off.] Just like that. That shows how much baseball means to this town. It's an honor to wear it and play in front of a crowd like this."

Gobert mentions how winning is nice, but not to miss the bigger picture.

"I just try to soak it in. I just love seeing little kids looking for certain Wildcats. I love seeing the generations, the grandparents, the people who have no connection anymore but come back."

It is the newest moment to savor, from the crowd milling on the field, over to Sarah's Place, where a plaque tells visitors how Terry's and Caroline's first daughter "loved baseball as much as she loved life itself."

Of course, she did. She's from Jasper.•

__________

Lopresti is a lifelong resident of Richmond and a graduate of Ball State University. He was a columnist for USA Today and Gannett newspapers for 31 years; he covered 34 Final Fours, 30 Super Bowls, 32 World Series and 16 Olympics. His column appears weekly. He can be reached at mlopresti@ibj.com.