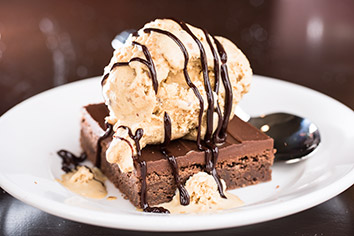 Comedians, dinner theater actors and band members are accustomed to performing in front of fork-wielding patrons. And many a restaurant has made like an art gallery by hanging paintings (often with the price tags gauchely played up).
But I can't recall a restaurant that has celebrated local arts in such a way as Penn & Palate (28 E. 16th St., 602-6975). The new eatery looking out on Herron High School not only playfully embraces the arts in its name, but also features decor dominated by photographic portraits of area writers and artists. It's too soon to tell if folks will request seating at the Kyle Ragsdale table, say, or prefer a spot overlooked by Susan Neville, but there's no confusing this place with a chain.
Two lunch visits to Penn & Palate included a wide array of offerings—and a peaceful low-key atmosphere that, on one visit, actually allowed me to work on some writing.
Three soups are offered each day, with the constant being a Tomato Basil and the variables being a Daily Cream and Daily Broth ($3/$6). An Italian sausage version of the broth option featured plenty of onion, white beans and sizable chunks of meat while staying true to its brothy definition. A House Salad ($4/$8) featured a tasty tomato jam on crostini but could have used more cucumbers to liven up its mixed baby greens. The Scallion Corn Cakes ($7) with marinated olives and cherry tomatoes got a bit lost in the feta but the daily Risotto ($8) was a winner with shallots, white wine and just enough garlic.
Lunch entrees consist of sandwiches and salads (offerings broaden for dinner, including Lamb Chops, Pumpkin Potpie, and Salmon). Braised Short Ribs Sandwich ($10) with an ancho balsamic glaze was inconsistently cooked but satisfying enough. Better was the Turkey Melt ($10) with caramelized onions, thyme-infused apricot preserves, spinach and brie. Relatively flavorless House Chips ($3) were trumped by Pomme Frites ($3) served with house aioli, sherry vinegar or blue cheese yogurt.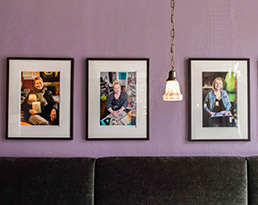 Artist portraits overlook Penn & Palate diners. (IBJ Photo/ Eric Learned)
For dessert, my chocoholic guest gleefully took care of most of the Brownie Cockaigne ($2) with fudge icing and a scoop of ice cream ($3). In search of something fruitier, I found the Rosemary Polenta Cake ($6) in a shallow bed of lemon curd with rosemary macerated raspberries adding a bit of welcome grit.
Service, throughout, could not have been more pleasant.•
Please enable JavaScript to view this content.