While no Indiana school made this year's College World Series in Omaha, Nebraska, a trio of Hoosier entrepreneurs could play a key role in who wins the coveted title.

Noblesville-based Diamond Charts LLC has become a huge hit among college baseball teams big and small since two Rose-Hulman Institute of Technology alumni launched it in early 2013 with $200 and what seemed like a crazy idea.

Kellen Hurst, 30, and Jeremy Hochstedler, 31, combined a love of baseball, a knack for computer coding, and an obsession with statistics to devise a service few—if any—firms had offered college baseball teams.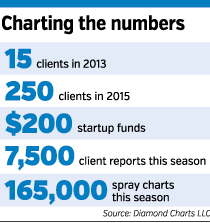 By providing teams with detailed and voluminous hitting statistics on every opponent, Diamond Charts grew its client base from 15 teams in its first year to 125 in 2014. This year, the firm included softball and grew its client base to 250.

"We have kept our own [hitting] spray charts in the past, but were blown away by the quantity and the quality of information we were able to utilize with Diamond Charts," said Adam Revelette, director of operations for Baylor University's baseball program. "It is a tool we will continue to use indefinitely."

Diamond Charts, which is run out of a modest office above Copper Still Kitchen & Bar in downtown Noblesville, has an all-star client list that includes the 2013 and 2014 College World Series champions and the 2015 NCAA women's softball champions.

As of June 19, Diamond Charts clients included the only two undefeated teams remaining in this year's CWS: Virginia and Vanderbilt. The champion will be determined later this month.



Hochstedler, an all-conference catcher and third baseman at Rose-Hulman, was a volunteer assistant coach at Manchester College when he came up with the idea for the company.

"We were laboriously going over all this play-by-play data and I thought, 'There has to be a way to automate this,'" Hochstedler said.

Home-run idea?

Hurst, Hochstedler's boyhood friend from Noblesville and all-conference teammate at Rose-Hulman, thought his buddy had a home-run idea. The two anted up $100 to form a limited liability corporation and another $100 to develop a website.

"We used Diamond Charts on every opponent we played throughout the playoffs," said T.J. Bruce, an assistant coach with 2013 CWS champ UCLA. "These [charts] definitely helped us have our players in the right positions to give us the best chance."

Despite the firm's rapid growth, many coaches thought the former collegiate team captains were making a wild pitch.

The two initially made cold calls to more than 1,000 college coaches. Most didn't respond; those who did quickly shook them off. Their conversion rate was about 1 percent.

Hurst and Hochstedler were literally running around the convention floor at the 2014 American Baseball Coaches Association conference—a huge annual show—pitching coaches their spiel. At first, only a handful would stop long enough to listen. Even fewer believed the pair could do what they promised.

Gary Vaught was among the old-school skeptics. The 35-year coaching veteran and his University of Indianapolis staff kept "really elaborate hitting charts ourselves"—on their own team and on opponents.

Vaught
"I thought, 'What do we need these guys for?'" said Vaught, who has coached at the NCAA Division I and II levels.

But Hurst and Hochstedler put one right down the center of the plate.

When Vaught opened Diamond Charts' sample package, "My jaw dropped. They handed me charts on our own hitters. And I mean, boy, they were spot-on—across the board. I couldn't believe the detail in these things."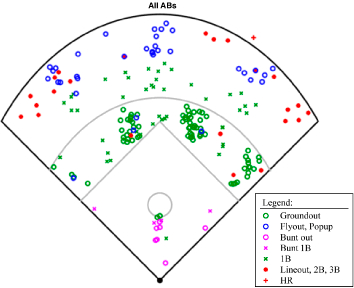 Diamond Charts has cranked out 7,500 client reports containing a combined 165,000 spray charts this season alone. Company officials boast they can do in four minutes what a college baseball staff needs 15 hours to process. (Illustration courtesy of Diamond Charts )
Diamond Charts data doesn't just give percentages of where a hitter is likely to hit the ball. The reports break down how each opposing hitter would hit against a right-handed or left-handed pitcher; the likelihood of his swinging at a first pitch; percentages for his last 260 or so at-bats; his percentages over the last 10 games; and whether he is more likely to hit ground balls, line drives or pop-ups and with what type of power.

The company can also supply statistics and hitting tendencies against each of a team's pitchers.

Diamond Charts reports consist of 20 to 25 charts and graphs for each opponent. The company prepared 7,500 reports containing 165,000 charts this year alone.

Staffers meticulously comb the websites of the NCAA and individual schools to cull data.

For $1,350, Diamond Charts will prepare a report for each of a college team's opponents' hitters and pitchers. For data on all opponents' hitters, the firm charges $850 for a season; reports on only conference opponents cost $500.

Assisting IU's renaissance

Despite a growing group of followers, Diamond Charts still had a considerable mound of skepticism to scale in the last year.

Early last season, Hurst's brother-in-law, Josh Phegley, a former Indiana University catcher who plays for the Oakland A's, urged then-IU Coach Tracy Smith to use the service. Smith scoffed at the idea.

The Hoosiers lost three of four to Texas Tech University in the season-opening series. The Red Raiders seemed to know exactly where IU hitters were going to hit the ball. Phegley told Smith's wife—whom he was sitting next to at a game—that Texas Tech was using Diamond Charts.

IU became a client two days later.

The Hoosiers finished the season 44-15 and won their second consecutive Big Ten championship.

Smith has since taken the head coaching job at Arizona State University, where he continues to subscribe to Diamond Charts. His successor at IU, Chris Lemonis, has also become a believer.

"We have every stat they provide," Lemonis said. "When we're in a game, their stats are right there on the front of our clipboards. I'm making a lot of in-game decisions based on those charts. That's the kind of confidence I have in them."

Hurst and Hochstedler still have other full-time jobs. Hurst, a civil engineering major, is a project engineer in HNTB Corp.'s water services construction department. Hochstedler, an electrical engineering major, is a senior project manager working in data and management consulting for KSM Consulting.

Both also have young families to keep them occupied. Hurst and his wife, Jennifer, have a 3-year-old daughter, while Hochstedler and his wife, Amy, have 5-year-old and 2-year-old sons and another child on the way.

And their initial system, they admit, took some time to perfect.

With the rise of Sabermetrics—a system of using player statistics to formulate a baseball game strategy—professional baseball teams have been keeping detailed statistics on opponents—and their own players—for more than a decade. But most college teams—even with computer programs such as GameChanger—simply don't have the staff and resources to do that level of scouting and statistical compilation and analysis.

"What it takes a coach 15 hours to do, we can do in four minutes," Hochstedler said.

It wasn't always that way. During the company's first year, Hochstedler and Hurst spent numerous hours manually inputting data.

The two often stayed up until nearly dawn during the college baseball season inputting data, then reported to their day jobs. Hochstedler focused on the computer side of the business while Hurst headed up the endless job of sales and marketing. They estimated that, during that first season, they worked more than 60 hours a week on Diamond Charts.

Relief pitcher

When the company began growing rapidly, they called old friend Paul Gagnon, 31, a computer whiz who lived on the same dorm floor as Hochstedler at Rose-Hulman.

When the trio discussed Diamond Charts over lunch, Gagnon, who had worked as a senior systems analyst for Eli Lilly and Co., became obsessed.

"I kept talking with [them] about how we could improve some things and reduce the manual steps to create a chart," said Gagnon, a software engineering major at Rose-Hulman. "Kellen and Jeremy asked if I wanted to join [Diamond Charts] and get working on automating a lot of the process for season two. I worked on the first set of scripts and automation while on paternity leave from Lilly while my daughter was napping."

Sales increased tenfold during Gagnon's first year with the company and tripled this year. The trio declined to divulge revenue but, given their number of clients and price structure, it's reasonable to estimate their revenue over the last 12 months at $200,000 and $300,000.

"When Paul joined the company in late 2013, it went from a science fair project to an actual service and a real business," Hochstedler said.

With Gagnon working full time on Diamond Charts as an equal partner and with improved automation, the founders now have their Diamond Charts in-season work week down to about 20 hours.

The three owners are contemplating expanding into other sports, but decline to say which. And two serious competitors have emerged—College Spray Charts and College Splits. Hurst and Hochstedler must decide whether to keep their day jobs or jump into Diamond Charts with both feet.

"Our goals aren't financially focused. We're baseball guys first and businessmen second," Hochstedler said. "We just want to help as many coaches as possible. I know there are coaches out there we haven't reached."•