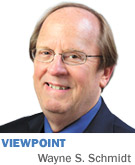 Indianapolis ranks No. 47 on the 2015 list of the most walkable cities. Detroit ranks No. 18.

Wait a minute. Indianapolis was beaten by Detroit in Walk Score's indexes?

How can that be?

It's shocking that Indianapolis' Walk Score wasn't higher when we just heard so many positive comments from Final Four visitors about how easy it was to walk from hotels to restaurants, bars and Lucas Oil Stadium.

Various Indianapolis neighborhoods have improved their walkability, ranked by the distance to groceries, restaurants, shops and other amenities. Highest points are assigned to amenities within a five-minute walk.

Indeed, the 46204 ZIP code that includes Mass Ave and other parts of downtown has a 2015 walkability score of 86—right up there with the most walkable city of New York (88) and second-most-walkable San Francisco (84).

A score of 70-89 is considered "very walkable/most efforts can be accomplished on foot."
Indianapolis has a long way to go to become pedestrian friendly. (IBJ file photo)
The downtown ZIP code 46202 is Indianapolis' second-most-walkable neighborhood with a score of 63, but our citywide score of 29 puts us in the "car dependent/most errands require a car" category.

It took Detroit four years to increase its Walk Score by 2.2 points, but the study attributes the city's rising score to the downtown area (neighborhood score of 93), where Quicken Loans and other businesses moved from the suburbs back downtown, attracting restaurants, shops and small businesses.

A downtown streetcar line is "in development"—meaning not done. The survey heaps more praise on Detroit, concluding, "The city is still very much in transition, but the population is young, and the city is actively involved in its own reinvention."

The walkability study also ranks cities for being transit- and bike-friendly. Indianapolis' transit score is 23 (the "a few nearby public transit options" category) and our bike score is 41 ("somewhat bikeable/minimal bike infrastructure").

Maybe it will take a while for national rankings to catch up to Indianapolis' walkable features, bike lanes and new transit hub. Or maybe we're happy being a combination city, where certain neighborhoods are walkable and others require—and even welcome—cars.

I still believe in elevating our expectations. I believe in encouraging walkable urban neighborhoods, the right mix of amenities, urban housing options for all ages and incomes, and the public transportation to make it work.

I just didn't know our competition was Detroit.•

__________

Schmidt is CEO of Schmidt Associates and co-author of the book "Indianapolis Architecture." Send comments on this column to ibjedit@ibj.com.