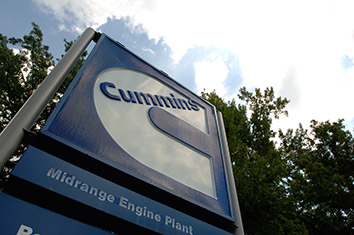 U.S. regulators have delivered a victory for engine makers such as Cummins Inc. in a battle over greenhouse-gas emissions regulations for heavy-duty trucks.
The Environmental Protection Agency and the Transportation Department proposed fuel economy standards Friday that would mandate efficiency gains in engines and transmissions made by companies such as Cummins and Eaton Corp. The rules are intended to encourage the development of new technology, and the replacement of engines.
Cummins shares rose as much as 0.4 percent to $136.96 in mid-afternoon training. The shares have gained $1.26 since Tuesday. Eaton fell as much as 1.1 percent during Friday trading.
Tom Linebarger, Cummins chairman and chief executive officer, said the Columbus-based engine maker supports the EPA proposal.
"It will help our industry grow in a more sustainable way, which is a win for our customers and win for the environment," Linebarger said in an e-mailed statement.
Truckmakers had pushed for the elimination of a standard for engines, and backed just testing the whole vehicle the way automobiles are assessed. That way, fuel consumption targets could be met with less expensive changes, such as improved aerodynamics.
Volvo AB's North American unit told the agencies that overemphasizing engines in the regulations could result in added costs, weight and vehicle complexity. Daimler Trucks North America LLC warned against engine standards that aren't aligned with real-world operations.
About 350,000 new heavy-duty trucks were sold in 2013 in the U.S., according to Bloomberg Intelligence. Daimler had the largest share, or 37.3 percent, of the 2014 market for the heaviest trucks, followed by PACCAR Inc., Volvo and Navistar International Corp.
Please enable JavaScript to view this content.