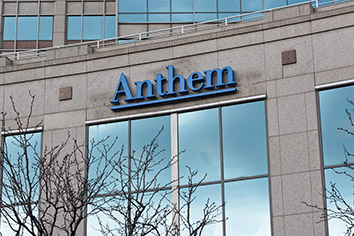 Cigna Corp. has rejected Anthem Inc.'s $47 billion takeover bid, saying it was inadequate and not in the best interests of shareholders.
Anthem on Saturday offered to buy the smaller health insurer in what would be the biggest takeover ever in a U.S. industry on the verge of a consolidation wave much like drugmakers have been experiencing. Insurers such as Anthem are searching for ways to cut costs and keep expanding profits amid a surge in enrollment from Obamacare.
Cigna said on Sunday its rival was "facing a number of major issues" including a lack of a growth strategy, its membership in the Blue Cross Blue Shield Association and related antitrust actions. Cigna also cited a data breach Anthem sustained in February.
Directors have "unanimously determined the proposal is inadequate and not in the best interests of Cigna's shareholders," Cigna Chief Executive Officer David Cordani and Chairman Isaiah Harris Jr. wrote in a letter to Anthem.
Kristin Binns, an Anthem spokeswoman, didn't immediately respond to a telephone message and email seeking comment on Sunday.
The non-binding proposal is for $184 a share, about 31 percent of which would be paid in Anthem shares and the rest in cash. That's a 29-percent premium to Cigna's average closing price in the past 20 trading sessions. Anthem said Saturday that the total transaction value is $53.8 billion, including net debt.
The merged entity would be about 24 percent owned by Cigna shareholders and would serve about 53 million members.
The industry has seen other deals in the works in recent weeks.
Aetna Inc. made a takeover proposal to Humana Inc. in the past few days, the Wall Street Journal reported on Saturday, without saying where it got the information.
Humana had a market value of $30.3 billion on Friday, compared with Aetna's $43.3 billion.
Anthem said Saturday that combining with Bloomfield, Connecticut-based Cigna would boost adjusted earnings by more than 10 percent in the first year. Together, they'll generate more than $115 billion in annual revenue.
A $53.8 billion enterprise value for Cigna would be about 14 times what the company earned before interest, taxes, depreciation and amortization in the past 12 months. That's more than double Anthem's own "EBITDA" multiple.
"This combination is the absolute best strategy for both organizations to maximize the potential and lead the transformation of the health care industry," Anthem Chief Executive Officer Joseph Swedish said in the statement.
Anthem said it had held discussions with Cigna about a merger since August 2014 and has made four written proposals this month, starting with an offer of $174 a share on June 3. It made its latest bid public after the talks hit a snag over who will run the company and who will serve on the board. Anthem said it offered to name Cigna's CEO, David Cordani, as president and chief operating officer of the combined entity, as well as co-chairman of the integration team. But Cigna insisted on Cordani remaining CEO, Anthem said.
On Sunday, Cigna said Anthem's proposal that its CEO, Joseph Swedish, take on four roles including chairman and president, is "disconcerting and risky."
Cigna's management has a duty to put the interest of investors before their self-interests, said Erik Gordon, a professor at the University of Michigan business school, in an email Sunday.
"The CEO should not be negotiating to keep his job and the board should not be bargaining to keep their positions, pay and perks," he said.
The entire health-care industry has been on a takeover spree, from medical-device companies and drug makers to hospitals. A record $330 billion of mergers and acquisitions were announced in the industry last year, and 2015 is already on pace to top that level, data compiled by Bloomberg show.
 
Please enable JavaScript to view this content.