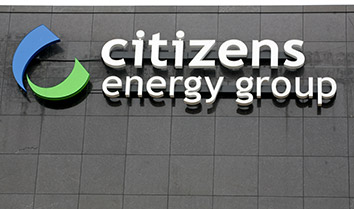 Citizens Energy Group plans to build a $20 million reservoir in Fishers to help address projected water needs in central Indiana.
Citizens already has begun work on the project in an 88-acre former limestone quarry it has purchased at 10997 Olio Road, the utility announced Tuesday morning. It is expected to hold 2.7 billion gallons of water when it opens in 2020, and to provide as much as 25 million gallons per day.
To be called Citizens Reservoir, it will receive water from nearby Geist Reservoir that currently is lost over Geist Dam in periods of heavy rain. The body of water will have about 40 percent of the capacity of Geist.
"Citizens Reservoir is a cost-effective and sustainable solution for providing central Indiana the water supply it needs for continued population growth and economic development," said Jeff Harrison, Citizens' chief operating officer. "The new reservoir will also be a vital component to helping the region endure serious drought conditions like those that led to mandatory water use restrictions in 2012."
In 2014, a report from the Indiana Chamber of Commerce identified areas of the state that needed to do a better job managing water supplies, anticipating possible scarcity due to increased demand.
The study found that while central Indiana had diverse sources of water, population growth projections showed that as much as an additional 50 million gallons per day could be needed by 2050. In Tuesday's press release, Citizens estimated the need at an additional 50 to 80 million gallons of water per day within 25 years.
Citizens provides water service to approximately 400,000 homes and businesses in eight counties over central Indiana–Marion, Johnson, Morgan, Hendricks, Boone, Hamilton, Hancock and Shelby. Its current sources of water include the White River and Geist, Morse and Eagle Creek reservoirs.
Citizens has been working to capture more water for the future by opening a new ground water treatment center near Morse Reservoir, adding new wells to its Geist-area well field, and examining expanding other well fields in its system, according to a spokeswoman. It also has worked to increase water flow from the Central Canal to a treatment plant.
Indiana Speaker of the House Brian Bosma, R-Indianapolis, approved of the plan for the Fishers reservoir.
"This acquisition will help central Indiana have access to another 25 million gallons of water per day, which will help ensure our future water needs are being met," Bosma said in a prepared statement.
 
Please enable JavaScript to view this content.