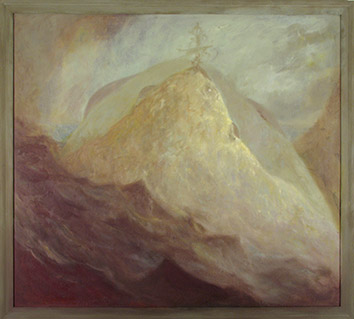 It's summer in the largest U.S. city not on a natural body of navigable water—a not-quite-boast shared with me a number of times when people found out I was moving to Indianapolis from the Jersey shore 20 or so years ago.
While aqua activity may not be front and center in the minds of mid-Indiana Hoosiers, H2O does seem to be on the minds of Hoosier artists, as demonstrated by "The Water Show," a group exhibition at Gallery 924, the Pennsylvania Street arts space run by the Arts Council of Indianapolis.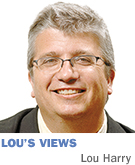 The theme is loose enough to allow for a wide range of visions, although I was surprised I didn't find work that was actually, well, wet. Far from being localized, the exhibit feels global in scope.
Although it's not placed near the gallery entrance, the first piece likely to draw visitors' attention is Luke Crawley and Quincy Owens' "Lap," a rippling stretch of material, at floor level, complemented by oceanic sounds. Patrons are invited to (gently) interact with the work, which ambiently permeates everything else in the show.
You hear "Lap" while considering Jack Wickes' "Pilgrims in the Ganges" photograph, paired with Emily Schwank's "From the Waters." The first considers the water as sacred; the second is more ambiguous, focused on a young girl in a landscape mythic and rugged (you might think, as I did, Ireland. It's actually northern Michigan).
Elsewhere, Susan Tennant's wood and waxed cord "Vessel" seems to speak to all of history's fragile attempts to conquer the seas, while Carla Knopp's "Mother" appears to come from a time long before humans evolved. It features a mountain being birthed from the anguished, angry angular sea. For me it was the most resonant work in the show.
At first whimsical but, on closer inspection, painful, the lost face on Laura Levine's "Jellyfish," with a trail of arms behind it, could be something out of a Monty Python animated sequence, only with a "why am I what I am" sadness to it. Mike Allee offers a smartly composed, highly meme-able black and white photograph simply titled "Child and Water." It shows what an artist can do with an image any parent has probably tried to capture with a camera or cell phone.
William A. Rasdell's "Migration: Wading the Waters" may seem as overloaded as the central figure, carrying such a heavy burden that he's got a suitcase handle in his teeth. But the image is memorable and the weariness palpable. It avoids overt politicizing, though, which can't be said for Guatam Rao's "Climate Melt," in which candles spelling the word "Climate" are melted down.
There's more, too. I suggest at least dipping a toe in before "The Water Show" closes July 10.•
__________
This column appears weekly. Send information on upcoming arts and entertainment events to lharry@ibj.com.
Please enable JavaScript to view this content.