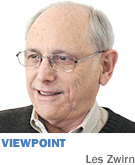 The two-decade-long, brick-and-mortar battle among central Indiana not-for-profit hospitals has entered a new phase.
After years of inpatient bed expansion, especially in wealthier suburbs, our hospitals recently shifted gears. They're now investing billions to replace, consolidate and downsize inpatient facilities, while expanding outpatient facilities.
The recently reported possibility of phasing out the 7-year-old, $150 million Simon Cancer Center at IUPUI begs an all-too-familiar question: Are our not-for-profit hospitals planning and building to improve community health or to drive market share? Too often, it's the latter.
In 2004, Indianapolis attained national notoriety for building four new heart hospitals, each aimed at luring patients from the others, while concurrently closing much-needed mental health facilities. Since 2000, more than 15 new inpatient facilities have opened in central Indiana. Yet, occupancy remains around 60 percent.
This 20-year spending binge has done little to improve health or shift market share. In fact, when it comes to improving health, the return on these investments has been minimal:
• Indiana ranks 41st in overall health and 42nd for obesity.
• Indianapolis ranks 91st among 100 cities for highest rates of obesity.
• Indiana ranks first for increase in employer-sponsored health premiums.
• Indiana ranks fourth in annual average cost of family health insurance premiums.
• Indiana is the ninth-least-competitive health care state.
Meanwhile, our hospitals contribute less than 2 percent of their net income to "cash and in-kind contributions for community benefit" as reported on their IRS Form 990s.
Despite this costly and unhealthy reality, Indiana state government invests only $13.18 per capita in disease prevention and community health, 47th among the 50 states. Moreover, we rank 36th in the number of active primary care physicians per 100,000, an indicator of a state's commitment to better health.
Billions in new facilities and equipment aren't making us healthier—especially when battling-for-market-share hospitals spend so little on community health.
So why do such marginally beneficial investments persist? Primarily because:
• Hospitals too often operate like privately held, for-profit corporations and are not held accountable for better health;
• Hospital incentives are designed to maximize market share and revenue; their bottom lines are diminished when they invest in community needs such as mental health, violence reduction, disease prevention or parenting education;
• Economic development professionals and political leaders encourage hospital construction in the false belief that this generates jobs, failing to recognize that the resulting increase in health care costs deters businesses considering relocation.
So, what reforms would improve health?
• Voluntarily tithe 10 percent of hospital income to an inclusive entity whose sole mission is to create a culture of health across our entire region.
• Restructure not-for-profit governing boards to add citizens directly accountable to the general public: e.g., mayors, judges, county councilors/commissioners.
• Privatize county public health agencies by enabling hospitals to acquire these underfunded government entities.
• Adopt region-wide health care executive compensation incentives based on creating the collaborative conditions, relationships, structures and programs essential for better health.
• Use federal community health needs-assessment mandates to challenge the legal barriers to collaborative, community-needs-based planning imposed by the Federal Trade Commission.
Indiana's elected health policymakers and those controlling not-for-profit hospital budgets must better align our health organizations' missions and better prioritize their capital allocations. The public deserves better planning and more responsible stewardship than it now receives.•
__________
Zwirn is a retired hospital executive and can be reached at les.zwrin@gmail.com.
Please enable JavaScript to view this content.