Wellness company On Target Health LLC, which one year ago launched a program to help overweight workers lose fat but not muscle, is seeing strong results from its first two clients—Hillenbrand Inc. and Edwards Electric & Mechanical.

That has helped On Target sign up a third client and spark interest from 14 more. On Target is also offering its program to corporate executives via a partnership with St. Vincent Sports Performance.

Managing Partner Todd Foushee said his conservative projection is that the company could zoom to $7 million in revenue in the next two years. On Target hasn't had to raise investor capital yet, but if its growth plans play out, it will.

Foushee
"As we educate the market on how we are addressing the obesity crisis in the workplace, we do plan to raise capital to meet the growing demands," Foushee wrote in an email.

Of course, On Target is trying to succeed where hundreds of companies have flamed out. A recent review by medical researchers at Johns Hopkins University of more than 3,500 studies of 141 weight-loss programs could find only two—Jenny Craig and Weight Watchers—that had been tested rigorously that showed more weight loss after one year than achieved through education or counseling alone.

Some well-known weight-loss programs with impressive short-term results—such as Medifast and Health Management Resources—saw those benefits disappear by the one-year mark, according to the review, published in April in the Annals of Internal Medicine.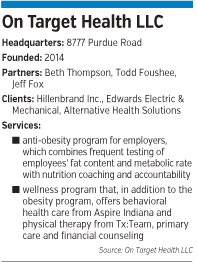 On Target's approach is different in two respects: It aims for participants to lose only fat and it measures its success not so much in number of pounds lost as in improved blood-test results for patients struggling with diabetes and heart disease.

"There is significant importance to losing the correct type of weight," said Beth Thompson, On Target's vice president of obesity management solutions, who created the fat-loss program in 2006. "If they're not getting rid of the fat, then they can't expect the other problems to go away."

On Target works with other companies to provide services that, it says, can address underlying factors that contribute to obesity or prevent patients from losing weight: mental health counseling, financial counseling and physical therapy.

It also often works with primary care doctors who see patients at an employer's on-site health clinic. For example, at Hillenbrand, patients received blood tests at the Hillenbrand health clinic.

Earlier this month, On Target signed a contract with Louisville-based Alternative Health Solutions, which operates employer clinics.

On Target can hold up the experience of 99 Hillenbrand employees as a success.

Among 26 of those workers who either had heart disease or were at high-risk of it, 22 saw their bad cholesterol go down and 15 saw their good cholesterol increase after six months.

Of 33 employees who were either diabetic or pre-diabetic, they reduced their blood sugar levels, measured by a protein called hemoglobin A1C, by 0.6 percentage point over six months. That result is roughly equivalent to reductions achieved by diabetes medicines.

To achieve that result, three patients moved their hemoglobin levels from the diabetic to pre-diabetic level. And 13 employees moved from the pre-diabetic level to the normal range.

Many employees had their physicians reduce the amount of blood pressure or diabetes medicines they were taking, or took them off the medicines.

"The change in the health state is the one that's most important to me," said Julie Joerger, director of global human resources and mergers and acquisitions at Batesville-based Hillenbrand. "When that happens, all this other stuff falls into line. People are healthier and happier and it helps the bottom line."

The results at Hillenbrand have been repeated at Edwards Electric, where 60 workers have participated in the program for 12 weeks so far.

Three of four diabetic employees reduced their blood sugar enough to qualify as pre-diabetic. Another three moved from pre-diabetic to the normal range.

Six of seven employees with high cholesterol saw it go down. Also, five out of 24 employees with low amounts of good cholesterol saw it improve.•