Indiana might not seem like fertile ground for growing socially responsible companies, but a new state law, coupled with local interest in national certification services for such firms, is tilling the field.
Indiana next year will begin offering companies the option of becoming "benefit corporations." The name is innocuous, but what it signifies is revolutionary. The legislation, spearheaded by State Rep. Casey Cox, R-Fort Wayne, will make it possible for firms to write other priorities besides profit—such as employee happiness or environmental stewardship—directly into their bylaws.
"The statute explicitly states that you need to consider the local community and the employees in all of your business decisions," said attorney Russell Menyhart of Taft Stettinius & Hollister LLP, who helped with the legislation. "It's not necessarily a mashup of a profit and a not-for-profit company, but rather a third way. It's baked into the mission of the company—into the articles of incorporation."
The law goes into effect Jan. 1, 2016. It may sound a bit touchy-feely, but the idea is gaining traction nationally. Indiana will be the 28th state with such a law.
"In some states where these laws are introduced, there have been companies lining up early in the morning on the first day," Menyhart said. "They want to be one of the state's first benefit corporations. I think it's really exciting. How often do people get excited about registering a business?"
The new law is just one way that businesses wishing to emphasize social responsibility can set themselves apart from the herd. There are also B corporations, or "B Corps," which are certified by a Pennsylvania-based not-for-profit called B Lab. The firms must meet stringent requirements in areas ranging from workplace wellness to philanthropy to transparency.
At the moment, B Corp status is the province of Indiana's earliest early adopters. Bohlsen Group, an Indianapolis-based advertising and marketing agency, is the state's only certified B Corp.

Bohlsen
Vicki Bohlsen, the firm's CEO, hopes to have company soon.
"For me, it's this outward label where I can say to the staff and to potential clients, 'When you work with us, this is what you get,'" Bohlsen said.
Seal of approval
Unlike benefit corporations, a B Corp certification isn't legally binding. Nor does it carry any tax benefits. It's more like a Good Housekeeping seal for corporate do-gooders.

Hays
"This is something that's resonating with a lot of people," said Kathy Pedrotti Hays, a not-for-profit consultant in Indianapolis. "Companies can actually demonstrate that they're doing what they're supposed to be doing with respect to social responsibility."
In recent years, Hays has seen increased interest in B Corp certification and benefit corporations—a trend she believes is being driven partly by millennials.
"[Millennials] really demand a workplace that is responsible, that gives back, that has a good worker environment, that protects the environment, all of that," Hays said. "When folks are interviewing millennials, they learn that it's really important to them."
Another factor is that consumers are increasingly assessing social responsibility when they decide which companies to do business with. Hays said that when she started her career, cause-related marketing was pooh-poohed. But these days, companies dismiss it at their own peril.
"Now we know that, in large part, consumers are influenced by the social responsibility of the company, either in doing business with them or in purchasing their products," she said. "So the convergence of those two things is really helping the whole certification thing take off."
The lack of a tangible payoff of earning a B Corp certification or becoming a benefit corporation, for the moment at least, can be a hindrance. For instance, becoming a benefit corporation carries no tax breaks. But Hays and Menyhart think the pluses could grow more obvious as the number of participating firms grows.
"Did the Good Housekeeping seal have a lot of traction when it started?" Hays asked. "Probably not. But over the years, as people recognized what it was, it definitely did."
Corporate scorecard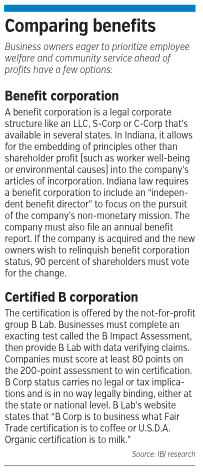 Bohlsen learned about B Corps a couple of years ago from Hays, whom she'd hired to help with strategic planning. Bohlsen already was interested in socially responsible practices, offering discounts to not-for-profits and doing pro bono work.
She and Hays decided to use B Lab's B Impact Assessment—a free, online scorecard that measures a company's social responsibility—as a template.
"I was just using it as a guide," Bohlsen recalled. "But after we completed our plan and started implementing it, I wondered, why not get certified?"
To qualify, a company has to score at least 80 on the 200-point Impact Assessment questionnaire, which covers everything from the minimum wages of the lowest-paid workers to the diversity of the board of directors to whether the company has a recycling program. B Lab looks over the application and then asks for supporting data. If everything's up to snuff, the company is certified.
Bohlsen only earned that honor last March, so there aren't any metrics yet on how (or whether) it has affected things like employee retention, hiring or customer satisfaction. But the boss said it certainly feels like an improvement, especially to her approximately 35 employees, about a third of whom are millennials.
"This stuff really matters to them," Bohlsen said. "We do feel that, after time goes by, the data will show that it is an employee retention benefit."
Though Bohlsen—somewhat surprisingly for the boss of a PR firm—hasn't made a big deal about the B Corp designation, she thinks it will win notice among other B Corps and socially conscious firms.
One firm giving them a second look is Indianapolis-based Endangered Species Chocolates. Bohlsen met with the company four years ago and got nowhere.
"But after they heard about our certification, they reached out and we had a meeting with them," she said.
Hays said another client is about halfway through the B Corp certification process, but it hardly amounts to a tidal wave of interest. The true demand for Indiana's new benefit corporation classification remains to be seen.
Gaining popularity
The story is somewhat different outside Indiana. There are just over 1,300 B Corporations certified worldwide, with more than 800 of those in the United States.
Most are small, with 50 employees or fewer. Some of the larger B Corps include Ben & Jerry's Ice Cream, clothing retailer Patagonia and trendy eyeglass maker Warby Parker. Mostly recently, Etsy, the online arts and crafts marketplace, signed up.
And 27 states already have laws that allow for the creation of benefit corporations.
Bohlsen said she'll look into Indiana's benefit corporation law, but isn't sure whether she'll seek that status for her company. In addition to writing the company's principles into its bylaws, it requires placing an "independent benefit director" on the board to focus on the company's mission or purpose, and filing an annual benefit report.
Menyhart said Indiana's legal system already is somewhat more progressive toward benefit corporations than that of other states. While most federal and state statutes deem maximizing shareholder returns to be a company's prime (and only) directive, in 1986 Indiana created a "corporate constituency" clause allowing directors to consider employees, suppliers, customers and community concerns along with profit.
The report that Indiana's benefit corporations must file each year can be based on, among other things, B Lab's assessment.
"We'd like to see millions of companies measuring and managing their impact, regardless of whether or not they can get certified," said Elizabeth Freeburg, B Lab's digital content manager.
She said that, while about 30,000 users have accessed the B Impact assessment, only about 1,300 are certified.
"We know that not every company can become a B Corp, and we're happy for folks to use the assessment to set goals and improve in the meantime," Freeburg said.•
Please enable JavaScript to view this content.