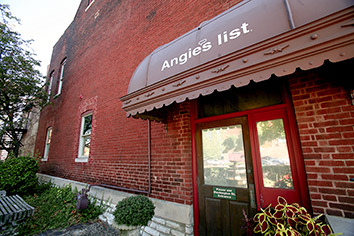 Angie's List has long been considered the 800-pound gorilla in the home-services market, an industry estimated to be worth at least $400 billion annually.
But three tech startups from its own back yard believe they can better connect consumers and service providers by avoiding the Angie's List approach, and they're seeing early traction.
The firms are Fishers-based Name Your Price Home Services, Fishers-based Haven, and Fort Wayne-based Cuttly. Their models involve bidding on services, home management and on-demand services, respectively. They all started this year and are among a growing number of companies, including retail behemoth Amazon, looking to streamline how consumers hire plumbers, gutter cleaners, snow removers and more.

Beck
"That's where we want to help people out—right when they're in a pinch," said Cuttly CEO Clinton Beck, whose on-demand mowing and plowing platform can be likened to ride-hailing company Uber. "And we're trying to do it in the most seamless way possible, so there's no list to sort through, no phone calls to make."
Name Your Price's business model is similar to one of Priceline.com's features. It allows consumers to pick a service, dangle a price in front of contractors, and wait for a bite. The idea is that, on slow days, contractors might be willing to take $400 for a job that normally runs $500.
Haven offers free home-management software that aims to be a resource for repairs and routine maintenance. It provides guides for do-it-yourself types or connects people directly to one service provider. That single provider is based on user preference or algorithms, the company said, not advertising dollars.

Brown
"We tell companies, 'We don't make a dime until you make a dollar,'" said Haven co-founder and President Jim Brown. "We're not trying to get them to advertise."
Most companies in the space get a cut of the transactions they facilitate. Cuttly gets about 20 percent of service calls, which start at $35. Haven takes 10 percent to 14 percent. Name Your Price is the outlier, though, charging a flat $14.95 on every piece of business it forwards.
Success won't come easy for the firms, as the space has a lot of noise and overlapping offerings from companies large and small. Amazon Local is among them. It debuted in April, and connects its customers with service providers who can, for instance, install kitchen sinks immediately after the purchase.
Angie's List is still the pre-eminent company in the market, boasting more than 3.1 million paid members at the end of the first quarter, as well as 54,000 service providers.
CEO Bill Oesterle has, in past remarks, noted the massive size of the industry and his firm's two-decade head start, but the company hasn't hesitated to fend off competition.
On June 19, it filed a federal lawsuit against Amazon Local, claiming its employees posed as new Angie's List members in an effort to steal provider lists and other proprietary information. (See story, page 7.)
All of the startups have been operating for less than six months, but they're seeing some positive results.
Name Your Price has fewer than 1,000 users and six employees. Its service providers are primarily in Indianapolis, but it has fielded offers in places including Denver. 

Behney
Its CEO, Richard Behney, said the company is profitable and expects to raise $10 million to $20 million in venture capital this year.
Haven raised about $1 million in venture capital last fall and expects to round out its seed funding with another $2 million in the next few months. It has about 1,000 members, some of whom have expressed interest in paying $40 a month for Haven to handle home-service requests when they aren't home.

Cuttly has more than 500 users and more than 400 service providers. It operates in 20 cities. Beck said the company has been self-funded so far, but is considering seeking venture capital. It's also mulling other services besides lawn care and snow removal, including valet oil changes and dry cleaning.
"We just want to save people time and make life a little bit easier," he said.
Founders of the startups said they see a lot of inefficiencies and pain points in the industry, on both the consumer side and the service-provider side.
One relates to pricing. Behney said 20 years of contracting experience showed him price is the No. 1 concern for consumers, yet they have few, if any, options for landing below-market prices without a ton of deal hunting.
"We have our days when a water heater [call] costs $1,000. We're real busy, [so] it's $1,000," Behney said. "But there are days when guys are sitting around and I'm willing to take $800 or, depending on how bad it is, $700 just to pay the light bill."
Behney said his website shows consumers the average price for a service, and rarely do they post exceedingly low bids. There have been some cases, he said, where customers paid more than the going rate to get the service quicker.
Another inefficiency, founders said, is the time associated with selecting and waiting for service providers. Beck, with Cuttly, said some jobs require a bit of due diligence and advanced scheduling, but many shouldn't. Lawn mowing is one, he said, and Cuttly aims to connect customers with those types of services immediately after they order.
Service providers also face complications, including the decision of where to spend money to acquire customers. Behney, who also runs AttaBoy Plumbing Co., said Yelp, Angie's List and others constantly call him to buy advertising. Brown, of Haven, said he deals with several service providers who pay not only commissions on transactions, but also advertising fees on some platforms.
"We're not selling leads, but closed business," Brown said.•
Please enable JavaScript to view this content.