Sidelined real estate developer Christopher P. White is hoping to make a triumphant return with an $11 billion—yes, $11 billion—proposal for the GM stamping plant site and areas surrounding it.

White's eye-popping plan for "Odyssey Experience" calls for construction of a host of entertainment, residential and commercial projects on nearly 1,200 acres on the southwest side of downtown.

White
Among the attractions revealed in his marketing presentation obtained by IBJ: an amusement park; casino and sporting venues, including a stadium for the Indy Eleven soccer team that could double as an outdoor amphitheater; residential towers; and hotels adding at least 3,000 rooms to the city's inventory.

If that's not bold enough, White is proposing a 1-million–square-foot expansion of the Indiana Convention Center, relocating Circle Centre mall, and either remodeling or replacing Victory Field for a Major League Baseball team.

White operated Premier Properties USA Inc. before his conviction in 2009 on a fraud charge stemming from a $500,000 bad check he wrote as he struggled to save the foundering company. He ended up serving home detention.

The 57-year-old is best known for developing the Metropolis Lifestyle Center in Plainfield and pitching an audacious, $750 million redevelopment on the southwest corner of Keystone Avenue and East 86th Street. The so-called Venu project, which stalled amid the financial crisis, was to include a 24-story office tower, a 20-story hotel, two 10-story residential towers, and other attractions.

White did not return phone calls from IBJ seeking comment on his Odyssey plans. But those familiar with the pitch doubt a development of this scope could ever get off the ground.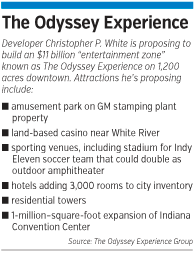 "Any billion-dollar project is a long shot," said Mike Wells of REI Investments Inc., which has an option to buy part of the stamping plant property for development of a $30 million concert amphitheater. "It's quite an elaborate scheme, to say the least."

Financing for White's project relies heavily on the establishment of a sales tax increment financing district to capture state sales tax revenue—something the state would never agree to, said Adam Collins, Mayor Greg Ballard's deputy mayor of economic development.

"It does not appear to be grounded in any kind of practical achievability," he said of White's plan. "You don't own the land, and you don't have the funding."

White's proposal also leans heavily on the federal EB-5 program, under which foreigners can invest $500,000 to $1 million for up to five years. In return, they qualify for legal permanent residency and a "green card." The investment must create at least 10 full-time jobs within two years.

White has hired Arlington, Virginia-based lobbying firm J.M. Burkman & Associates to help secure federal funding, according to correspondence included in White's marketing materials.

"One important observation: it is vital that we sell this as a regional and not just an Indiana initiative," firm President Jack Burkman wrote to White in January. "And we can easily do so because of the 50,000 to 60,000 jobs being created."

A 'lofty vision'

A map of White's Odyssey Experience shows the project enveloping the entire stamping plant site—including where Wells plans to develop the amphitheater—and stretching west and south into nearby neighborhoods.

Most of the GM plant site until recently was earmarked for Mayor Greg Ballard's proposed justice center. However, the City-County Council this month shot down a last-ditch effort to save the project, and the Michigan-based Revitalizing Auto Communities Environmental Response Trust now is preparing to put most of it back on the block.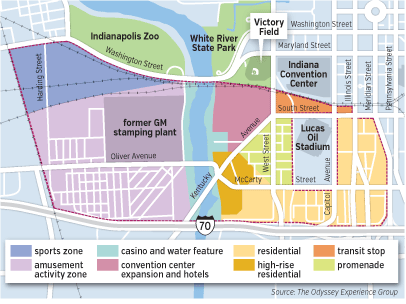 Beyond the plant's boundaries, many of the sites White wants to incorporate into his project have rental homes on them owned mostly by three landlords, he indicates in his marketing materials, suggesting the houses might not be that difficult to buy.

Relocation incentives and a housing ownership plan could be offered to help persuade residents to move, according to White's plan.

He also lists seizing the property through eminent domain as an option.

The property's boundaries extend from Harding Street on the west to Madison Avenue on the east, and from West Washington Street on the north to Interstate 70 on the south. Possible second and third phases stretch west past Harding all the way to Addison Street.

Plans show the amusement park encompassing the stamping plant site and properties south to I-70, east to the White River, and west to Harding Street. His proposed park designer is none other than Wing Chao, a renowned master planner, architect and designer who spent years in Walt Disney Parks & Resorts' creative division, Walt Disney Imagineering.

"The project [is] to be Disney-esq but not primarily focused on little ones," White's promotional materials say. "Indianapolis does not want to duplicate Disney, rather [it should] create its own unique identity."

Sports venues would be built on land north of the stamping plant and south of Washington, a land-based casino would be built along the White River, and hotels and apartments are slated for east of the river near Lucas Oil Stadium.

The convention center expansion would be at South and West streets, southwest of the existing center, plans show.

Visit Indy CEO Leonard Hoops and Vice President Chris Gahl met with White in January, Gahl said, as the tourism group soldiers on with its own long-range master plan, which should be completed in September.

Among other things, the plan will address whether the convention center should be expanded beyond the 350,000 square feet added in 2011 and whether more hotel rooms are needed.

Visit Indy has no official position on White's proposal, but is always interested in learning about plans that could boost city tourism, Gahl said.

"It's a lofty vision and one that seems pretty complex," he said. "Having said that, Indianapolis needs to think big, and we commend him for thinking boldly."

White doesn't specify where Circle Centre mall fits into the plans. But his handouts suggest the existing mall location could be used for "unusual business, technology and media space."

Making a comeback?

White's aspirations might seem grand for any developer, let alone one who took a hiatus from the real estate business following legal troubles.

But throughout his career, White has demonstrated a penchant for taking on daring projects with little margin for error—and some of them came to fruition. One of his boldest local projects was Metropolis, which cost $160 million and spans 68 acres. It opened in 2005.

"He's a very bright, dynamic, energetic-type person," said Ross Reller, a real estate broker who is listing a 10-acre site on which part of White's Odyssey project would be built. "I'm glad his past is not keeping him down."

The site Reller is listing sits just a stone's throw from Lucas Oil Stadium and is owned by Minneapolis-based Valspar Corp., which has held the land since its 2000 acquisition of Lilly Industries Inc. Valspar discontinued the operations years ago and demolished the facilities.

White's plan calls for hotels and residential properties on the site. Reller, senior vice president and director of land services for Colliers International's Indiana region, said he's talked with White about the parcel, which remains on the market.

Odyssey's marketing materials contain letters from local developers including REI Investments, Lauth Group Inc., Buckingham Cos. and Flaherty & Collins Properties expressing interest should the project progress.

Wells at REI isn't holding his breath.

"The state of Indiana has long stated and continues to enforce their rule that they don't let anybody share in their sales tax," he said. "And I don't see any other revenue source out there close enough to make this project work."•