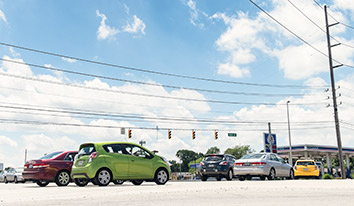 The intersection of 96th Street and Keystone Avenue in Carmel for years has created headaches for drivers navigating it, planners seeking to fix it, and businesses wanting to expand.
But a solution might be on the way for one of Carmel's busiest and most dangerous intersections. City officials hope to start construction in 2017 on a nearly $32 million teardrop roundabout that would bridge through traffic over 96th Street.
"This isn't the first time we've tried to get this interchange off the ground," Carmel Director of Community Services Mike Hollibaugh acknowledged.
In 2010, a $78 million proposal to fix the interchange and add other roundabouts on 96th Street failed to secure federal dollars.
The owners of two car dealerships near the intersection grew tired of waiting and have proposed expansions, despite understanding portions of their land would be needed for a roundabout.
"They rely on predictability," Hollibaugh said of businesses looking to grow. "Whenever there's uncertainty, it creates challenges for everybody."
Carmel recently applied again for a federal transportation grant, but scaled the request to $19.4 million. If the city is successful, right-of-way acquisition could begin early next year.
The new intersection would bridge Keystone over 96th, with roundabouts underneath.
The missing piece
Carmel Mayor Jim Brainard recognized the traffic congestion issues along Keystone Avenue years ago, and launched the construction of elevated roundabout interchanges in 2008, after the state turned over the roadway to Carmel.
The city has invested $112 million to remove stoplights and install roundabouts at six of seven Keystone intersections within the five-mile stretch.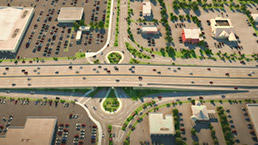 The redesigned intersection would bridge Keystone over 96th Street, with roundabouts underneath. (Rendering courtesy of city of Carmel)
City officials always included the 96th Street crossing in plans, but funding and control of property around the intersection has been a barrier. The city would need to acquire pieces of 20 parcels.
Aside from lengthy wait times, safety is the other reason officials have cited for design changes at the intersection. Despite improvements made along the northern stretch of Keystone, there were 220 crashes near 96th Street from 2012 to 2014, with 17 resulting in injuries, according to data from the city.
If the city receives the $19.4 million federal grant, the schedule calls for completing land acquisition by mid-2016 and starting construction in summer 2017.
Right-of-way acquisition is estimated at $7.7 million and would be paid for by the city, along with another roughly $3 million in construction costs. The city also has $2 million in backing from Hamilton County, which city engineer Jeremy Kashman said should boost the grant application because it shows surrounding entities support the project.
Hollibaugh said he's confident the project would stay on time and within budget, with a completion date in 2019.
Tired of waiting
Penske Automotive Group and Tom Wood Automotive Group are done waiting for the roundabout, and are asking planners to approve expansion plans.
Tom Wood Ford is hoping to add 24,000 square feet to its building at 3130 E. 96th St., and Penske Chevrolet is moving forward with plans to add 100 parking spots for more inventory at 3210 E. 96th St.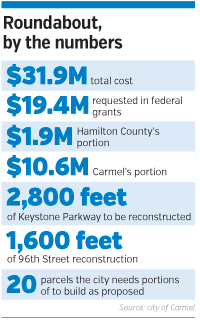 Roger Ward, of Roger Ward Engineering, told city representatives he was sensitive to the roundabout plans when he designed the facility addition for Tom Wood Ford, avoiding land needed for right of way.
Penske years ago purchased the northeast corner property, where a gas station previously operated, for future expansion. It's a grassy lot today.
Carmel Planning Administrator Adrienne Keeling told the Carmel Plan Commission earlier this month that staff supports the Penske project, and the company knows the risks involved.
Penske initially filed plans with the city last year and delayed getting started to weigh the impact of the roundabout.
"At this time, Penske is unwilling to further delay its redevelopment efforts," attorney Todd Relue of Plews Shadley Racher & Braun LLP wrote in a letter to Kashman and the city's legal department on behalf of Penske in April.
Keeling said the city will likely need the expanded parking spaces for the roundabout.
"The only problem is, we just don't know when that could happen," Keeling said. "It could be five, 10 years down the road."
Plan Commission member Brad Grabow said he's concerned about approving the project because anything done to the land will increase the cost of the roundabout for the city.
"Unless we have the money to buy it right now, I think we have to let them develop it," Plan Commission member Nick Kestner said.
Grabow said he doesn't want to hold the project hostage, but it's a tough decision.
There's no time line for when the Plan Commission will vote on either project.
"They have every right to get something done here," Plan Commission member Alan Potasnik said of Penske Chevrolet.
Compromises
Similar headaches ensued from the ongoing U.S. 31 improvement project, according to Hollibaugh. Plans were tossed around for years before construction crews hit the ground.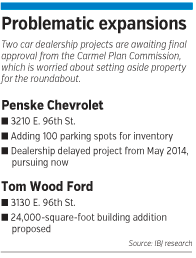 Hollibaugh said the city tries to compromise with businesses in these situations, by waiving certain landscaping requirements like installing sidewalks or planting trees.
"Those are just kind of balancing-act decisions that have to occur," he said.
Plan Commission member Josh Kirsh recommended delaying tree planting along the edges of the Penske property to avoid uprooting newly planted trees when roundabout construction begins.
Allen Dresselhouse, with Penske Automotive, said the company could donate money to a tree fund or plant trees elsewhere.
Hollibaugh said city officials have also been working with Tom Wood Ford to make a financial contribution instead of constructing a bike path along 96th Street that would be eliminated with the roundabout project.
"That way, the money doesn't get wasted, and the investment isn't wasted by getting torn out," Hollibaugh said.•
Please enable JavaScript to view this content.