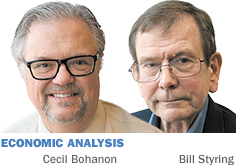 While the Obamacare subsidies and same-sex marriage Supreme Court cases have received the most media attention, a third noteworthy case has largely slipped under the radar.
We have previously written about the collapse of the OPEC oil cartel. Along the way, we suggested that the only cartels that persist for any length of time are those propped up by government sanction. Horne v. U.S. Department of Agriculture perfectly illustrates our point.
The facts of this case would shock most people. The Horne family raises grapes suitable for making raisins. Under a 1937 law, USDA operates a "Raisin Administrative Committee" whose purpose is to "stabilize" raisin prices. To achieve this questionable goal, the RAC is empowered to take title to (i.e. confiscate) whatever share of the growers' crop it deems necessary to stabilize (i.e. increase) raisin prices. Horne sued, claiming this was an unconstitutional taking of his property. The Court agreed.
If this isn't a government-run cartel, we don't know what is. Its sole purpose is to raise raisin prices through these so-called "marketing orders." It enriches producers at the expense of consumers. It has no other purpose. Surely there is no national security objective. The Third Infantry Division can function quite nicely without raisins.
Such a conspiracy against the public—what Adam Smith called a "contrivance to raise prices"—would be unstable and temporary (not to mention a prosecutable felony) were it not for the governmentally imposed fines for not turning over whatever share of the raisin crop the RAC demands. And we're not talking just raisins. USDA runs similar price-fixing plans for 20-odd commodities, including cranberries, pistachios and, in some areas, tomatoes.
Unfortunately, the ruling does not end state-sanctioned cartels. It only calls into question how far the state can go in actually enforcing the cartel. The fact that a government truck showed up at the Horne farm with the intention of confiscating the raisins seemed to impress the justices that this constituted an illegal taking. The Court did not rule that the state organizing a producer cartel is a no-no.
USDA has 106,000 employees. What do they do? Agricultural research, give farmers advice and administer a whole roster of schemes raising agricultural prices, including for such staples as wheat, rice and sugar. Where are the "public interest" consumer advocates? Apparently, when private actors try—and fail—to run a cartel, it's horrible. If government does it, it must be OK.•
__________
Bohanon is a professor of economics at Ball State University. Styring is an economist and independent researcher. Both also blog at INforefront.com. Send comments to ibjedit@ibj.com.
Please enable JavaScript to view this content.