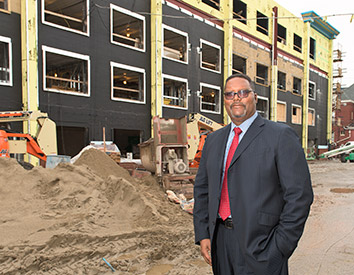 Gary Hobbs spent the first 15 years of his career climbing the corporate ladder. But now he's made a career out of giving low-income folks a hand up.
Hobbs and his wife, Lori, have built BWI LLC, their Indianapolis-based real estate company, into a fast-growing developer of affordable housing.
Started a decade ago by the Hobbses, BWI now has 48 employees and more than $10 million in annual revenue. In 2013, Fortune magazine ranked BWI the 16th-fastest-growing urban-focused company in the nation.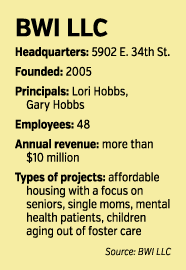 And BWI isn't done growing. Hobbs even has his eyes on expanding to communities around the state, including Evansville, Gary and Fort Wayne.
"We're thankful—to God be the glory," said Hobbs, 47, standing in a navy suit next to his silver Mercedes while watching workers put brick on the outside of one of BWI's newest projects, Penn Place. The $10 million project at 1415 N. Pennsylvania St. will convert a long-abandoned former community corrections facility into 38 apartments for former homeless residents with mental health challenges.
The facility will include a clinic run by Eskenazi Health exclusively for the residents.
Most of BWI's projects are aimed at what Hobbs calls "special needs" residents: seniors, single parents, children aging out of foster care.
"We like to say we are a developer with a purpose," Hobbs said. He noted that he got interested in serving the homeless because his brother, after working as a finance professional, became homeless for 12 years following a divorce and struggles with mental illness.
"Being a Christian," he added, "having a purpose behind making a profit is important."
That wasn't how BWI started out. Hobbs left a position as an information technology manager at Roche Diagnostics Corp. He had some stock from Roche, as well as from his previous stints at Eli Lilly and Co. and AT&T.
So Gary and Lori started using the stock to buy real estate—strip malls, homes, an apartment complex. But when the economy tanked in 2008, the value of those investments plummeted. In particular, The Staughton Apartments, near Arlington Avenue and 46th Street, was losing money as residents struggled to pay their rent or moved out.
BWI was able to get funds from the 2009 stimulus package to stabilize the apartments. But with property values depressed, it still needed a new business approach.
Learning the ropes
So Hobbs turned to affordable housing. He consulted other developers who had done work in that field, including Joe Whitsett, Gene Zink and Dan Hubbard. He said his MBA from Purdue University and his corporate work in finance were exceedingly helpful. So, too, was his work as a project manager, when it came time to coordinate all the contractors involved in construction projects.
There is money to be made in affordable housing, but making the financials work is even more complex than with market-rate projects, said Bill Taft, executive director of the Indianapolis chapter of Local Initiatives Support Corp. LISC has been a lender on some of BWI's projects as well as an investor in Clifton Square, a senior housing development on the west side noted for the skywalk built between two buildings.
In the past five years or so, a growing amount of affordable-housing work has been done by for-profit developers. Taft said that's taken some of the burden off not-for-profits, such as community development corporations, community centers and churches.
About 75 percent to 80 percent of large affordable-housing projects are financed by federal tax credits for low-income housing. But the application process is highly competitive, and requires complex financial calculations and compliance reporting after a project is finished. And developers still have to line up other investors and, at times, lenders.
Farther from home
Because tax credits are so significant to financing affordable-housing projects, and because those credits are spread out to communities around the state, it's common to see affordable-housing developers branch to other communities, Taft said.
That's what BWI is doing in Anderson. In partnership with Pinebrook Properties, it plans to spend $15 million to convert the former Wigwam gymnasium into 72 multifamily housing units and space for commercial development, while keeping the gym intact.
"As a developer, we do take some risks," Hobbs said of the Anderson project. However, he added, "It's an iconic building that has a lot of history. And it's a community that's hungry for change."
The Wigwam project is an example of how BWI is taking on increasingly complex deals, which include both affordable and market-rate housing, and both residential and commercial aspects.
Those elements are also part of BWI's Overlook at the Fairgrounds, along East 38th Street. That $11 million project will convert a former industrial building into 49 apartments, some of them affordable and some at market-rate rents. The project also will include a banquet and event center.
As BWI grows, Hobbs is committed to keeping his team focused on serving residents.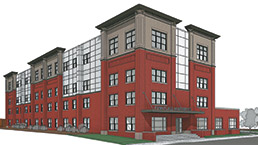 The $10 million Penn Place replaces a former community corrections facility. (Rendering courtesy of BWI LLC)
Hobbs has at least one church sponsor for each of the housing projects he builds, which means the congregation agrees to hold meetings at the facility regularly, bringing food, and doing some other activity: a Bible study, financial classes, etc.
For the Penn Place project, for example, sponsors are the Christ Temple and Hobbs' own church, Summit Church in Fishers.
Three years ago, BWI instituted semiannual quality-of-life surveys at all BWI properties. The results of those surveys are used, along with financial goals, to determine pay increases and bonuses for the BWI staff.
Making sure residents are happy, even after a project is built, is both the ultimate goal and a key part of being successful financially, Hobbs said.
"If you do that," he said, "people are going to stay; they're going to pay their rent."•
Please enable JavaScript to view this content.