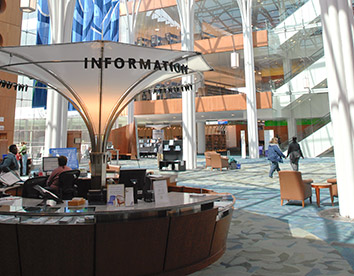 No productions being reviewed this week. No gallery shows being discussed. Instead, as I contemplate my summer-reading pile, I want to offer some words of appreciation for one of my favorite things about Indianapolis—its library system.
For as long as I can remember, I've been a huge fan of public libraries. I can't count the hours I spent biking to the branch in my hometown and riding back while trying to balance stacks of books. I shopped bookstores, too, but there always seemed to be more room to experiment at the library. The opportunity to explore there never seemed passive. And nobody seemed to be trying to sell me anything.
That early love of libraries has lasted a lifetime. Sometimes, libraries have been the only place I can get writing done. In hindsight, I should have included libraries and librarians in the acknowledgements of every book I've written.
When I moved to Indianapolis nearly two decades ago, near the top of my house-hunting criteria was that my new digs be close enough for a walk to a library. I said it was for my kids' sake. Of course, it was also for mine. I haven't been disappointed and have spent a lot of time—sometimes using it as a de facto office—at my local branch. I'm not a Starbucks-dwelling coffee drinker and I don't have a bar where everybody knows my name. But it's a nice feeling when librarians greet me personally.
Library peripherals have certainly changed over the years. It doesn't seem all that long ago that I free-lanced an article for Book magazine that focused on the difficult—and expensive—issue our library system faced on whether to embrace DVDs and ditch videotapes.
Now, though, libraries face even bigger issues about what they should and shouldn't be doing. Embracing their role
as de facto community centers, their programming now goes far beyond books. Visit the events section of www.imcpl.com and you'll find computer classes, board-game nights, vibrant concert and movie series, live animal shows, employment workshops and more. And none of those seem to diminish the value of the libraries for people who just like to go for reading material.
I'll admit it; I still get a bit goosebumpy walking into the Central Library. Oh, I know there was controversy about the price tag back in 2007 when the biggie-size facility reopened. But I love the vibrancy of the place. The Central Library is a point of pride for me as a Hoosier, a place I enjoy taking book-loving, out-of-town visitors. It's where I can show them that, contrary to what they read in the news, we actually care about ideas.
And, contrary to what cynics thought back in 2007, it has remained in pristine condition. A recent visit even found the rest rooms immaculate.
About that summer-reading pile I mentioned earlier—here's what's on it: Judd Apatow's "Sick in the Head" (I've been on a kick for books about comedy since reading Amy Poehler's "Yes, Please"), Guy P. Harrison's "Think: Why You Should Question Everything" (because I'm inspired by skeptics), Peter Filicia's "The Great Parade: Broadway's Astonishing Never-to-be-Forgotten 1962-1964 Season" (because I devour theater-history books), and Beth Henley's "The Jacksonians" and Jennifer Haley's "The Nether" (because of the reputation of these plays and because women playwrights are more likely to rock).•
__________
This column appears weekly. Send information on upcoming arts and entertainment events to lharry@ibj.com.
Please enable JavaScript to view this content.