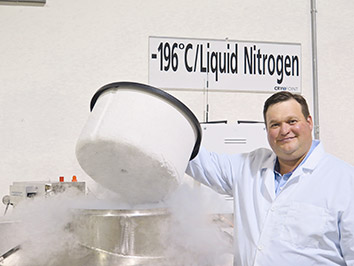 Baby teeth usually wind up under pillows, but medical entrepreneur Michael A. Byers wants parents to consider putting them into cold storage instead.
Byers is president and CEO of Brownsburg-based Tooth Bank. Founded in 2014, it's one of a tiny group of U.S. companies catering to the latest iteration of stem cell therapy. New technology allows customers to harvest stem cells from the pulp inside baby teeth and extracted wisdom teeth, then culture, freeze and store them at a cryostorage facility for later use.
Those "later uses" could be quite extensive—and might mean the difference between life and death for clients with a personal supply of genetically compatible dental stem cells on hand.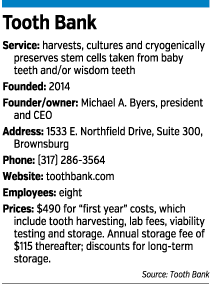 Stem cells, now commonly extracted from the umbilical cords of newborns, can be used to make other kinds of cells. Most commonly, cord cells can be fashioned into white and red blood cells identical to those already in the donor's body, making them ideal for, among other things, certain kinds of cancer therapies.
Dental stem cells, which seem to be even easier to reshape than cord cells, might someday be used for a multiplicity of applications, from brain tissue regeneration to heart therapies to human cornea replacement. Perhaps most obviously, they might regenerate human teeth.
With some 4,000 studies being conducted worldwide, the applications—and the profits for stem cell storage businesses that get in on the ground floor—could be immense.
"The first cord blood registry has more than 500,000 samples banked now," Byers said. "They're collecting upwards of $100 million a year just in storage fees. Dental storage could be in the $250 million to $300 million range."
Familiar territory
Byers is no stranger to the science and business of freezing things.
After receiving a bachelor's degree in neuroscience from Purdue University, he obtained a master's in international operations and finance from the German International Graduate School for Management and an MBA in operations from the Krannert School of Management at Purdue.
His experience includes work at the Indiana University School of Medicine doing cryobiology research, a stint at Eli Lilly and Co. and then with an Indy-area biotech startup called General BioTechnology. After its purchase by Cook Group three years ago, he started his own company, Cryopoint.
Operating from a lab and storage facility in Utah and another, 15,000-square-foot cold-storage facility in Brownsburg, it freezes and stores biological samples and specimens for institutions and companies lacking the space, equipment and expertise to do it themselves.
The work is exacting but also quite lucrative. Byers said Cryopoint generates revenue of $5 million to $10 million annually. His Brownsburg facility, which is basically a series of rooms filled with liquid-nitrogen-cooled storage drums, just completed an expansion and will likely soon grow again.
"I was seeing more and more of a need for cryostorage," Byers said. "Facilities like hospitals usually have a confined space for this, like one room in the basement. And once you run out, you're out. Plus, it can be expensive for a hospital to do this, as compared to a dedicated facility like ours."
Predicting a wave
The firm serves about 75 institutional customers, but Byers thinks the next wave of growth could come from private clients—specifically, parents banking their kids' dental stem cells via Tooth Bank. Already, Cryopoint stores umbilical-cord blood and dental stem cells for about 1,000 people.
Byers became interested in the tooth biz after speaking with an Ohio oral surgeon who briefed him about the potential of dental stem cells. Besides their versatility, they hold several practical advantages over cord cells. Found most readily in the interior "pulp" of baby teeth and wisdom teeth, it's both much easier to obtain and cheaper to store. For instance, Byers reckons that cord banking costs around $2,000.
"Right now, we're still running a Tooth Bank promotion where you can bank your wisdom teeth for $400," he said. "And then you're looking at $115 for annual storage, which is still really inexpensive."
Another advantage is that dental cells can be cultured in a lab, while cord cells can't. So while, say, a set of wisdom teeth might yield only 2.5 million to 4 million cells, culturing can raise that number to perhaps 20 million in two weeks—roughly the same as the maximum that can be extracted from an umbilical cord.
It's also an opportunity for parents who didn't preserve their kids' cord cells to get another chance.
"It provides an option for millions of teenagers who didn't have the option to bank their cord blood or whose parents hadn't heard about it," Byers said.
The only person who loses out in the deal is the tooth fairy. Instead of allowing baby teeth to fall out naturally (when loss of blood flow has rendered most of the dental stem cells nonviable), they're extracted at a dentist's office as soon as they get a bit wobbly. Then they're dropped into a preservative-filled Tooth Bank container and overnighted to the company's lab, where the pulp is extracted, cultured and frozen. The material can survive in the deep freeze for decades.
Though the process works with baby teeth, Byers prefers wisdom teeth because a large number of cells can be collected in one shot from one set of these big and fully intact choppers.
Chomping at growth
Byers hopes that, by jumping into this nascent industry early, he can position Tooth Bank and Cryopoint (which handles all the new company's storage) as a leader.
With only two or three other U.S. firms offering a similar service, he's got the field nearly to himself. That's the good news. The bad news is that it's so early in the business cycle, most parents and dentists don't even know about dental stem cells.
"It would be easy if we were selling new toothbrushes, because everyone knows how to use a toothbrush and what they are used for, so education would be minimal," said Jake Isenbarger, Tooth Bank's executive vice president for sales and marketing. "Our business is education and providing the hope that, if you ever need these cells for a medical application, they will be available for you."
Tooth Bank's sales force is beating the bushes, talking to oral surgeons and dentists coast to coast.
"It reminds me of the early days of cord-blood banking," Byers said. "In the beginning it wasn't well known, but nowadays most moms have heard about it. And right now, most people, when they visit their dentist or oral surgeon, haven't heard of dental-stem-cell banking."
Unproven utility
But there's another issue that could prove far more intractable than poor name recognition.
Dental stem cells show great potential for everything from treating myriad diseases to replacing entire body parts. But despite thousands of ongoing studies, it remains just that: potential. As with all revolutionary change, the devil is in the details. And when it comes to making dental stem cells a viable medical tool, the details are devilish indeed.
Dr. Fengyu Song, an assistant professor in the Department of Biomedical and Applied Science at IU School of Medicine, agrees that dental stem cells hold great promise. But she said it's hard to tell exactly when it could be realized.
Consider tooth regrowth. Lots of work is being done in both the United States and abroad, but making a tooth, which includes complex structures ranging from a soft, spongy interior to a rock-hard enamel exterior, is a tall order. The breakthrough could come tomorrow. Or in a decade. Or it might never pan out.
"Dental pulp tissue is very promising," Song said. "It's very popular at the moment. But a tooth is a very complicated structure."
And while cord stem cells are already used for several real-world applications, no therapy employing dental stem cells has yet to trickle down to the general public.
Still, things seem to be progressing, especially given that dental stem cells were only discovered in 2000. Song thinks putting some away for a rainy day sounds like a pretty decent bet.
"You never know what technology will develop," he said. "If you reserve those stem cells, it could be helpful for some types of terminal disease treatment."•
Please enable JavaScript to view this content.