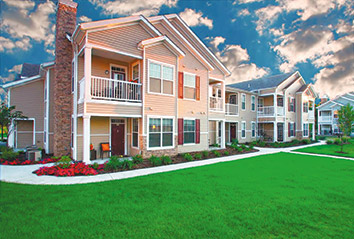 A par-3 golf course on the city's north side could be replaced by a $45 million apartment community with nearly 400 units, much to the chagrin of neighbors opposing the massive project.
Local developer Herman & Kittle Properties Inc. wants to construct the 14-building Links at 96th on 23 acres where Shortee's Golf sits on East 96th Street just west of Westfield Boulevard.
The company has filed with the city to rezone the property and is set to present its plans to the Metropolitan Development Commission on July 15.
What Herman & Kittle is pitching differs vastly from its original plans, which called for an even larger project. The developer has cut the number of units from 444 to 384, in an attempt to appease neighbors in Sherwood Forest to the south, and reduced the height of adjacent buildings from three stories to two.
But the density ratio of roughly 17 units per acre is still the highest allowed under city multifamily zoning guidelines, said Jennifer Boehm, who since 2006 has lived in the neighborhood with her husband, Eric Goldsmith, and their two children.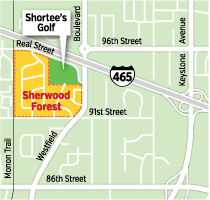 Herman & Kittle's proposal is especially troubling, she said, given that the city's comprehensive plan suggests just two to three residences per acre be built on the property.
"All the recommendations are that this should not be high-density housing," said Boehm, who sits on the Nora-Northside Community Council.
NNCC, which oversees Sherwood Forest and other north-side neighborhoods, is expected to oppose the project when it formally votes July 9.
Herman & Kittle has an option to buy the property from a three-person local ownership group.
Once farmland, the site has been home to Shortee's since 2000. Shortee's owner Don Turchan built the golf course and leases the land. Even though 45 years still remain on his 60-year agreement, Turchan said he's fine with the owners' decision to sell and insisted that he's not being forced out.
"We always knew the value of the land was greater than what we were using it for," he said.
After 15 years, business remains good, Turchan said, despite stringent zoning commitments preventing the sale of alcohol or the use of lights on the driving range.
The abundance of nearby amenities drew Herman & Kittle to the site, Mike Rodriguez, Herman & Kittle's development director, said in an email.
"The close proximity to places of employment, retail, entertainment venues and the Monon Trail make this an ideal location for an apartment community, which is evidenced through our market study results," he said.

Wernke
Michael Wernke, a nearby resident who serves as senior vice president of investment and multifamily services at Colliers International, was not surprised by Herman & Kittle's plans.
"You're close to Meridian [Street] and [Interstate 465], and you can get to Keystone [Avenue] relatively quickly," he said. "So I think a development there would do very, very well."
The north side's strong apartment occupancy rate also bodes well for the project. As of the end of 2014, occupancy in the area was 93.5 percent—above the overall metro rate of 92 percent, according to statistics from the Tikijian Associates apartment brokerage.
But Sherwood Forest residents fret about the additional traffic the development would bring.
"The property is really isolated," Boehm said. "Virtually everybody who lives there is going to need a car."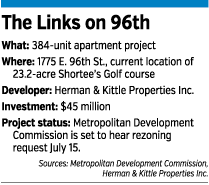 Neighbors are especially concerned about the potential for more vehicles traveling through Sherwood Forest via Nora Lane—a popular shortcut from the north to access the Nora Plaza shopping center.
In addition to reducing some building sizes from three stories to two, Herman & Kittle is proposing a 200-foot building setback from the Sherwood Forest boundaries, which would include a 25-foot landscaped barrier and a 6-foot-tall masonry wall to provide more privacy for neighbors.
If Herman & Kittle is successful, Shortee's would be the second golf course in the immediate area to be bulldozed to make way for housing.
To the north, across Interstate 465, Carmel-based Old Town Development LLC plans to build 265 apartments and single-family housing on the former Sunrise Golf Course at 9876 Westfield Blvd.
The area is attracting a lot of interest from apartment developers. Across from Sunrise to the east, local developer Pittman Partners and multifamily specialist Barrett & Stokely Inc. are building The Seasons of Carmel, a $35 million, 256-unit complex on 21 acres.
Herman & Kittle could start construction on The Links at 96th next spring and finish in late 2017 or early 2018.
One-bedroom units would range up to 952 square feet, two-bedroom units up to 1,097 square feet, and three-bedroom units up to 1,454 square feet. Rental rates have yet to be determined, Rodriguez said.
The Links on 96th could be the second major Indianapolis apartment project undertaken by Herman & Kittle. It is set to start construction this summer on the Vue, a $28 million, 240-unit complex downtown at the southeast corner of South College Avenue and East Maryland Street.•
Please enable JavaScript to view this content.