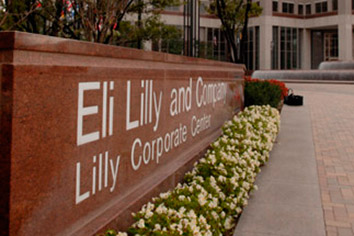 Eli Lilly and Co.'s experimental lung cancer drug has raised concerns with U.S. regulators that it may increase patients' risk of suffering potentially deadly blood clots.
The drug, known as necitumumab, improved patients' overall chances of survival, yet people taking the medicine also experienced more risk, Food and Drug Administration staff said in a report Tuesday. Indianapolis-based Lilly is seeking to sell the medicine to treat a subset of the most common type of lung cancer.
FDA advisers will meet Thursday to discuss the risks and benefits of necitumumab for patients with advanced squamous non-small cell lung cancer, in combination with chemotherapy. The FDA is expected to decide if Lilly can sell the drug by the end of the year.
While the safety of necitumumab reflects that of similar drugs, the increased danger of clotting "in this already high risk population is of concern," FDA staff wrote.
One study showed that out of 538 patients taking necitumumab and chemotherapy, 9 percent experienced a serious clot, compared with 5 percent of 541 patients given only chemotherapy, according to the staff report.
Squamous lung cancer accounts for 25 percent to 30 percent of all lung cancer, according to the American Cancer Society.
Patients in a clinical trial who took necitumumab lived a median of 11.5 months, 1.6 months longer than those who got only chemotherapy, the FDA staff report said.
If approved, necitumumab is expected to generate $567 million in sales in 2020, according to analysts' estimates.
Lilly already sells a treatment for non-small cell lung cancer called Cyramza, approved for patients if they've tried chemotherapy and their cancer still progressed. Necitumumab would be used as an initial treatment with chemotherapy.
Other treatments for non-small cell lung cancer include Roche Holding AG's Avastin and Bristol-Myers Squibb Co.'s Opdivo. Opdivo, approved to treat lung cancer in March, is for patients who've tried chemotherapy. A clinical trial showed patients who took Opdivo lived, on average, 3.2 months longer than those who only received chemotherapy.
Lilly shares were up 47 cents late Tuesday morning, to $86.83 each.
Please enable JavaScript to view this content.